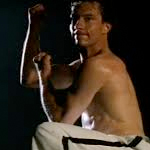 This week in my column at DAILY GRINDHOUSE I take a look at yet another VHS-only martial arts oddity, it's called EQUAL IMPACT. Hats off if any of you have heard of it. This one stars one-and-done tae kwon do practicing twin brothers Joe and Jay Gates, plus Robert Z'Dar and Joe Estevez. And as I was watching it I was surprised to realize it was filmed in Seattle.
see my findings over on Daily Grindhouse
This entry was posted on Tuesday, June 11th, 2013 at 10:05 pm and is filed under
Action
,
Martial Arts
,
Reviews
. You can follow any responses to this entry through the
RSS 2.0
feed. You can skip to the end and leave a response. Pinging is currently not allowed.