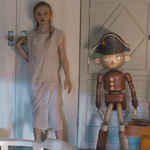 Finally the truth can be told. Because you know what? We have the right to know.
Not to brag or anything, but I always thought the official story behind this Nutcracker business was a bunch of bullshit. I mean, how naive can you be? And I knew the truth had to get out eventually. It was only a matter of time. Thank you, Freedom of Information Act.
Here, at last, is Tchaikovsky's music and the associated Mouse King story (no credit for E.T.A. Hoffman) adapted into non-ballet, special-effects-laden movie form. This unexplainable Christmas fantasy mess was released theatrically in 2010 as THE NUTCRACKER IN 3D. It was directed and co-written by Andrey Konchalovskiy (RUNAWAY TRAIN, THE LION IN WINTER). I read that it was a dream project he'd tried to make for over 20 years, which would mean he started dreaming about it around the time he did TANGO & CASH. But on the making-of extra he said he'd been working on it since 1969. I wonder in which decade he lost track of why the hell he was doing it?