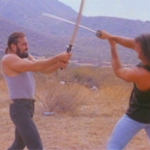 A Japanese gang called The Katana Gang is on a rampage, so the LAPD call in a specialist.
"So they call him Samurai, huh?" asks the gang leader Fujiyama when he hears about this long-haired Fabio-lookin motherfucker played by former Sylvester Stallone bodyguard Matt Hannon.
"Yes," explains right hand man Yamashita (Robert Z'Dar). "His real name is Joe Marshall. They call him 'Samurai.' He speaks fluent Japanese. He got his martial arts training from the masters in Japan. He was brought over here from the police force in San Diego to fight us."
This being 1989, the year after ABOVE THE LAW, might have something to do with that backstory. The poster, which has nothing to do with the actual content of the movie, is definitely going for a MANIAC COP vibe. I think there's some LETHAL WEAPON influence here too, or at least it's trying to follow the formula of the white cop with loyal black partner who's kind of bemused at how far the white guy goes over the line in his enforcement of the law. Samurai and his partner Frank (Mark Frazer, MICROWAVE MASSACRE) have alot of weird, sometimes racially uncomfortable banter about what their boss is gonna do to his "charcoal black ass" and stuff like that.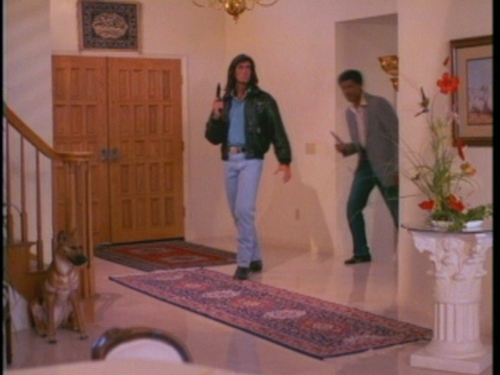 The chief is pretty funny, he's always angrier than necessary. I like when he yells to one of his employees "You, motherfucker, I'll see you in hell! Leave me alone! Get a job!"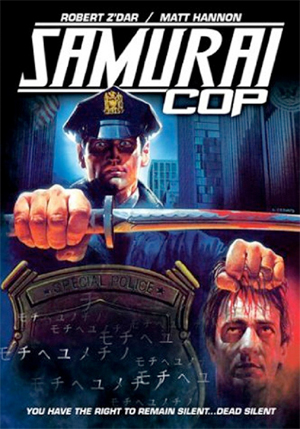 Melissa Moore (SORORITY HOUSE MASSACRE II, ANGELFIST) plays a fellow officer, and in my opinion this is not a portrayal that the International Association of Women Police would be real proud of. She backs them up from a chopper when they're catching a guy, tells them they did a good job. Samurai says, "You got it. We'll see you back at your place," and it cuts to them sensually caressing each other in bed, both wearing nothing but g-strings.
Later, when they're joking that the chief is gonna cut Frank's dick off, she says he should go to her house first. "Let's use it before you lose it." And when nothing becomes of that suggestion she says to their other partner "You and I got nothin to do. Let's fuck." She does more of that than she does police work. She never really gets to fight like she does in some of her other movies, but she does get hot grease poured on her by Z'Dar.
Samurai also seems way more interested in getting laid than in the investigation. Dropping off a prisoner in a hospital he immediately starts aggressively hitting on a nurse (she turns him down but teases him and asks about his dick size). Then when he follows the gang into a restaurant so he can make a big threatening speech to their lawyer he zeroes in on the white lady that's with them.
"Excuse me miss. By the way, what's an all-American girl like you doing with a geek like this?" He figures out where she lives, pretends he needs to go there for police business (unethical), next thing you know they go to the beach together, he makes her a birthday cake while they're still in their swimsuits, and then he carries her to the bed of caressing.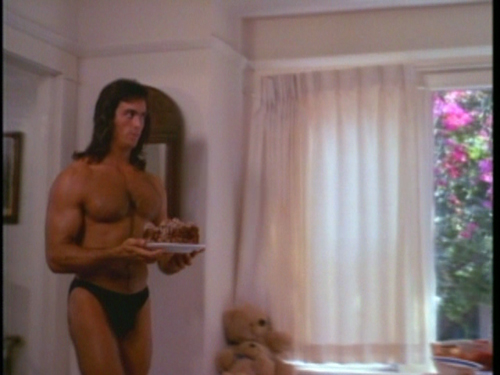 This may be as good a time as any to make an observation about the great screen badasses. Now, of course these guys must convey a feeling that they are deliveryman and they have arrived with your knuckle sandwich. But they also have to project a certain type of intelligence. Think about it: Clint Eastwood, Steve McQueen, Charles Bronson, Lee Marvin, Toshiro Mifune, Bruce Lee… none of these guys seem like dummies. Maybe they couldn't help with your algebra homework, but you look at their smile and you can just tell they know some shit that you don't know. Plenty.
I don't want to be mean but in my opinion Hannon does not share that quality.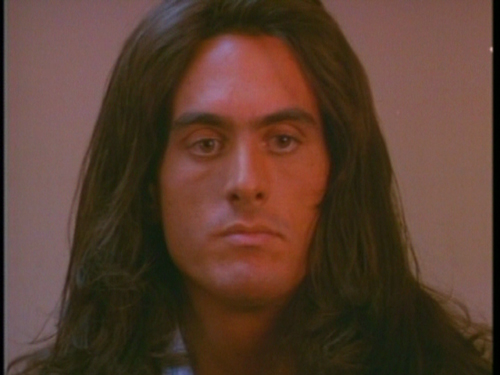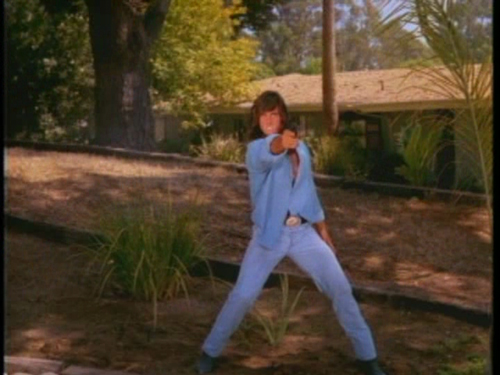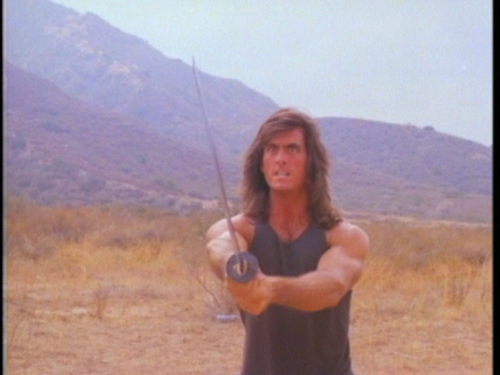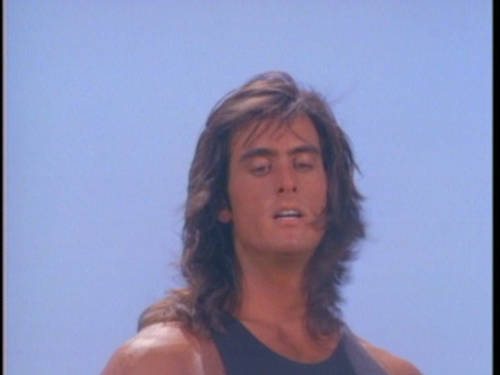 Anyway, Joe the Samurai may mess around on beaches and in kitchens, but the Katanas don't. Wanting to make an example out of their member who got caught they send Yamashita into the hospital (wheeled in inside a garbage can by a fake hot nurse) to cut off his head. He's specifically requested to bring back the head and put it on the boss's piano. (I bet some poor new guy in the gang has to clean the piano, too.)
When Yamashita and Samurai come face to face Yamashita stands a couple dozen feet away and sends a bunch of guys to fight for him. After Samurai beats them up Yamashita pulls out an uzi and guns them all down himself.
This is a cheap ass movie, along the lines of a Fred Olen Ray or something like that, not on the level of polish of, say, Cannon. I wouldn't say there was any aspect or part of this that legitimately works as an action movie, but it's pretty funny. The story is 100% generic, only its amateurish execution makes it stand out at all.
Here's an example of the type of unorthodox directorial decisions we're dealing with here. Let me know if you think this would be considered an acceptable composition to most professionals: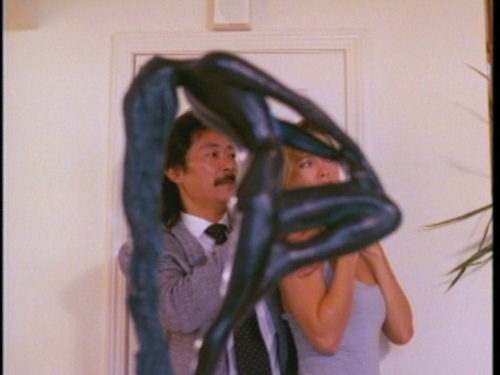 It's the little goofy moments and details like that that make it fun. During a footchase, a guy tears around a corner and a panting dog behind the fence runs excitedly along side him. Okamura has the arcade game Defender in his house – he doesn't play it or anything but you notice he has it and wonder what the deal is. I guess if you're in a gang where you can be loyal for years and still get your head cut off you need something to relieve the stress when you get home. Also there's the off-puttingly, uh… comedic? performance by a wacky ethnic gay guy they get information from. And the Jessica Rabbit poster inside what I thought was supposed to be a police station.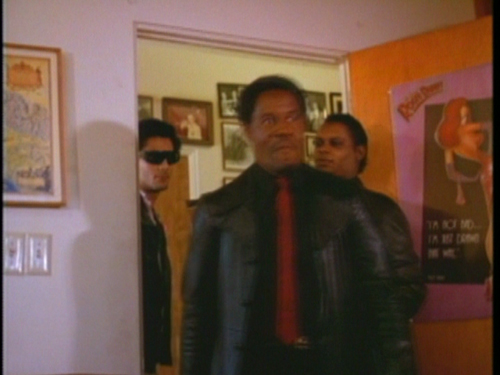 Set design by Spencer's Gifts, I guess.
Yamashita seems way more like a samurai than Samurai does. But I guess our guy, having been in Japan one time, does know a little bit about that stuff. In the end he sword fights Yamashita and (spoiler) wins. Then he uses the samurai code against him.
"You lost. You lost face," he points out.
"You know the code of the Bushido," Yamashita counters. "Kill me."
And it seems like he's actually gonna do it, but Frank knows that would be fucked up so he yells "No! You're a cop!"
It's true. Even a cop from San Diego knows that cutting off a dude's head with a sword and saying it's so he can "die with honor" is not gonna get past the inquest without a fight. So cooler minds prevail, they don't behead him at all. They let him cut his belly open himself and bleed to death. Cut to Samurai on the beach making out with the girl again.
Director Amir Shervan was maybe better known for 1990's KILLING AMERICAN STYLE, another crazy Robert Z'Dar cult movie. Shervan and Hannon have both passed away, so I'm gonna have to forget about my idea for SAMURAI COP 2: OTAKUPOCALYPSE, in which San Diego cop Joe "Samurai" Marshall is called into action one last time to use his swordsmanship, rule breaking and knowledge of Japan to rescue his niece from a large comics convention held hostage by anime fan terrorists.
PLOT TWIST: As David Lambert points out, Matt Hannon is apparently alive, according to what appears to be him in a video shirtless in his kitchen posted on Youtube this month:
He also seems to have posted on the IMDb message boards as recently as today. If it's really him he might want to correct his IMDb entry and bio, which say he died 31 March, 2012 in Champaign, Illinois. A Google search found death notices for such a Matthew Hannon, and one obituary says the deceased spent some time as a set decorator in California (the Hannon we're looking for is credited as a carpenter on THE BLOB and NIGHT OF THE CREEPS.)