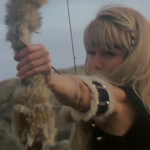 "What manner of woman would meddle in men's affairs?"
One thing I've noticed in these Barbarian movies, Barbaria seems to be a very male-dominated society, even more than our own. You remember what Conan the Barbarian-American said about "the lamentation of their women." Women are treated as sex slaves, whores, treasure, at best babymakers. That's why HUNDRA is so cool. This is the feminist Barbarian movie. This is about a woman that lives in that same savage world, but flat out refuses to take any shit.
"Many of our women preferred to bear arms rather than children," the narrator says. "The champion of these was…
HUNDRA."
Hundra (Laurene Landon, MANIAC COP 1-2) is from a tribe of all women. In order to keep their race going some of them periodically venture out to use men for their "seed," but that's not Hundra's thing. The only man in her life is her dog Beast, who is a total coward who runs away any time in the movie that there's danger. She says it's because he's a male. This is actually a very successful use of animal-related comic relief. It really made me laugh to see that little shit make a run for it before each major action scene, then conveniently show up again in peacetime.
One lady in the tribe nags Hundra about her responsibility to "bring life into the tribe" and "bring a successor," but Hundra just makes fun of her. "I prefer the feel of a horse between my legs to that of swine, and it pleasures me instead of pains me." If she was out trying to find some meat then who would go out and get the actual meat, you know what I mean?
Well unfortunately while she's out doing that a group of Men's Rights Advocates show up and kill everybody, even rape and decapitate Hundra's little sister. So not only is her whole life ruined but now a wise old lady in a cave (who we've already met as the narrator) convinces Hundra that she really does have to get over her "No man will ever penetrate my body with sword or with himself" policy and make one of those "babies" like the other ladies have. If not the tribe is done for.
On one hand, this is that thing they always do where the woman of action has to become a mother to be a real woman. See also SHE SHOOTS STRAIGHT. On the other hand it's not a softening or a taming. She's not gonna settle down. She just needs to borrow somebody's dick real quick. So she goes on a journey to find one worthy of Hundra.
On the road she gets attacked by roving bands of men, and she always overcomes the motherfuckers. She's good with a bow and arrow and with a sword. The action is really cool, she does badass moves like jumping onto a horse behind the guy riding it, stabbing the dude and tossing him off. Landon is tall and lanky and really throws herself into it, I almost believe she could do this shit.
The first potential mate she chooses is kind of a viking type with a bunch of sex slaves in his possession. She just walks up to his campfire, tears a piece of meat off the dinner in his hand and starts munching on it. Not a double entendre. She's from the Bruce Lee/Clint Eastwood school of intimidation through casual snacking.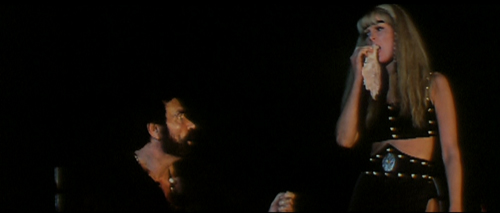 This guy seems of strong enough stock to settle for, but when he drunkenly tosses her down and flips her around she says "Fuck this" and decides to fight him instead in an epic fight scene that culminates in her crushing his balls in her hand and freeing his sex slaves, disgustedly yelling at them when they don't jump at the opportunity.
"See what you grovel to? You're free! GOOOO!"
The badass eating comes up more than once, actually. In another scene she's killed a group of attackers and is taking food off their corpses when a survivor comes up behind her holding a boulder over his head like he's gonna smash her. Hundra just blocks with one hand while still chewing, pushes back until he falls backwards and drops the rock on his head.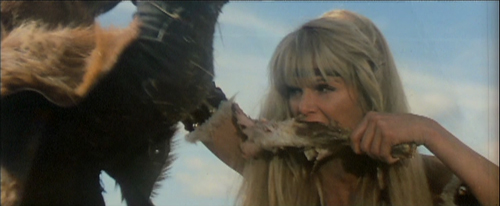 Meanwhile, there's this asshole king guy. There's a real good "just how evil is he?" scene where he auditions young women for his sex slave temple. Also the peasants come to his throne room and beg for special favors like "please don't imprison my only daughter for life and train her to be a sex slave." When a crying woman slightly touches him he freaks out and frantically washes his hands in a nearby bowl. 1983's pretty early for an obsessive-compulsive villain, isn't it?
Later Hundra literally drops in on a dude when she's swinging on a rope and falls through his ceiling. She figures she can just rape him real quick and hit the road, but he's not into her. She decides to turn herself in to the authorities and submit to the Temple of the Bull, where women are trained to please the king and local chieftains. It's sad to see her giving in to that but also kinda badass because she makes them do it and seems confident that she can control the situation. Because she's Hundra.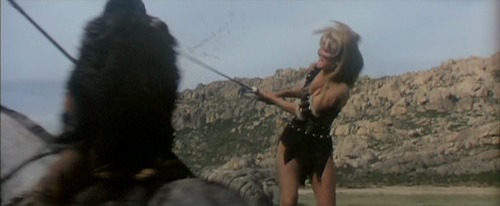 It's dangerous though. She gets a makeover. After an icy reception by her charm school teacher they find some common ground and Hundra starts training her to fight. Each one teach one. There's some humor about how much Hundra does not fit in with these girly girls. When the teacher lady confides in her about her daughter being taken from her Hundra sees that she's crying and looks at her like "what the fuck is that coming out of your eyes? Is that water?"
Eventually she gets what she wants and has a (SPOILER) daughter. I say spoiler because personally I was kinda tense thinking it was gonna be a boy and then what the fuck was she gonna do. In her tribe if they announced "male child" everybody would go "Awww," and make plans to dump the little thing off back in town the next day when they went looking for more seed. It seems like almost a cheat but also a relief that they don't have to deal with that. They just assume it's gonna be a girl and then it is.
But you know how babies are in action movies. You've seen DOUBLE TEAM, for example. The motherfuckers kidnap the baby to force Hundra to truly submit. They can't stand that there would be a woman who controls her own destiny. They gotta force her to bow to the men, and then kneel to them, you know.
Of course Hundra is gonna come out on top. She's gonna chop dudes up, damage some huevos, etc. More importantly she inspires the other kept women to swarm the king and tear him apart. One lady gleefully sits on his face to smother him! This movie probly sparked alot of fetishists.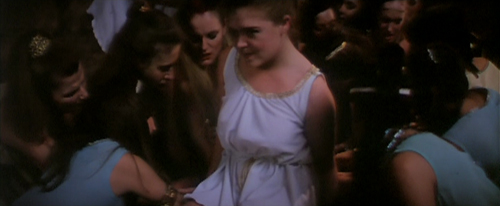 The baby-papa guy helps her, but in a reverse-womanly way. He provides the baby and throws her her sword, and she leaves him behind at the end, and he has nothing to say about it. A good gender swap there. Hundra gives a much warmer goodbye to the lady, it seems like she comes real close to kissing her.
The out-of-print DVD from Subversive Cinema has a pretty shitty transfer, but the interviews and commentary with director Matt Cimber (CANDY TANGERINE MAN, G.L.O.W.: Gorgeous Ladies of Wrestling) and Landon are enlightening. According to Cimber's stories this was a CONAN THE BARBARIAN rip-off in the purest way possible: the producers paid to use the actual sets and props from that movie. Supposedly they had a script by Jose Truchado (EXTERMINATORS OF THE YEAR 3000) that was just a Conan rip-off with a woman, and Cimber wanted it to actually address gender issues. He says that he and writer John Goff (HIT LIST) would get together every morning before shooting and rewrite each scene to be about some aspect of male-female relationships.
At the end, the narrator gives us some inspirational words: "Let all men be aware the seed of Hundra is in all women." In fact that's a little prophetic, because you can see the influence of HUNDRA in many other "female Conan" type movies, and even Xena: Warrior Princess. But so far I haven't seen one as good as this. HUNDRA is the fun, pro-woman fantasy movie that RED SONJA verges on being at its best.
This entry was posted on Tuesday, July 15th, 2014 at 12:21 pm and is filed under
Fantasy/Swords
,
Reviews
. You can follow any responses to this entry through the
RSS 2.0
feed. You can skip to the end and leave a response. Pinging is currently not allowed.