THE PROTECTOR is Jackie Chan's second English-language starring vehicle after BATTLE CREEK BRAWL/THE BIG BRAWL. Both are notorious as terrible wastes of Chan's talent.
I never used to understand the hatred for THE BIG BRAWL – that's the first Chan movie I remember seeing, so I thought it was great. He has a bunch of goofy fights, is involved in a huge rollerskate race, does gymnastics on some high up metal bars just to show off, and like most Robert Clouse movies it has a hell of a theme song:
But years later, after seeing a whole bunch of the much better movies that Chan made both before and after that one, I re-watched it and it didn't hold up very well. He does get to use chairs as weapons and things like that, but he fights alot of non martial artists so the choreography's not as good as it can be, he doesn't do many of the bigger stunts and the humor of the movie (not just his) is really broad. So I get it now.
When I watched POLICE STORY I started to get curious about THE PROTECTOR, though. They mention in the extras that Chan didn't get to do what he wanted on that movie and that's why he went back to Hong Kong and directed POLICE STORY.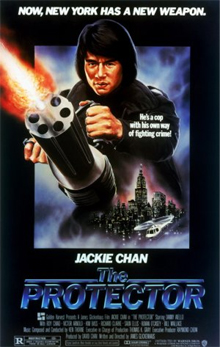 The director is James Glickenhaus, and THE PROTECTOR begins in the same type of sleazy New York hellscape where his vigilante movie THE EXTERMINATOR took place. It's night, there are things on fire, there are three little people wearing some type of mixed up period costumes, and some ROAD WARRIOR type post-apocalyptian punks stop a semi and steal a shipment of computers. Billy (Chan) and his partner Michael (Patrick James Clarke) are cops who happen to come across the aftermath and talk to the driver. I'm not sure the significance of this scene but it's weird because the driver is laying on the street and starts begging for his life when he sees Michael's gun. Instead of saying "It's okay, we're police officers," Michael slowly walks toward him with his gun out, then lifts the poor guy by the front of his shirt, then tells him they're cops. Then makes fun of him for stopping for a red light in the South Bronx.
This gratuitous assholeishness seems like maybe a setup that Michael is a crooked cop, but no. He's actually the Partner Who Dies At the Beginning. The two go to a bar to celebrate the tenth anniversary of Billy in the U.S., and Billy happens to be taking a piss when a gang of coked out creeps comes in to rob the place. One weird touch: the late Michael is carrying around a stuffed monkey doll because he was worried it would get stolen if he left it in the car. That's how bad crime is, there are punks and creeps going around stealing stuffed animals from cars, maybe selling them to hospital and zoo gift shops for drug money. That's the kind of world Paul Kersey was trying to avoid living in.
After this scene you'd assume the movie's gonna be about catching or killing the guy that got Billy's partner, but that actually happens in the first action scene. There's a big foot-to-speedboat chase. Billy does a great move that's more like the stupidest American movies than the Hong Kong ones: a helicopter drops a rope to him, he climbs out and somehow knows he can aim his commandeered-from-an-innocent-civilian speedboat for the bad guy's boat and that the second they touch the other boat will explode into flames.
I read a true crime book one time where a police detective spotted and apprehended a bank robber while he was driving to a ceremony to receive a medal for having caught a different bank robber. The book argued that some cops just seem to have this uncanny ability to be at the right place at the right time. This also applies to all cops in movies. Billy and his new partner (Danny Aiello) are at a fashion show when thugs with uzis and ski masks smash through the skylights and kidnap a rich guy's daughter. So our boys have to go to Hong Kong to try to get her back. That's why he's THE PROTECTOR, because he's, you know, rescuing someone, which is similar to protecting them I guess.
In Hong Kong Billy and his 'Nam vet partner do their investigation, go to a bathhouse, etc. They make the mistake of getting some naked girls to give them massages. Turns out they work for the Triads or whoever so it's a massage with a non-Hollywood ending, and Aiello ends up running in his boxers to get his gun out of a locker.
One weird part in this scene is when Aiello sees the face-hole on the massage bench he says "I remember these holes when they were a little smaller, ha ha ha." He's talking about gloryholes, right? Too much information there, buddy.
Eventually they team up with an ex-Navy SEAL American expat and a girl, etc. Billy does a pretty amazing motorcycle jump onto a boat, and some pole vaulting between different boats. The bad guys have a henchman who it's mentioned is an ex-karate champ, and fortunately they follow action movie law and have Billy eventually have a big fight with the champ. At first their fight seems disappointingly straightforward, but eventually Jackie starts using objects he finds and climbing onto stacks of crates to fight different guys.
Like many movies (including recent ones like MERANTAU and HANNA) there's a climactic action scene that takes place between shipping crates. The original part is that inside one of the shipping crates is a hidden drug lab. A team of naked women climb up a ladder to the lab where they grow melons and hide coke inside them. It's not a seedy lab, it's a cool one like they'd have in a James Bond movie or ENTER THE DRAGON.
Glickenhaus (or the producers, or whoever) obviously didn't get Jackie Chan. His popularity came not just because he was great at fighting and stunts but also from his humor and the boyish personalities of his characters. He had already figured out to stop trying to be an invincible Bruce Lee and instead be a fuck up. But for THE PROTECTOR they tried to turn him into Dirty Harry. They have him grimacing and shooting people and about the only joke he gets to make is a goofy face when he steps in a hot bath during a chase.
It's weird, they even have him cursing. It's funny to hear Jackie saying "fuckin", "asshole" and "shit." I guess for the Hong Kong version Jackie took out the swearing. He also made the movie shorter, re-edited the final fight, and reshot the scene to put clothes on the naked girls! I'm against it.
I think there's a small mistake in the way they present his action scenes, too. When he runs up a wall or a fence they put it in slo-mo. He does those little parkour moves all the time, but I think it's the effortlessness that makes it so amazing. He does it so quickly and gracefully. It flies past your eye and you think "holy shit." When it goes in slow motion though I think it's not as impressive.
So there are some problems with THE PROTECTOR, but I think it's not nearly as bad as its reputation says. It's shot well, nice production values, with some weird touches for flavor (naked girls cutting open melons, little people dressed as pirates). And while it's not up there with his best Hong Kong movies it does have several stunts that you would never see in a normal American movie, like all the jumping between boats and the crazy scene at the end where he's standing on a metal platform lifted up by a crane and a guy throws boxes at him and he jumps over them like Mario jumping a barrel.
If you forget about it being a Chan vehicle and instead hold it up against the Cannon movies and stuff like that it's actually a pretty good example of the cops 'n chopsockie type genre. Unfortunately it happened to come out in a particularly crazy time for action movies and I think really it's being held up to those that kept it from catching on. I looked up what other action movies were released in the U.S. in 1985, and here's the list I came up with:
AMERICAN NINJA, CODE OF SILENCE, COMMANDO, DEATH WISH 3, GOTCHA!, GYMKATA, INVASION USA, THE LAST DRAGON, MAD MAX BEYOND THUNDERDOME, MISSING IN ACTION 2: THE BEGINNING, RAMBO: FIRST BLOOD PART 2, RED SONJA, REMO WILLIAMS: THE ADVENTURE BEGINS, TO LIVE AND DIE IN L.A., A VIEW TO A KILL, YEAR OF THE DRAGON.
When you look at it that way you realize how fuckin nuts the action cinema was at that point in time. So many of these are memorable for their excesses or ludicrousness. Obviously COMMANDO is a classic with comic book exaggeration, DEATH WISH 3 is the most over-the-top vigilante movie of all time, GYMKATA is about a gymnast fighting mentally ill people to death on a mysterious island, INVASION U.S.A. is the most ridiculous (and enjoyable) Chuck Norris movie I've seen, THE LAST DRAGON is full of weird touches that would never happen at any other time in our cultural history, RAMBO is the living embodiment of '80s action movie stupid-macho, TO LIVE AND DIE IN L.A. is the most artfully made on the list by a mile but it's all about '85 Los Angeles phoniness, wang chunging and spectacular car chases. CODE OF SILENCE is one of the classier Norris movies, but it still has a robot in it. Shit, 1985 was even excessive in the amount of roles it gave to Chuck Norris – he's got three on there. Also I figure it's more of a drama but ROCKY IV came out that year, and it fits right onto that list as far as pure 1985ness. It had a robot too, it had communism, it had James Brown in a red white and blue sequined outfit,  it gave the world Dolph Lundgren.
So you can see how in that context THE PROTECTOR could be underwhelming. Compared to many of its type THE PROTECTOR has alot of mayhem and crazy stunts, but compared to most other action of the time it was tame in content and attitude. It had a hard time living up to Chan's Hong Kong movies or America's ridiculousness of the time.
And so it goes. But it was for the better. Maybe if this had been a huge hit like RUSH HOUR he would've been doing THE SPY NEXT DOOR by 1990.
This entry was posted on Thursday, May 19th, 2011 at 12:20 am and is filed under
Action
,
Martial Arts
,
Reviews
. You can follow any responses to this entry through the
RSS 2.0
feed. You can skip to the end and leave a response. Pinging is currently not allowed.