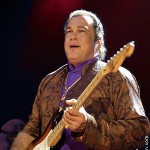 I don't know how to explain my fascination with Steven Seagal, but you can read my review of ON DEADLY GROUND and maybe you'll understand. I don't think the dude is exactly advancing the cause of Badass Cinema with his works, but I still enjoy every new chapter of his saga.
This time around we find Seagal working with a young rapper named Ja Rule, stealing cars for some European guy. BUT NEVER FEAR. Although Seagal may SEEM to be a mere car thief (or I guess, since he's Steven Seagal, an ex-CIA black ops car thief), it is heavily implied in the opening scene that he MAY actually be some kind of undercover FBI agent. I don't want to give anything away though, who knows if he really is undercover or not. Nobody really knows until they themselves have seen the movie.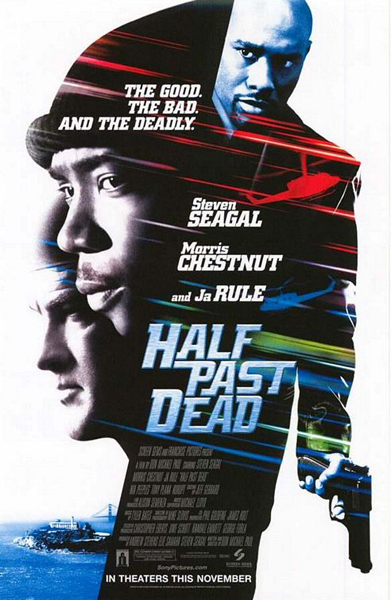 Of course, as soon as we've introduced the idea that Seagal MAY be FBI, he fondles his wedding ring and stares meaningfully out the window, so we know that he is still mourning the death of his wife. And in the very next scene he has a job that goes wrong and he gets shot and he and Ja Rule end up in prison.
By the way I forgot to mention that Seagal's name is Sasha, and he leaves his hair down instead of the traditional ponytail. Sorry, no fringe coat or beads this time around.
At this point in the picture we realize that this takes place in the near future, when Alcatraz has been reopened under the futuristic name "New Alcatraz." It is supposed to be a top of the line maximum security joint but since it's new they make a few mistakes. For example when they're loading the convicts in the screws don't mind that Seagal gets out of line and just starts having a conversation with Ja Rule. Also, as soon as they get through the metal detector they start boxing one of the screws, and throw him through a bookshelf, and they don't get punished.
I mean I guess it's some kind of futuristic liberal prison because they also got this kind of new agey hispanic warden in a leather jacket. He's kind of like the cool guy warden. He talks tough but he wants to be your buddy. He practically coddles the lovable old man who they are about to execute for accidentally killing 5 people during a train robbery. (A futuristic train robbery, I think.) He even fulfills the old man's Make a Wish Foundation request of getting to hang out with Steven Seagal before his execution. So luckily Seagal is there when Morris Chestnut and a bunch of other individuals with Columbine style weaponry and clothing drop in with parachutes to try to kidnap the old man to find out where he hid the gold that he stole during the futuristic train robbery that accidentally killed 5 people and put him on futuristic death row.
When last we saw Morris Chestnut in the Seagalniverse, he was a mere comic relief sidekick in UNDER SIEGE PART 2: DARK TERRITORY, aka DIE HARD ON A BOAT PART 2: DIE HARD ON A BOAT ON A TRAIN. But since then Mr. Chestnut has established himself playing handsome love interests in pictures like THE BEST MAN and THE BROTHERS. So now he's gotten a promotion to Lead Villain. (A guy called Kurupt is the main comic relief character in this picture, so he has someone to look up to I guess.)
Mr. Chestnut doesn't bring too many interesting thugs with him. There is nobody as good as Billy Bob Thornton in ON DEADLY GROUND or Everet McGill in DIE HARD ON A BOAT 2. But there is a chick with bright blue eye makeup (Nia Peeples, I guess?) who basically plays the part of Trinity in The Matrix. She flips around in leather and a trenchcoat, looking hot, doing kung fu, firing machine guns, etc. I think the filmatists actually felt a little guilty about the Matrixyness of it all. They have a reference to a place called "Trinity Lake." Or maybe they're sci-fi buffs, because as soon as Sasha gets into prison they start calling him by his number, 1137, which in my opinion is only one or two off from 1138. You know actually they probaly just did that because they regretted that they named him Sasha.
Come to think of it, why in the hell did they say he was russian anyway, or that he had a titanium knee? I don't get it, man.
In my opinion, this is not the most realistic prison movie I've seen. There don't seem to be very many convicts, the ones that are there are all very lovable, and the fuckin place has glass ceilings. True, they're high ceilings, but trust me man you don't want to tempt convicts. Oh well, it's the future.
So how does this rate among the Seagal ouvre? Well it's not in the top 10 percentile but I felt like I got my money's worth. Seagal is kind of down on his luck right now. He's suing his former producer partner Jules Nasso for getting the mob to strong arm him, and at the same time he's fighting an uphill battle to prove he's big screen material. He is widely perceived as fat, slow and not talented. His Dolemite fighting style does not translate well for the Yuen Woo Ping generation. His return to theatrical features, EXIT WOUNDS, opened big, but all the credit was given to co-star DMX. In fact the recent, otherwise great article about Seagal in Vanity Fair described the movie as a DMX vehicle with Seagal in a supporting role (which is a god damn lie).
Well here Seagal looks fatter and less agile than ever, but he's found a pretty good solution for that. I guess I never reviewed THE PATRIOT, but in that straight to video picture he only had two brief action scenes. He played a doctor/toxicolgist and most of the set pieces were about lab work. In HALF PAST DEAD he avoids that problem, delivering the required amount of action by doing mostly ridiculous, cartoony action where he can be replaced by a stuntman. There's a goofy car chase and a hilarious parachuting climax. He leaves all the running and jumping to the kids. The gal with the blue eyeshadow does all the flipping, Morris Chestnut jumps off a ledge like he's Batman, and all the convicts jump down a couple floors for a gun battle. Meanwhile our heroes, Seagal and Ja Rule, hide inside a crashed helicopter.
To be fair, there is a part where Seagal and Chestnut fight while swinging around on chains, Thunderdome style. That was pretty good. But otherwise Seagal tries to stay rested. As a result, there is not a whole lot of bloodshed. For a Seagal movie, there is a very low bodycount, and I don't remember any blood. In fact the most brutal things that happen to people are used as slapstick comedy for the rapper-actors, like when Ja Rule gets flung from a car into another car, or when Kurupt's bazooka propels him 10 feet through the air and right through a window.
I mean this is a PG-13 movie. They even play songs with "motherfucker" in the chorus and then cut out the "fucker." I noticed this three times. What is this, television? BLADE 2 had no problem playing "listen all you motherfuckers." If you can't hang with the big boys maybe you better stay home, HALF PAST DEAD.
That's not a big deal really, I can just yell "fucker" in the theater every time they leave it out. Problem solved. What's really missing here though, is the trademark Seagal corniness. I think the studios feel that in order to market Seagal to a new generation, they have to tone down the asskicking pacifist motif. He doesn't get to agree with the core beliefs of militia groups (as in THE PATRIOT) or protect Native Americans (as in a couple of his movies) or even claim to be Buddhist (as in THE GLIMMER MAN) or do a speech about alternative fuel sources (as in ON DEADLY GROUND) or claim that the CIA created AIDS as a form of genocide against blacks and gays (as he apparently claimed in an unproduced script). He doesn't get anywhere near ON DEADLY GROUND's 3 QUESTIONS OF SEAGAL:
1. What does it take to change the essence of a man?
2. How much is enough? How much money is enough?
3. What do you say to a man with no conscience?
The closest we get is a little karma talk and more discussion of God than you generally expect in a shitty action thriller. Oh well, I guess you can't hit a home run every time. Instead we get a couple quick shots at typical buddy movie shit (Ja Rule teaches him to say "aight") and undercover cop/thief betrayal issues… or do we? Nobody knows if he is an undercover cop or not.
Ja Rule replaces DMX as the rapper buddy. He does a good job of reading his lines. But I liked the DMX fella better, he had a very strong screen presence and charisma, and when I saw him in the earlier picture BELLY I realized he was a natural movie star. Ja Rule is kind of a smaller, weaselier guy and judging from his songs on the soundtrack his music is just a shitty ripoff of DMX's. But oh well, I won't judge. The days when Michael Caine or Eric Bogosian would hop on board a Steven Seagal movie may be over, so we'll take what we can get.
Well, maybe Michael Caine would do it again. I wonder if they've asked him?