I want to tell you guys about a new book I got called DESTROY ALL MOVIES: THE COMPLETE GUIDE TO PUNKS ON FILM, edited by Zack Carlson and Bryan Connolly. I guess you might've already heard about it because some of the other movie websights beat me to posting about it, but you know what? The tortoise ate the hare, the boy who cried on the wolf, etc. Anyway I've been looking through it for a few days and I want to discuss it with the ladies and gentlemen of the outlaw community or whatever, because this is one of those passion project books printed with special blood sweat and tears based inks, and those deserve recognition.

Honor forbids me from calling this a review, because I somewhat know these guys. And that's not bragging either, because everybody seems to know them – the Texans know them from the Alamo Drafthouse (they live in Austin), Harry knows them from Fantastic Fest, the Californians know them because they're doing a big event at one of the hip L.A. theaters this weekend, and you probly know them because Zack used to do the Rolling Road Show, so you probly hung out with him when he was in your town. Or you saw his band play, or he used to babysit for you or you bought a car from him or something.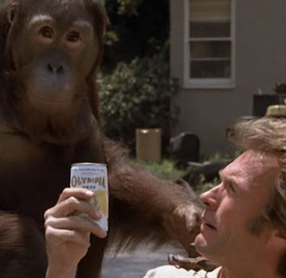 I think these two might be kind of like THE STEPFATHER, going around to different cities and setting up new life after new life, but luckily instead of murdering their families they just share their love of crazy movies. There was a time when they were in Olympia, Washington, our state's capital and known worldwide as the birthplace of the Riot Grrrls and the Olympia Beer. There they were Baron Wasteland and Evil Dean, the unprecedentedly maniacal hosts of the Olympia Film Festival's All Freakin Night (the annual all-night horror marathon responsible for my love of FRIDAY THE 13TH 3D). But this baby was conceived in Seattle and delivered by our own adult cartoon storybook publisher Fantagraphics. Zack and Bryan were in town working at the tiny Grand Illusion theater (a spot previously mentioned in my EL TOPO review) when they started their 7 years of work on this book. They knew I was writing SEAGALOGY and we would run into each other sometimes and compare notes as fellow people-spending-years-working-on-books-that-sound-ridiculous-but-we-know-it's-a-good-idea. So I feel a kinship to them for that reason and also because the book has a review of HARD TO KILL in it.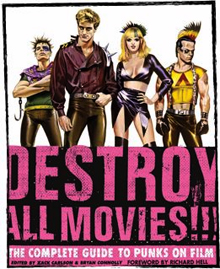 Basically their idea was to review every movie that has a punk in it. That not only includes movies about punk rock like THE DECLINE OF WESTERN CIVILIZATION, or movies with punk main characters like RETURN OF THE LIVING DEAD, it means every god damn movie that has a punk in it, even in one part. So you have these capsule reviews of all different kinds of movies and then they'll slide in a sentence about how a guy with liberty spikes is in the alley near the end or whatever. From Bryan's review of BREWSTER'S MILLIONS:
"The punk appearance in this film is incredibly brief and hard to catch. The VHS will surely cut him out, so you'll require either the DVD or 35mm print because he only exists in the widescreen version. You'll also need to have a DVD player with a zoom function to really make him kind of, sort of visible. Ready? Okay. It's in the scene where Pryor is leaving his hotel room. There's a large crowd. In the far, far right of the screen will be – for only a second – a man with a spiky mohawk standing beside a bleached-haired woman."
Then it goes back into talking about Walter Hill.
They decided to limit it to 20th century film, and they had to come up with a strict definition for what constitutes a punk. It couldn't be the guy from the Sanctuary of 1,000 Testicles in HOLY MOUNTAIN who has a mohawk, because that was before the existence of punk. It couldn't be Mr. T, because he considers his hairstyle a tribute to his African heritage. To be included the characters had to be part of a musical or countercultural movement. Therefore Zack and Bryan decided that nobody in THE WARRIORS is a punk. They worried this would be controversial until Zack put together a WARRIORS cast reunion and nobody in the cast believed their characters were punks.
The research was grueling. It's easy to look up what all the Steven Seagal movies are, but how the fuck do you find out which movies have punks in them, and find the time to watch them? In the introduction they explain the process of combing video stores in Seattle and across the country, and how hard it was to use Google and IMDb while separating punk rockers from "do you feel lucky?" type of punks. The thank-yous read like a tribute to the dying tradition of the video store, acknowledging many stores with an "RIP" after their name. They ended up with over 1,000 reviews and apparently that's a small percentage of the movies they had to watch in order to rule out all the punkless ones. The book is 463 8.5″ x 11″ pages and beautifully designed with all kinds of stills and advertising art (in color at the front and back but mostly collaged in high contrast black and hot pink). And of course the cover sports that beautiful painted poster for CLASS OF 1984.
I count 15 additional reviewers, but it seems like the vast majority of the capsules are by Zack and Bryan. I think sometimes their approach can be too mean and hyperbolic (in his review of TANK GIRL Zack says that it will make you want to commit suicide but that "if the cast and crew of TANK GIRL have any integrity at all, they've already cleaned out the gun store." Hey dude, lay off Ice-T.) but their infectious excitement for this type of goofball material, their obsession with the specific topic and their attention to the weird details make it very entertaining. They love bizarre '80s schlock that most of us never heard of, so when it gets to one that they really love suddenly the reviews stretch out to epic length. I know they're obsessed with this thing called SURF II, so after the review they spend three more pages interviewing the director and one on star Eddie Deezen.
That's my favorite part of the book, the interviews that pop up all throughout. They got the people you would associate with punk movies like Penelope Spheeris, Alex Cox, Allan Arkush, Nick Zedd, etc., and they only ask them about the specific movies in the book and the punk aspects. They ask Clint Howard about filming concert scenes in ROCK 'N' ROLL HIGH SCHOOL. They talk to Brian Trenchard-Smith about DEAD END DRIVE-IN. They talk to a whole lot of punk musicians who appear in movies, sometimes with hilarious results and ended with perfect comic timing. I highly recommend the interview with guitarist "Sickie Wifebeater" on pages 221 and 222.
But the best interviews I think are the ones with obscure directors. I'm sure Alex Cox has said a whole lot on the record about REPO MAN, but how often do you get to hear the director of the skate punk movie THRASHIN' explain his background? Or actor Jon Gries and director Greydon Clark separately explaining some character called "King Vidiot" in the movie JOYSTICKS? Probly the crowning achievement is their interview with Kirk Thatcher, "Punk On Bus" from STAR TREK IV: THE VOYAGE HOME, a character they explain is the original inspiration for the book. This is the kind of odd information that you might wonder about but you'd never think you'd get access to it, even with today's computering technology.
I'm looking at this book and I'm kicking myself 'cause it's so cool and I could've had some reviews in it. They needed all the help they could get to conquer that mountain of videos, but I blew it. The only review I submitted was of the MOONLIGHTING pilot, which opens with a barefoot, mohawked assassin chasing a jogger. But they wisely figured out they had to forget about TV shows if they wanted the book to be under 10,000 pages.
I never had any association with a punk rock movement, so I felt unqualified, like I would be a poser trying to comment on how accurately these movies reflect the safety-pinned way of life. I didn't know what point of view I was supposed to offer. But now that I see it all put together I see that it's really two books, one that's about punk rock and one that has nothing to do with punk rock at all. That's the book that chooses one random little swatch of American culture in the '80s and '90s and pulls in everything it's connected to. That's the genius of the idea, it's a way of bringing together all these movies that have almost nothing to do with each other, and yet sort of do. It just so happens that the types of movies that tend to have a part where there's a guy with a mohawk also happen to be the type of movies these guys are attracted to: shitty '80s frat comedies, Italian ESCAPE FROM NEW YORK or ROAD WARRIOR knock-offs, low budget horror and action movies with little understanding of youth culture, etc.
To give you an idea, let me flip through here and tell you some of the titles I come across: 976-EVIL, ALIEN FROM L.A., CROCODILE DUNDEE II, HOLLYWOOD ZAP, HOMEBOYZ II: CRACK CITY, THE JERKY BOYS: THE MOVIE, RUNNING SCARED, SPICE WORLD, STEELE JUSTICE, SUPERMAN IV: THE QUEST FOR PEACE, TETSUO 2: BODY HAMMER, VICE ACADEMY III, WIRED TO KILL, YOU TALKIN' TO ME… it's full of movies we've discussed here before: 3:15 THE MOMENT OF TRUTH, ALONE IN THE DARK, RAW DEAL, DEATH WISH 2-4, DOUBLE TEAM, THE TERMINATOR, ESCAPE FROM NEW YORK (and L.A.), EXTERMINATOR 2, that movie TRICK OR TREATS that I watched on Halloween, FRIDAY THE 13TH 8, NIGHTMARE ON ELM STREET 3…
So if this sounds interesting to you, trust me, you'll be impressed. And hats off to Zack and Bryan for chasing and bagging their ridiculous dream.
.
.
.
Look for DESTROY ALL MOVIES at your local independent bookstore or through my Crassly Commercial Amazon Link (CCAL):
and for way more information about the book there is a cool websight for it: punksonfilm.com
This entry was posted on Friday, November 19th, 2010 at 3:19 pm and is filed under
Blog Post (short for weblog)
. You can follow any responses to this entry through the
RSS 2.0
feed. You can skip to the end and leave a response. Pinging is currently not allowed.