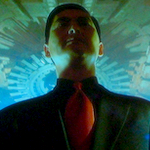 I try not to be too set in my ways, which is a good reason to rewatch a movie years later and see if you respond differently than the first time around. So something told me it was time to revisit something from those heady days when the emerging international popularity of Hong Kong action cinema fired peak John Woo and Chow Yun Fat out of a cannon aimed at the heart of Hollywood. I'm not sure what kind of a cannon shot them so that Woo landed in 1993 and Chow not until 1998, but life is a mystery. Anyway, they exploded and in the case of Chow, we were mostly disappointed and then happy that he didn't stick around that long, because Hollywood clearly didn't know what they were doing with him.
THE REPLACEMENT KILLERS was significant not only as Chow's first Hollywood/English language movie, but the directorial debut of Antoine Fuqua, who became a much bigger deal when 2001's TRAINING DAY won Denzel Washington an Oscar. That kind of gave him the air of an Important Filmmaker for a little bit, but I think now he's settled in as the type of director who makes OLYMPUS HAS FALLEN and THE EQUALIZER 1 and 2, which is more like the expected trajectory for the director of this one. He came from directing music videos, most famously "Gangsta's Paradise" by Coolio, but also "The Most Beautiful Girl in the World" by Prince.
Chow plays "John Lee," who's pretty much a remix of his character in THE KILLER. He's an assassin who owes one more hit to L.A. Triad boss Terence Wei (Kenneth Tsang, A BETTER TOMORROW 1 and 2, THE KILLER, SUPERCOP, RUSH HOUR 2). But he's sent to the home of LAPD Detective Stan Zedkov (Michael Rooker, CLIFFHANGER) and sees the man's wife and son through the sniper scope and decides he can't do it. (In a corny touch, Zedkov doesn't see him but looks right into the scope as if sensing him.) (read the rest of this shit…)
VERN has a new action-horror novel out called WORM ON A HOOK! He has been reviewing movies since 1999 and is the author of the film criticism books Seagalogy: A Study of the Ass-Kicking Films of Steven Seagal and Yippee Ki-Yay Moviegoer!: Writings on Bruce Willis, Badass Cinema and Other Important Topics as well as the crime novel Niketown.