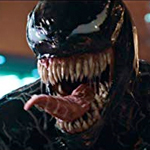 VENOM is the red-headed step child of 2018 comic book movies. It's in the off-brand world of Spider-man supporting characters still controlled by Sony but not allowed into the official Marvel Cinematic Universe. It's a character that was hugely popular with a certain type of dude twenty-some years ago, but not really in line with current tastes in super heroes, and arguably having lost some stature after being played by Topher Grace in the unpopular (though I liked it) SPIDER-MAN 3. And many have noted that the script – credited to the diverse trio of Jeff Pinkner (THE AMAZING SPIDER-MAN 2, THE DARK TOWER), Scott Rosenberg (DISTURBING BEHAVIOR, KANGAROO JACK) and Kelly Marcel (SAVING MR. BANKS, FIFTY SHADES OF GREY), based on the character by David Michelinie (made Tony Stark an alcoholic) and Todd McFarlane (SPAWN) – doesn't seem that different from what it would've been if this was made in the late '90s.
Let's not get carried away though. The digital FX are like ten thousand times better than SPAWN's, and you can't call it a '90s throwback if it's not copping the style of THE CROW. This is filmed in normal locations and the end credit songs are by Eminem and Run the Jewels instead of, you know, Incubus or whoever it would've been. (read the rest of this shit…)
VERN has a new action-horror novel out called WORM ON A HOOK! He has been reviewing movies since 1999 and is the author of the film criticism books Seagalogy: A Study of the Ass-Kicking Films of Steven Seagal and Yippee Ki-Yay Moviegoer!: Writings on Bruce Willis, Badass Cinema and Other Important Topics as well as the crime novel Niketown.