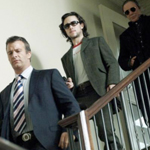 Do you ever notice the movie posters where it shows the faces of all the leads but then the names above their heads don't match? You see that and you understand that it was some legal thing, they were required to list them in that order by contract, there's alot of politics involved. But then you wonder why they don't plan for that reality ahead of time and make a composition with that in mind. I know it can be done. And KILLSHOT, the long-delayed-then-poorly-received-then-put-off-seeing-by-me-until-now Elmore Leonard adaptation from the director of SHAKESPEARE IN LOVE, does something rarer. It introduces the characters in the actual movie in credits order so the actor's names can appear over them on screen. I was really impressed by that extra effort.
That sounds like something you might do in a really fun movie, but this is actually pretty dour. I complained about FREAKY DEAKY being too jokey, this one goes hard in the other direction, almost no humor. Or maybe it just seems that way 'cause it uses thriller music instead of something funky like alot of the Elmore Leonard pictures do. I have to admit I haven't read this one so I don't know if they blew it on capturing the tone, but as a movie I think it works. This one was a good surprise.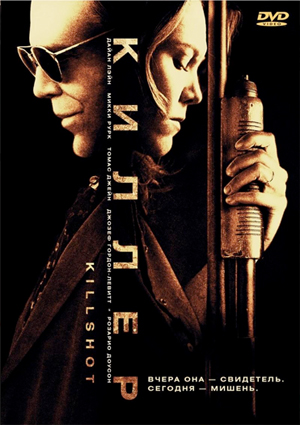 Mickey Rourke (DOUBLE TEAM) plays Armand "Black Bird" Degas, half-Native American hitman for the Toronto mafia. Joseph Gordon Levitt (GI JOE: THE RISE OF COBRA) plays Richie Nix, hopped up loose cannon idiot bank robber, with Elvis-loving, doll-collecting, ex-prison employee Rosario Dawson (DEATH PROOF) as his girlfriend. Thomas Jane (DEEP BLUE SEA) plays Wayne, an ironworker who's getting demoted at work and looking for a new job at the same time as he's trying to move out of his house because his real estate agent wife Carmen (Diane Lane, JUDGE DREDD) wants to separate. These characters will all come together through the age honored Elmore Leonard methods: odd coincidences and stupid mistakes.
Wayne's not the only one having problems at the workplace. Black Bird retired after his little brother got killed on the job, but he gets pushed into one last one. When he kills the hooker who witnesses it the boss says she worked for him, refuses to pay and wants to kill him for it. Isn't that some bullshit? Oughta be a union. While he's on the run Black Bird ends up partnering with Nix in trying to extort a guy that works with Carmen at the real estate office, and they mistake Wayne for the guy because he happens to be in the office at the time looking for a job. (Shouldn't have worn a tie, it turns out.) Next thing you know the estranged couple are working together trying to evade these maniacs who want to kill them just for having seen their faces.
Rourke does an accent that's not my favorite, but the role takes advantage of most of his great qualities other than craziness and dog-owning. He's scary and stoic, he quietly burns while yammering younger partner runs off at the mouth or goes too far, making Carmen take her clothes off, for example. Black Bird is too evil to be an anti-hero, but he's serious about his code of honor. He stands up to the kid when he's being an asshole to his girl. In a very authentic moment of denial she tries to ignore their argument, timidly averting her eyes and continuing to pleasantly talk about the pictures in her photo album. Pretend everything's okay and everybody will go along with it, right?
Levitt is the one guy who gets to go mega, a fun performance in the period when he was using indie crime movies (THE LOOKOUT, SHADOWBOXER, HAVOC, BRICK) to show off his skills and transition from sitcom kid to actor taken seriously. The movie's one big laugh for me is when he's manically trashing a guy's office and he grabs onto the antlers of a mounted deer head, pulls himself upside down and pushes his feet against the wall to pry the thing off. That's something I bet had never been put on film before. It's like a cartoon but I think he really did it.
It's also a pretty good role for Jane. It uses his ruggedness, some of his anger, but mostly his aura of likability. He's trying to give Carmen her distance but also wants to save his marriage, and is trying to be good to her. I'm sure it's more involved in the book, but I like how the whole caper is a backdrop to their relationship. Just as they're packing up to move away from each other they're forced to go into witness protection and move into a new place together. Carmen's understandable paranoia when alone causes them to spend more time together in ways they probly didn't when they were together and didn't know anything was wrong yet. The way police (and of course killers) treat her makes him stand up for her, angrily protest what they're doing to "my wife!"
All these different sides of the story come together when he comes to her unexpectedly at the climax. It's the emotional climax because of what it means for their relationship and it's the suspense climax because the shit is going down and he has a much-needed gun in his truck.
They seem to have caught this cast all at the right times in their careers, and that especially goes for Lane, who's had sort of a resurgence as a beautiful woman who doesn't hide that she's older than 22. She's in an emotionally vulnerable spot but radiates intelligence. You can see why Wayne wants to patch things up but also why she might want to move on.
It's funny, I was really anticipating this movie before it came out. That cast doing Elmore Leonard? Sign me up. But my signature was a lie. It got shelved, and that seemed like a bad sign even though we all know the Weinsteins have a long history of just throwing a dart into the movies they own and choosing one to randomly hide away and not release just to confuse and frustrate people. That's one of their biggest passions besides getting Oscars, and I think they literally have a shelf in their office of the movies they own, on display. They only release one when they need more room on the shelf. By the time KILLSHOT finally got rotated onto video I heard bad things and I got spooked.
After FREAKY DEAKY though I figured what the hell, might as well get KILLSHOT over with too, find out what the deal was. Turns out I like it more than anybody. Maybe if I knew the book I'd be singing a different tune, but I think this captures the grim side of Leonard really well. It has a good set of characters, great cast, likable but flawed protagonists, scary and sometimes stupid villains who are compelling enough to carry long stretches of the story on their own. A nice, messy crime story that builds up until it falls over and explodes. And it's got this grown up relationship drama at the center. I don't know if they belong together, but I want them to figure it out.
I'm not saying this is OUT OF SIGHT or JACKIE BROWN level Leonard adaptation, but it's better than most, solid and distinct and its mood and characters lingered in my mind long afterwards.