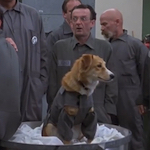 You may have thought I was done with the weird dog movies of summer '91 after the ROVER DANGERFIELD (plus 101 DALMATIANS re-release) review last week, but if so you forgot all about the live action division. August 9, 1991 also saw the release of BINGO, a pretty odd movie about a kid whose family moves, leaving behind a dog he had secretly befriended, E.T. style.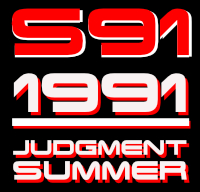 It's directed by Matthew Robbins, who as a writer contributed to George Lucas' original THX 1138 short and Spielberg's SUGARLAND EXPRESS and CLOSE ENCOUNTERS OF THE THIRD KIND, and as a director gave us CORVETTE SUMMER, DRAGONSLAYER, THE LEGEND OF BILLIE JEAN and *batteries not included. He doesn't have a credit on the screenplay here – that went to newcomer Jim Strain.
Bingo is a dog who lives with a circus. One day he has to fill in for an injured poodle, but he freezes when he's supposed to jump through a flaming hoop – a flashback tells us that his mother was killed in a pet store fire. (I sincerely love the shot of puppy Bingo mourning at his mother's grave [with flowers!] like he's Bruce Wayne or somebody.) His trainer Steve (Simon Webb, one episode of MacGyver) tries to shoot him, but Bingo escapes because Steve's Peg-Bundy-looking-wife Ginger (Suzie Plakson, MY STEPMOTHER IS AN ALIEN) at least briefly sympathizes with him, telling him to run away and "Do whatever makes ya happy!