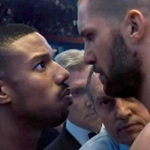 CREED was a perfect movie, a miracle that unexpectedly resurrected the ROCKY series. CREED II, coming from a different director and writers, cannot match it. But it's a solid continuation of beloved characters from both the original series and the new one that brings them to new places in life, with some boxing, training montages and dramatic music in between. Kinda like ROCKY II.
And of course there are other parallels. Adonis (Michael B. Jordan, RED TAILS) becoming champ, getting married and becoming a father, and also being embarrassed to be seen by the media while coming out of the hospital all beat up. But he doesn't get a tiger jacket, so it's not a remake of ROCKY II. Mostly it's a direct sequel to CREED and ROCKY IV.
Before they ever even announced a CREED II, you and I and everybody else were dreaming of the same thing: a sequel where Adonis meets the man who killed his father in the ring, Ivan Drago, and has to fight his son. It's one of those things that's so obvious that they sort of had to do it. If the sequel was about anything else, no matter how exciting, you'd just think "Yeah, but why not Ivan Drago?" (read the rest of this shit…)
VERN has a new action-horror novel out called WORM ON A HOOK! He has been reviewing movies since 1999 and is the author of the film criticism books Seagalogy: A Study of the Ass-Kicking Films of Steven Seagal and Yippee Ki-Yay Moviegoer!: Writings on Bruce Willis, Badass Cinema and Other Important Topics as well as the crime novel Niketown.