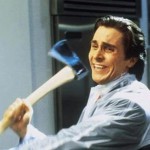 Not sure if anybody else has noticed this, but this guy Christian Bale is a good actor in my opinion. AMERICAN PSYCHO would have to be up there with Eric Bana in CHOPPER as one of my favorite maniac performances of the last 2-7 years. (Now they're playing Batman and the Incredible Hulk. They shoulda got the guy from DAHMER for Superman.) Mr. Bale was also pretty good in SHAFT 2K and REIGN OF FIRE, where I wouldn't've even known it was the same guy if I didn't know how to read and recognize names.
Well here in the machinist he gives another great performance but this time with a special nauseating gimmick: the guy lost a bunch of weight for the movie. He looks like a fuckin skeleton with a pair of pantyhose pulled over it. You know how DeNiro and Del Toro ate a bunch of donuts for RAGIN BULL and FEAR AND LOATHING and that was supposed to be so brave? Well Christian says FUCK THAT, eats nothin but grass and grapeskins for like three months or something, turns his muscles into fuckin corn husks. When I heard about it I figured he gets skinnier over the course of the movie, but no, he looks like this from the beginning. That's the character.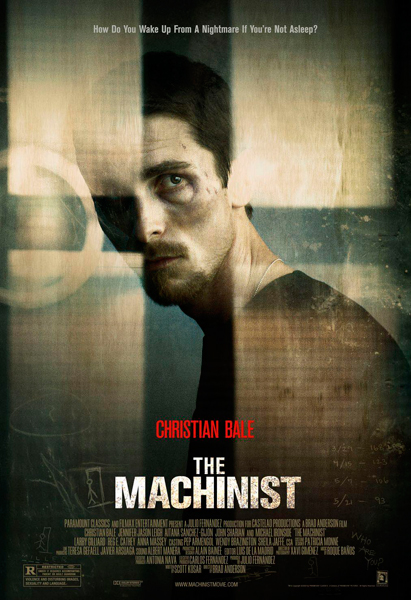 At first it's pretty shocking because he walks around with no shirt on and, in my opinion, that is not something you want to look at. You feel like if somebody bumped into him on accident in the hallway they might snap his head right off the neck. But put clothes on the motherfucker and it seems more acceptable, he's just a skinny, wirey, unhealthy dude. He even has relationships with women. They try to get him to eat more food but they don't vomit when they see him naked. Later on as things go badly for him in the movie he starts to look worse, and you're not really sure how much of it is makeup. Like, his right eye is so sunken in you can see the outline of the eyesocket. Which I am against. Keep your pants up, keep your shirt on, and keep your eyesockets covered, is what it says in the bible I believe. No shirt, no shoes, no eyefat, no service.
Okay so you knew about all this weight loss shit, what you probaly don't know is what this movie is about. They don't tell you that kind of thing, that's the kind of thing you gotta learn by watching it or by reading my review. Well old Boney here is a machinist at a factory that makes some sort of item, I believe. Cars maybe, or machines. Not sure what it is. And he's real skinny. Also he hasn't slept in a year. He meets a weird bald dude named Ivan, who one day distracts him on the job – Bones slips up and causes an industrial accident which costs Michael Ironside his arm. (homage to Starship Troopers.) When he mentions he was distracted by Ivan, everybody is like, who the fuck is Ivan? There's no Ivan here. THE CALL IS COMING FROM INSIDE THE HOUSE.
And a bunch of other, creepier shit happens too. As each day passes in the movie you know it's another day where old Jack Skeleton hasn't slept. So he starts to get more paranoid, thinks everybody's out to get him, and keeps finding cryptic post-it notes on the fridge. It's one of those deals where he doesn't really know what's real and he doesn't remember things, so the audience doesn't know what's real and they don't know what it is that he doesn't remember.
Also did I mention that the opening scene is a flash-forward where he rolls a body off a cliff. Shoulda probaly mentioned that. So you know either's he's gonna be a killer or somebody really is after him. And he gets further and further away from reality so you can't trust him to figure it out.
I'm probaly making the whole thing sound stupid, but I thought it was real effective. The thing about this type of thriller usually is until the end of the movie you are able to be bowled over by the spooky shit because of the mystery, the fear of the unknown and all that business. The moment of truth is when it gets to the ending. Then you have a solution and a reason and an explanation and then all the sudden sometimes it's not so scary or believable anymore.
And as you could feel this thing was getting to an explanation, I was sure that was what was gonna happen. I figured any ending they can come up with is not gonna live up to the beginning and middle, it's just gonna ruin everything.
To my surprise, the solution solid. It ties everything together. It makes you understand what's going on but it turns out to be much better than anything I was expecting. And not something I remember seeing a movie about. This is a smart, subtle movie that puts you in the shoes of a skinny freak that you normally probaly wouldn't want to spend your time with.
The filmatists are: director – Brad Anderson, writer – Scott Kosar. The writer previously wrote the indefensible remake of TEXAS CHAIN SAW MASSACRE. Fucker. The director is innocent except by association. Together though they did good on this one. Next they are remaking George Romero's THE CRAZIES, which is one that could stand a remake. Great idea but not one of George's best efforts, in my opinion. And this seems like a good team to remake it, judging from THE MACHINIST. On the other hand, some commercial director and the guy who wrote SCOOBY DOO actually did a pretty good job remaking the perfect untouchable masterpiece DAWN OF THE DEAD, so all bets are off. They could totally fuckin blow it on this one, who knows. good luck though gentlemen. I'm behind you. Don't fuck up though. Seriously. No pressure though.