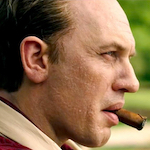 "You know, this is what happens when people spend too much time in Florida."
I can't lie. Half of my interest in CAPONE was a curiosity about the legend of its writer/director/editor Josh Trank. If you know who that is, you probly know him for a meteoric rise and fall. The success of one found footage movie (CHRONICLE) led to coveted studio gigs – a giant super hero movie and a Star Wars spin-off. But FANTASTIC FOUR was drastically changed from his cut, he quit the Boba Fett movie before they could fire him, there was a weird story in the Hollywood Reporter about his dogs wrecking a house he rented, and he made the career-sabotaging faux pas of disavowing FANTASTIC FOUR on Twitter just before it was released to terrible reviews and box office.
Seemed like a cautionary tale, and I can't deny a morbid fascination with it. I didn't love CHRONICLE, save for its cleverness about fitting good camera moves into found footage, so I wondered how these powerful Hollywood people got, and then lost, so much faith in the guy. But when I saw FANTASTIC FOUR I actually found alot to like about it, especially in the discovering-their-powers scenes that I described at the time as "more inspired by THE FLY than SPIDER-MAN." And I realized that he hadn't come completely out of nowhere – he edited and co-produced BIG FAN, a dark comedy/drama I liked.
Five years after his fall into the Great Pit of Carkoon, Trank has resurfaced with a self-generated, independent project, not inspired by "geek properties," but by one of those historical deep cut kind of stories some people get hooked on. CAPONE is about Al Capone not in his gang years, but the last year of his life, released from prison to live in a mansion in Florida as his mental and physical capacity deteriorate from syphilis and strokes. (read the rest of this shit…)