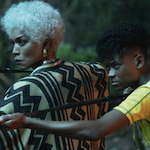 BLACK PANTHER: WAKANDA FOREVER has so much more to live up to than just being the next Marvel movie. As the first sequel to a genuine cultural phenomenon, meeting everybody's expectations would've been a high bar. Then its beloved star Chadwick Boseman died unexpectedly and the whole story was reworked to make supporting character Shuri (Letitia Wright, THE COMMUTER) the lead, while the cast and crew mourned, and also dealt with a pandemic. And they kept it on the down low how the fuck it was even gonna work; I will of course be discussing how the fuck it works, so this will be a HEAVY SPOILER review.
Luckily it was Ryan Coogler at the helm. His best movie CREED shows that he's a not only a highly skilled filmmaker, but one capable of investing a franchise type movie with deep personal meaning. And I think he's done about as good as anyone could have in his situation, creating a sequel that I don't think flows as well his first one, but that builds off of it, reminds us of what we loved about it, introduces new worlds and yes, turns mourning into commercial art.
The opening is so heavy it's impossible for the rest to live up to it. In two years of speculating how they would explain the absence of Boseman's T'Challa (he got assassinated? he got zapped to another dimension? he's still around off camera like Brian O'Connor?) I don't know why I didn't figure out that they'd choose the most direct and painful approach: T'Challa dies of an illness. Killmonger's destruction of the heart-shaped herbs in the first movie left him vulnerable, and Shuri's failure to synthesize a replacement causes her enormous guilt.
The funeral for T'Challa – Wakandans in all white dancing and drumming, pallbearers stepping in rhythm as they carry the king's vibranium coffin, his Black Panther mask carried at the front of the procession, Queen Ramonda (Angela Bassett, STRANGE DAYS) looking upon a mural of her son – would be a beautiful piece of cinema even if it were only for a fictional character. But we see these actors in pain and we know they didn't have to get into character as people mourning T'Challa. They're thinking about the same thing we are. Man, I thought I managed to make it through with just a little bit of mist, but the silent all-Boseman Marvel logo – that one got me.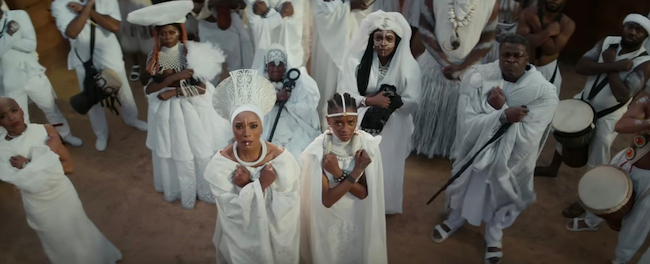 And then there's a movie, and it's partly about grieving, but mostly about carrying on, learning from the memory of your lost loved one, but making your own way, as they would've wanted you to. There is sadness, but there's also some time set aside for flying around battling crazy dudes, shocking American soldiers with electrified spears, riding on Orcas, and other good shit.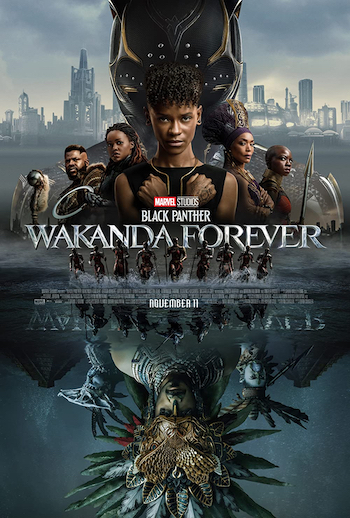 One of the things that makes Black Panther different from most super heroes is that he/she has to lead a country. T'Challa revealing the existence of Wakanda to the world in part 1 had ramifications: now all the other countries know about vibranium and are trying to get it. They attempt to rob a Wakandan outpost – nice set up for some badassness from Wakanda's all-female security force the Dora Milaje. The real trouble is when the CIA gets ahold of vibranium-detecting technology and locates a source deep in the ocean. Drilling there gets their Navy SEALS whooped by strange warriors they assume are Wakandans until they see they're not Black, they're blue.
Yeah, it really is weird that by the time Marvel got around to using their King of Atlantis character Namor the Sub-Mariner we've already seen AQUAMAN and trailers for AVATAR: THE WAY OF WATER. An underwater fantasy world would seem more impressive if it was the only one on the block, but I do think there's some wind left in these sails. The necessity to not be too similar to AQUAMAN gave Coogler license to change Namor's underwater kingdom from Atlantis to a much more novel Mayan-inspired city called Talokan. And though I love AQUAMAN and have no problems with its artificiality, it's cool to see more of an actors-actually-underwater look here.
Namor is played by Tenoch Huerta Mejía (SLEEP DEALER, CAMINO, and scary fuckin Li'l Mago in SIN NOMBRE), and he has a great explanation for why his name is pronounced "Nah-mor," which is immediately disregarded and everyone else pronounces it "Naymor." The way he tells it, he has alot in common with the Black Panther: some of his powers (and his peoples' blue skin and gills) come from ingesting mystical plants grown out of vibranium-rich soil, and they've developed a civilization in secret, hiding from European slavers and colonizers. He's brown, with pointy ears and (surprisingly effective) wings on his ankles, which is part of why he's worshipped as a god.
In fact he's so powerful he manages to sneak into Wakanda and surprise Ramonda and Shuri during a mother-daughter bonding night in the bush. The royals don't take this well, but Namor makes a fair point: Wakanda going public has put his own secret kingdom in the crosshairs of vibranium-horny gringos, therefore they owe it to him to find out who built that fucking detector and bring them to him. And if they don't (this part is less fair) he'll invade. He's one of those villains who's 95% right and 5% an asshole.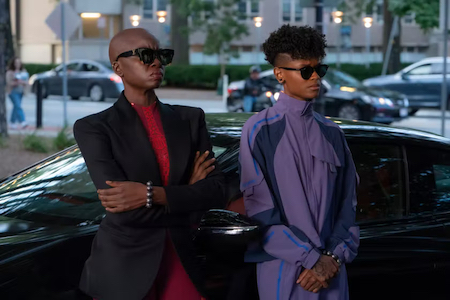 I like the section that's kind of a buddy movie between Shuri and Akoye (Danai Gurira, MY SOUL TO TAKE) on a covert mission in the States. Part of the appeal of these movies is the fantasy of Wakanda, but do not overlook the appeal of seeing them take their Wakandan excellence and swagger for a spin out among the rest of us. They're trying to be inconspicuous but just look super fuckin cool with their sunglasses and their car, Akoye wearing her Dora Milaje outfit under a blazer. Their white friend Everett Ross (Martin Freeman, ALI G INDAHOUSE) illegally leaks that the CIA stole the vibranium detector tech from a brilliant 19 year-old MIT student's metallurgy project. So they go to the dorms to find Riri Williams (Dominique Thorne, IF BEALE STREET COULD TALK, JUDAS AND THE BLACK MESSIAH). Shuri wants to bring her to Wakanda for protection, knowing Namor would kill her. One thing leads to another and there's a car/motorcycle/flying-suit cop chase and then the shit is really on when a squad of Talokans roll up on the side of a motherfuckin whale and leap onto a bridge wearing water breathing masks like motherfuckin Fish and Flips*.
Admittedly that's the sort of awesomeness/absurdity speedball that AQUAMAN did so well, and I think that movie had the perfect tone for it, but it's also cool to see that sort of shit treated even more straight-faced here. I think the FX on these guys swimming and leaping have a more realistic texture than recent Marvel films, and it goes without saying that costume designer Ruth E. Carter (DO THE RIGHT THING, BLACK DYNAMITE, DOLEMITE IS MY NAME, COMING 2 AMERICA) does not phone it in.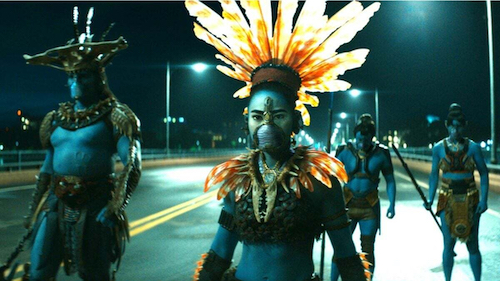 That said, I think the action here and in some other scenes is a little below the standard Coogler set in the first film – lots of good moments, but too shaky and dark to hit as hard as I'd like. On an FX note, there's a shot where Shuri looks animated that I thought "They couldn't just have her in the suit there?," but on the other hand one where animation allows her to scurry through enemies like a cat, using the technology for what it was meant for when it was given to us by our lord and savior BLADE II.
Shuri and Riri are captured and taken to a cave (with air). Namor brings Shuri on a tour of Talokan, tells her his life story, tries to convince her it's time for the two kingdoms to join together against the rest of the world. But Ramonda sends semi-retired secret agent Nakia (Lupita Nyong'o, NON-STOP) to rescue them, so Namor shows up in Wakanda again and (HUGE SPOILER HUGE SPOILER HUGE SPOILER) kills the queen. And then looks at her and gives a little chuckle. Okay, that might push him past 5% asshole.
I gotta admit I was surprised by that turn. Bassett is such an American treasure, it was cool to see her shown such respect in these big movies, and she really shines in a more challenging part this time, so you don't want to see it end. But then you think about it and of fucking course this is the only thing that makes sense dramatically. If she's around she's always the one in charge – for Shuri to be the hero she really has to be alone and forced to rise to the occasion. Plus we'll be seeing Ramonda on the Ancestral Plane. That works for everybody except T'Challa.
Shuri realizes that to protect her kingdom she has to find a way to become the next Black Panther, and she has a clever scientist way of solving the riddle of how to re-create the heart shaped herb. Which brings me to the other HUGE SPOILER surprise that I didn't see coming and immediately realized I should've seen coming. In the first movie, T'Challa consumed the herb and it brought him to the Ancestral Plane to talk to the last Black Panther, his father T'Chaka. But when Shuri does it she sees her cousin, Killmonger (Michael B. Jordan, FANTASTIC FOUR), who technically was a Black Panther because he briefly stole the throne and consumed the herbs. But he's not some redeemed Force Ghost. He gives her a tour-de-force motherfuckin movie star monologue about how her brother was too noble and she should follow his way of vengeance. And she seems convinced. I mean, Namor killed her mom! So, against everybody's advice, she comes up with a plan to capture and kill Namor, knowing it will start a war with those soggy fishfuckers.
The battle is exciting, though perhaps less epic than feels warranted. The climax is an excellent mix of badassery and character growth, though it feels possibly a step from being fully earned. Since we're HUGE SPOILERing already I'll just say it: Shuri has a chance to kill Namor, she demands he yield, and he does. In tandem with the first film it's powerful because it was so badass but so sad that Killmonger refused T'Challa's mercy and preferred to die. It had me thinking "oh no, not this again," and being relieved that he had the humility to surrender. I'm sure some people will scoff at the idea of Shuri allowing her mother's killer to live and even be an ally, in order to avoid war. But just because we can't see ourselves having the mercy to do that doesn't mean a comic book hero can't. And don't tell me it would be a better story if she just got revenge and was happy with it and showed that she was real dark and stuff.
I pretty much assumed Shuri would be the new Black Panther, since that's what they did in the comics, since the movie establishes a royal lineage, and since it's dramatic to have the central character who is least prepared, the "child who scoffs at tradition," be the one thrust into that position. But they did leave that ambiguous in the advertising, and for a time the movie seems to be leaving open the possibility that Akoye or maybe even Nakia could become the Black Panther. For Akoye it would be kind of a cool statement, the bodyguard becoming royalty. For Nakia it would just be cool because Lupita Nyong'o would be playing the main character.
Shuri is the right choice dramatically and logically, and because being a genius is a better reason to be a super hero than being good at fighting. I think it would feel kind of phony to just give it to the bigger movie star. But I do think it's a shame that the most charismatic member of the cast is playing the one in love with T'Challa so she gets sidelined running a school in Haiti and (SPOILER) secretly being a mom. Those are great things for real people to do with their lives, but in a super hero movie it's such a fuckin bummer. She gets called into action eventually but let's face it, she pretty much got Mia Torretoed. One step above playing Hawkeye's wife.
Arguable MVP Akoye does get plenty to do, and even sort of a promotion when Shuri builds her and her colleagues flying armor. It's a sign of respect, but does not bode well for part 3, honestly, because it probly means less spear-spinning stunt women, more animated IRON MAN bullshit and helmet-interior close-ups. But we'll cross that bridge when we get to it.
M'Baku (Winston Duke, US), leader of the Jabari mountain tribe, has some great scenes, a possible PREDATOR hat tip, and I think Shuri's given him her blessing to become the King of Wakanda? Not totally clear how it works. But I hope it means Shuri/M'Baku buddy movie incoming.
I really enjoyed WAKANDA FOREVER but I do think something feels a little off about it. If my theory is correct, though, it's pretty much out of anyone's control. Movie #1 established Wakanda, T'Challa became king and Black Panther, he had his first adventure as Black Panther. Naturally they have to build off of that and give him more adventures before things get switched up. But here we're doing that movie #2 building while already passing the torch. These forms of storytelling are burnt into our brain, so it feels odd even though we all know why it's happening.
The only way to avoid that would've been to continue the story as planned but with a different actor playing T'Challa, which would've felt considerably more weird. There are people who wanted them to recast, saying the character is too culturally important to retire, and I kind of felt that way myself, figuring Boseman would've thought that. But I also knew they couldn't really do it yet, because aside from whether or not it's gross to replace him like that, it would be extremely difficult for most people to just watch the movie and not be constantly distracted by a new actor as the same character. Who the fuck do you propose, who is an actual actor existing on this earth, who people would've accepted in the role, and who would've even been willing to take the job? Come on man, of course that didn't happen. And now that I've seen how they did it instead, I'm glad it couldn't.
Literally on a daily basis I see people use "MCU" or "Marvel" as shorthand for pop culture oversaturation, crass commercialism, tired formula, mediocrity, and pandering. And I get it. I don't totally/always agree, but at the very least they're headed down that road. And yet here's a new Marvel Cinematic Universal Product where the feelings of the human beings who made it bubble up to the surface. They lost their friend, brother, inspiration, and figurehead deep into planning for this movie, getting ready to start filming, and they can't use power crystals or quantumania or some shit to snatch a different-looking version of him out of the multiverse. A new T'Challa (played by an actor whose giant balls would have to be digitally painted out of every shot) would be saying "the show must go on." WAKANDA FOREVER is saying "people must go on." Nobody wanted to be telling a story without T'Challa, but bad things happen, and we must face them. Coogler putting his characters in the same position of having to figure out how the fuck to do things without T'Challa may have been a psychological necessity for his cast and crew – I imagine that allowing them to mourn through the movie made more sense than trying to set grief aside during work hours. Whatever its imperfections, WAKANDA FOREVER is charged with meaning and humanity. That's much more important than the fuckin Marvel machine.
And for those still mad that there's no more T'Challa in the MCU (BIG ASS ENDING SPOILER RIGHT HERE) do I have to underline that last scene for you and draw arrows pointing to the part where that kid says "My name is Prince T'Challa, son of King T'Challa"? There will be another King T'Challa in the MCU some day, and if they time it right this can be the one who marries Storm and everything. It'll be fine.
To me the real question is whether or not Coogler sticks around to direct a full trilogy. If he does I think there's a strong chance that with all he's learned, and hopefully better circumstances around planning and filming the movie, he'll hit that one harder than Adonis Creed. But I think I would prefer if he's able to do it like the CREED sequels, stay on as a producer and hand the reins to an up-and-comer while he goes off and does something brand new and straight from his soul. That might be better than being entangled in franchises for too long, even though he's so good at it.
*I made this reference in my AQUAMAN review and I won't hesitate to use it again for THE WAY OF WATER or THE LITTLE MERMAID if relevant
This entry was posted on Wednesday, November 16th, 2022 at 2:28 pm and is filed under
Comic strips/Super heroes
,
Reviews
. You can follow any responses to this entry through the
RSS 2.0
feed. You can skip to the end and leave a response. Pinging is currently not allowed.