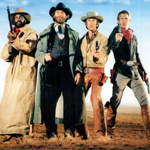 SILVERADO is Lawrence Kasdan's upbeat 1985 western about some cowboys and, you know… they meet up and ride together and there's guns and a jail and a saloon and a guy trying to steal land and all that. I don't know, it's a western.
This was Kasdan's third time directing, after BODY HEAT and THE BIG CHILL. But consider that in the half decade before this he co-wrote THE EMPIRE STRIKES BACK, RAIDERS OF THE LOST ARK and RETURN OF THE JEDI. This is his rare directing job that has some of the vibe of those George Lucas productions. He wrote SILVERADO with his brother Mark (CRIMINAL LAW) and all these decades later he wrote SOLO with his son Jonathan (who had a bit part in SILVERADO at the age of 14) so I thought it would be a good time to write about this one.
VERN has a new action-horror novel out called WORM ON A HOOK! He has been reviewing movies since 1999 and is the author of the film criticism books Seagalogy: A Study of the Ass-Kicking Films of Steven Seagal and Yippee Ki-Yay Moviegoer!: Writings on Bruce Willis, Badass Cinema and Other Important Topics as well as the crime novel Niketown.