Jeff Bridges makes a great Rooster Cogburn – weird froggy voice, sloppy beard, aura of laziness, legitimately kind of disgusting as he's introduced taking a shit and later casually pisses himself. If you don't know the character from the novel by Charles Portis, or from John Wayne's Academy Award winning portrayal in the 1969 version, or from the considerably less Academy Award winning sequel, or perhaps Warren Oates in the TV movie version, or obviously the episode of Scooby-Doo where Rooster has to figure out which Harlem Globetrotter has been replaced by an evil Moon-man, then let me fill you in: Reuben "Rooster" Cogburn is an eccentric, one-eyed civil war vet turned U.S. Marshall who "really knows how to pull a cork" and has a reputation for unnecessary but high quality shootings of suspects. So he's the bounty hunter of choice for 14-year-old Mattie Ross, who wants to "finish [her] father's affairs" by chasing down the drunken ranch hand who killed him and fled into Chocktaw territory with the Lucky Ned Pepper gang.

The original had 22-year-old Kim Darby as Mattie, for this one adapter/directors The Brothers Coen found an actual 14-year-old to do it. In many ways their version is closer to the book: it's told from the perspective of grown up Mattie, and shows what happened to her later on, and despite a PG-13 rating modern man's more sophisticated bloodlust makes for more appropriately gruesome shootings and what not than an old Henry Hathaway western. The Coens will get credit for some of the great lines and language they just took from the book, but I think some of the good ones are their invention too. There's some great dialogue, well delivered, as always in their movies.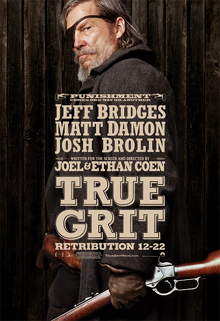 You gotta hand it to the whole cast. Third most important character would go to Matt Damon as Laboeuf (Luh-beef), the partly full of shit Texas Ranger who has a partnership/rivalry with Rooster. He seems like a vain, primped buffoon but he does turn out to have a certain amount of the titular substance. Damon plays it really funny, an improvement over Glen Campbell in the old one.
It's hard to top the original's Robert Duvall as Ned Pepper, the leader of the gang who Rooster's hoping to catch and who's more of a threat than Chaney, the main target of the manhunt. So the Coens went for maximum realism. Just like they got a real-life 14-year old to play the 14-year old they got a real life Pepper to play the Pepper, specifically Barry Pepper. They have him with a mouth of twisted, mis-shapen teeth that spray spit in all directions when he flaps his lips, then they shoot him from down low so you feel like it's gonna get on you. Even in 2-D. It's a small role, but a good one. Josh "Brolin Thunder" Brolin is also great as Chaney. He captures the "everything is against me!" whiny-baby essence of the character, with an extra dose of halfwit. I wished he was in the movie more.
Since I already read the book and watched the old movie and the rehash sequel and since everybody on the internet already wrote about this new one I feel like we've been through this story enough times. I'm not gonna pile too much more on there about what goes on in the movie. But there are a few odd things going on that I thought were worth bringing up.
There's a scene early on where three men are publicly hanged. The first two are allowed to make little speeches, but as soon as the third – a Native American – starts his sentence they put the hood over him and let 'er rip. It's a jokey acknowledgment of the era's brutal racism that seemed to just bum out the crowd I saw it with instead of get a laugh. Maybe that was the point, or maybe something's a little off there, I don't know. I'm even less sure what to think about the movie's treatment of the Ross family slave (a smaller part in this version) and the black stable boy who says he likes Mattie's pony's name "Little Blackie."
What does it mean? That he's glad it's an animal being called that instead of him? That he's unaware of any irony in her saying that name to him? Or just that the audience shouldn't read any racial connotations into the name? I don't even have a guess. Whatever the answer, does this add any extra significance to Rooster's unashamed past in the Confederate army, specifically with Quantrill's Raiders? It's a detail that's straight out of the book, but it's definitely emphasized here, and I guess I'm not sure what the movie thinks about it. I mean, they don't need to underline their point, but do they ever get around to making it? It very well may be too subtle for me. I'll have to think about it more if I watch the movie again.
A smarter individual than me oughta write a big study of the Coens and race. I assume they're not racists, they're too smart for that, right? And I'm positive they're not some Confederate-sympathizing nutballs. I'm not trying to imply anything like that. I just genuinely don't understand what their goal is in dredging up these ancient racial attitudes. I'm thinking of the KKK musical sequence in O BROTHER WHERE ART THOU, the outmoded stereotype leading lady of THE LADYKILLERS, even going back to their script for Sam Raimi's CRIMEWAVE where a cop sees a little boy in an elevator with the corpse of a black man and says, "Where'd you get the Negro, Butch?" In fact come to think of it one of the stories in Ethan Coen's short story collection kept using the word "Negress." All are defensible in context I think, but you start noticing a pattern, you gotta wonder what their purpose is with these themes.
Why do they gravitate to that type of humor? If I had to take a guess I'd say that it's a fascination with these time periods and wanting to be honest about them, not whitewash the horrible shit that was going on, instead pointing it out in a real uncomfortable way. But the meaning of the "Little Blackie" scene still evades me. Must've been important to them since they used it in place of one of the funniest parts of the book and the Hathaway version. In that one Mattie names the horse in the middle of the earlier negotiation scene, proudly saying to the Colonel, "I'll take one of the ponies. The black one with the white stockings. I'll call him Little Blackie."
Man, I know I'm gonna catch hell for this, but I want an honest and open relationship with you people, so here it is. As good as this new TRUE GRIT is I honestly prefer the old one. At least on one viewing. Yeah, Bridges is doing more of a characterization than Wayne, he's probly a better Rooster, and that's a big thing. Yeah, this one probly has some better old west atmosphere, some of the acting's probly a little more real, less stagey or whatever. And the snakepit scene is better. And the girl is the right age, and does a good job.
None of those things are small shakes, but then again they are not large enough shakes to surpass the size of the shakes of the original. In my opinion that was a real sentence, so just go with it. What I'm trying to say is that even if the new one is better than the old one in half a dozen ways it's not better in the one thing that I like best about the story, which is the characterization of and relationship between Rooster and Mattie. To me Mattie is a real funny character and I'm truly surprised that the Coens made her less funny. But that's what I think they did.
If you've only seen the new version, you know that scene where they're at the campfire and Rooster and LaBoeuf are giving each other a bunch of shit and suddenly Mattie tells them she's gonna tell them the story of the "Midnight Caller"? To me it seems a little out of character in the new version. In the old version that's what Mattie's like. It's just like her crushing that colonel in negotiation, then thinking it's worth telling him the cute name she came up with for her new pony. She's capable enough to browbeat and dominate all these adult men and repeatedly surprise them, but she's also naive and doesn't understand how out of place she is. When she says that line at the campfire she seems to really believe that she'll be able to get these two to stop fighting by proposing they all play a fun storytelling game together.
See, 2010 Mattie Ross seems like a pretty tough little girl from the beginning, and sounds tough from her narrating spot in the future. She already seems to have the true grit, so there's nowhere to go. 1969 Mattie Ross has to prove she has it. We first see her sitting at a desk being the family accountant. She's a total goofball from the beginning, with a high-pitched, entitled-sounding voice, and kinda looks like Peter Pan. So she's more out of place with these scarred, unbathed gunslingers. And there's a class difference that to me seemed missing in the new one. Maybe I'm just bitter that they ditched my favorite line:
"My name is Mattie Ross, of Near Dardanelle in Yell County. My family owns property, and I don't know why I'm being treated like this!"
I think because of this comedic side to the character the relationship between Mattie and Rooster is stronger. In the new movie I immediately identify with and side with Mattie. In the old movie I relate a little more to Rooster at the beginning in thinking this girl is amusingly obnoxious. But as he warms to "little sister" I do too. At the same time I think there's more development in the other direction too, as Mattie hires the meanest asshole she can find despite being disgusted with him, then she learns more about his life and starts to feel sympathy for him.
Less important, but still kind of weird, are all the other funny bits from the book and original that are left out or altered. Lots of great lines and details, lots of talk about "they say he has grit" and "Is that what they call 'grit' in Fort Smith? We call it something else in Yell County!" Maybe the Coens just didn't want to re-do what's already been done, but to me the story just seems less without those touches.
Another example: in this one LaBoeuf is after Chaney for shooting a Texas senator, and mentions it might've happened during an argument over dogs. In the book and 1969 version Chaney shot both the senator and his dog, so Mattie's disgusted at the idea of him hanging for shooting a dog instead of for shooting her dad.
And it's not just dogs either. Previous Rooster Cogburns have proudly shared their home in the back of the Chinese man's store with a roommate named General Sterling Price, who is a cat. Why the fuck would you leave that out, Coens? How am I gonna get my feline-POV spinoff prequel TV series, THE 9 LIVES OF GENERAL STERLING PRICE: A TRUE GRIT TAIL?
Anyway, don't get me wrong. I'm not against an alternate take on this story. I enjoyed it, and will probly give it a second shot some time. I don't mind standing at the side clapping calmly while my buddies give a parade for this movie as the greatest thing that ever happened, up to and including that whole breakthrough involving the automated division of bread portions. I can celebrate, I just can't ride on the float, because my enthusiasm is mildly dampened by my feeling that this is a real smart and well-crafted movie that kind of misses the point.
Also his eyepatch is on the wrong eye.