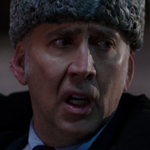 DYING OF THE LIGHT is yet another troubled Paul Schrader production. The story is: it was a Schrader script that Nicolas Winding Refn almost directed with Harrison Ford and Channing Tatum as the leads, but Ford and Refn disagreed on the ending (guess who wanted a happy one?) so I guess Ford went and did COWBOYS & ALIENS and Refn did DRIVE. Then Refn became executive producer for Schrader directing it himself with the, uh, less-assured-of-a-theatrical-release team of Nicolas Cage and Anton Yelchin. Then after it was filmed the other producers shut out Schrader and did their own edit and scoring, so Schrader, Refn, Cage and Yelchin effectively disowned it by wearing t-shirts with the "non-disparagement" clause of their contracts that prevents them from complaining about the movie. Also cinematographer Gabriel Kosuth (2nd Unit DP of SHADOW MAN, ATTACK FORCE, FLIGHT OF FURY, AGAINST THE DARK and A GOOD MAN) wrote a righteous guest column in Variety about the producers recoloring the whole thing against his will and ruining what he and Schrader were trying to do.
We'll get into that stuff later, but first let's consider the Damaged Goods Cut on its own merits. It's a flawed movie but more watchable and original than other recent basically-DTV Cage vehicles. Cage plays Evan Lake, a decorated CIA field operative who 22 years ago was tortured and had his ear mutilated by a young track-suit-wearing terrorist named Muhammad Banir (Alexander Karim from the Johan Falk series). Lake refused to give up any information and was about to be executed when commandos stormed in and saved him. Now he's kind of like their mascot. They have him give the tough guy speech to the fresh-faced new recruits, but he's a depressed desk jockey who isn't taken very seriously by the agency or allowed in the field. A big part of his day is trying to control or hide his shaky hand.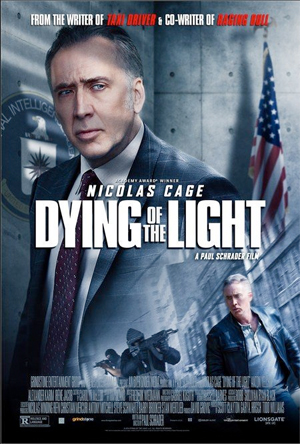 But then Milton Schultz (Anton Yelchin, 15 MINUTES), a young old friend at the agency who owes him one, comes to him with a new piece of data. Though Banir is officially considered blown up in the raid, Lake believes he's still alive, and he and Schultz may be able to trace him through a request for an experimental drug used to treat a rare hereditary blood disease that his father is know to have died from.
That's a good minute detail for some spy shit to rest on, but it's also a parallel between the hero and the villain. Both Banir and Lake have to sneak around to try to get under the radar medical treatment, and both get caught. Lake is trying to hide from the agency that he's having trouble with his brain. He's just been diagnosed with a form of dementia explained as "more aggressive than Alzheimer's." He knows he has a limited window to live and even shorter to be capable of tracking a fugitive.
Already he's plagued by violent mood swings, paranoia, memory loss and confused senses. These things cause him to get fired and lose his driver's license, but Yelchin, feeling sorry for him, helps him fly to Europe and Africa chasing this lead. Despite his disabilities he manages to travel on fake passports, interrogate a doctor, impersonate the doctor with a disguise and accent, infiltrate a hideout, survive a shootout. Meanwhile he starts randomly crying, gets lost outside his hotel, mixes up words (saying "Croc" instead of "Glock"), forgets what he's doing. In one scene he confesses that Schultz's canvas jacket feels like dog fur to his fingers. This is just after the distinctly Cage-ian move of interrupting a conversation to curiously smell a plant in the hotel lobby.
When Schultz comes over, Lake doesn't offer him a beer, he offers him sake. I don't know if that's a Schrader touch to show that he's wordly, or a Cage touch like "my character eats jellybeans out of champagne glasses." But either way I like it.
It's one of the frumpier Cage characters. Grey hair, balding, wire-rimmed glasses, suits probly nicer than most of ours but sloppier than most movie heroes. He's not Tom Cruise, he's a guy who really has had to work at a desk for decades, rotting away in spirit even before knowing his brain was doing the same thing. So it's kinda funny when all the sudden he's wearing a cool leather jacket in the climax. That seemed out of character to me. Give him a windbreaker and a fannypack.
Cage does get to go a little mega a few times, which I don't always think fits in this one. When he goes way overboard in criticizing his boss I like it, and when he breaks down in the presence of his torturer, but for the new recruit speech about "values" I think it's pounding that key a little too hard, it seems to goofy for the rest of the movie. Overall I think it's a good performance though, with some moments that really capture the tragedy and confusion of dementia. It's pretty heartbreaking to see Cage sitting on a bench out in the cold with his mouth hanging open and not admitting to his friend that he doesn't remember where the hotel is.
And it's genuinely weird and interesting this idea of a hero who is sometimes highly competent and skilled, other times completely lost and helpless. The transition is sometimes more believable than other times, but it's an odd and unpredictable approach to a spy thriller.
Yelchin is fine, but it seems like he's supposed to have a relationship going some years back, which he looks way too young for. Banir also seems pretty young to have faced off with Lake 22 years ago (the flashback has Cage in young makeup and the main part has Karim in an aging beard) but I think he's quite good as a decrepit shell of a man who's still, in context, scary to confront. And if he was older he'd probly seem like a bin Laden stand-in (what with UBL's kidney problems and all that), which would be distracting.
Irène Jacob also adds some legitimacy to the movie as Michelle, an old more-than-a-friend who uses her skills and connections to help Lake. She was in both Louis Malle's AU REVOIR LES ENFANTS and Stuart Baird's U.S. MARSHALS, so she's the exact perfect actor to be in this movie.
I've noticed that in movies and TV shows about stakeouts or tailing people that sitting in a car makes you invisible. Cops and private eyes are always parked right across the street holding a coffee and a hamburger, watching the bad guys meet up in broad daylight, sometimes kind of looking over their shoulders to make sure they're not being watched, yet never looking at our guys that are clearly staring right at them in broad daylight from like 10 or 15 feet away. That always seems funny to me so I love that in this movie there are two different scenes where two different pairs of agents sit in cars watching associates of the terrorists, and in both cases they are instantly spotted. "Shit, he's seen us!" Both times it leads to pretty well done chase scenes, too. Little Yelchin chases a guy on foot, catches him, flips him over, punches him hard in the face, pulls out a knife, slits his throat, drags his body over next to some garbage cans. Brutal. I'm impressed, Scotty.
I realized the movie was working when Lake does catch up with Banir and gets into his home under false pretenses. You're nervous for him to get found out and then you don't know how he's gonna confront him when he does reveal himself, and then his illness fucks up the plan anyway and who knows what will happen? But the two broken down enemies end up sitting in a living room having a conversation about what happened all those years ago. As flawed as the movie is I think it's worth existing just for this intense yet intimate scene.
Without underlining it too much that scene helped me see the symbolism of this story. You have two factions, both sick and dying, but insistent on getting their revenge. The American side, he starts out with reasons why he's fighting, then when he gets there he literally forgets what he's even supposed to be doing! And then a bunch of people get shot at the hotel pool. It's interesting. I like what Schrader is getting at here.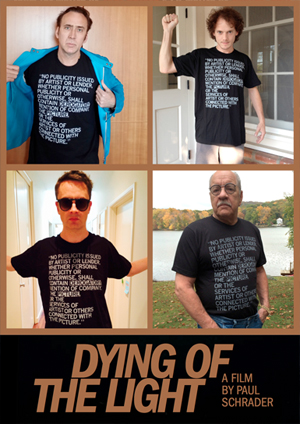 So let's talk about Schrader's version. There are deleted scenes on the disc that maybe give an idea what was different. Mostly it's longer versions of the same scenes. One difference is that Lake goes to visit his father in a home, implying another parallel between hero and villain, that he also may have inherited his illness from his father. Also there's a different ending: another guy at the agency talks about Lake like a martyr and invokes his "values" speech from the beginning (the released version replays parts of his speech from the beginning).
Many of these scenes are tinted very yellow, which seems to fit what the cinematographer wrote about them using expressionistic colored lights and filters. Apparently the different locations had their own colors that were very bold and supposedly symbolized something. I can see why the producers would be concerned that it would be distracting, but they should've just left it alone because it's not like the bland uncolored version looks any better.
The one thing about Schrader's cut that I do suspect could've vastly improved the movie is the music and sound. Apologies to composer Frederik Wiedmann (SNIPER: LEGACY, JARHEAD 2, MIRRORS 2) but his competent but thoroughly generic score sounds exactly like any shitty DTV thriller. And there's a cheesy credits sequence complete with whooshy Avid farts. Shit, it even does that cliche where whenever there's a title on the screen telling you what city it is or something it does a beepity-beepity sound like our movie is being controlled by a very slow and noisy supercomputer that the agency still holds onto for nostalgia's sake. And they do it again for the end credits. This type of shit is laughable even in Seagal and Gooding Jr. movies, and it clearly doesn't fit the tone that Schrader has created. I can't be sure what sort of score he would've gone for but I feel confident it would be more subdued than this, especially with music-savvy Refn in his corner. It's sad, because a good score could've made all the difference in the world.
Also it's too bad that there's not a totally different one directed by Renny Harlin, like what happened with the prequel to THE EXORCIST. I never saw either version of that, but I have to believe that in a perfect world all Paul Schrader movies would have alternate Renny Harlin versions. I'd love to see his version of LIGHT OF DAY.
I'm about to get uncomfortably personal all the sudden, because what else would I do in a review of a bastardized version of a VOD Nicolas Cage drama-thriller (or thrillma). This one got to me a little more than it would most people because there is Alzheimer's in my family. The symptoms of the dementia that Lake has are a little different, and it's only a movie of course, but a few times Cage managed to capture facial expressions and behaviors that I recognized. We all have problems and I'm sure many of you have been through much worse, but I gotta say, it's a shitty thing to deal with. The worst part of it is that for years now I've been mourning a person even though he's still alive and physically healthy and walking around. Literally, he walks back and forth down a hallway all day. I remember vividly how it made me feel the first time I saw him doing that, and that's just one in a long list of heartbreaking memories I'll gladly spare you guys from hearing about. You don't need it.
But the other part that's more relevant to this movie is the possibility of inheriting it. In my down moments I feel like that threat is always hanging over me. It's especially scary as a writer. Every once in a while, but more often than I'd like, I can't think of a word or a person that I know I've known for years. I remember sitting on the bus one time realizing I couldn't think of the name of an actor. It just escaped me, but I had been a fan of this guy for a while. I started listing for myself all the movies I knew of that he was in. HUSTLE & FLOW, IRON MAN, THE BEST MAN, CRASH, GET RICH OR DIE TRYIN', RED TAILS. But it took me 5 or 10 minutes to remember his name was Terence Howard. And I did the same thing with Jessica Chastain one time, I'd been talking her up all time and suddenly lost her last name for a while.
Is something wrong with me, or is it a normal aging thing? I think it's the second one. I pray it's the second one. But of course the possibility of ever getting sick terrifies me. Especially as a writer. I would lose everything. What about all the books I plan to write? The ideas I've been sitting on for way too long? They're just gonna disappear forever? And how would I exist without being able to sit down and put my ideas into words? I guess I wouldn't know what I was missing. Or would I sense that there was something I was supposed to be doing?
But more than that I worry about people in my life, how it would affect them. I don't want them to have to take care of me, or pay for me to be taken care of. As if we could afford it anyway. And I'm not hunting any terrorists at this time, so I don't have the luxury of going out with a bang like Evan Lake could do. I don't know what I would do.
You guys know about my Oscar completism. Once again this year I saw all the best picture nominees. But you bet your ass I'm not watching the best actress frontrunner STILL ALICE, in which Julianne Moore plays a writer who finds out she has early onset Alzheimer's. I still haven't watched UNITED 93, I'm sure this would be worse for me.
This year in the MISERABLES slot of best-picture-nominee-I-only-saw-to-complete-the-checklist was THE THEORY OF EVERYTHING, the Stephen Hawking biopic. Actually I gotta admit it's good. Way less Miramaxy than expected, it's a bittersweet love story, ultimately hopeful but of course very painful and sad to get through. Eddie Redmayne from JUPITER ASCENDING is as amazing as reported playing Hawking, but I was surprised by how strong of a role also-nominated Felicity Jones gets as his college sweetheart Jane. She's the long suffering and amazingly supportive wife, usually such a thankless character type, but in this movie it's really her story. And she manages to be smart and strong, sometimes funny, and you watch her put up with so much, and be so caring, and struggle through a harrowing journey that she could've opted out of, with no idea how to find time for her own needs.
So even though I wisely double featured that one with 2 FAST AND FURIOUS (which holds up by the way; totally underrated you guys) it was still the movie I watched prior to DYING OF THE LIGHT, and I guess that was alot of personal-button-pushing to pack into two movies in a row. Because THEORY also kept making me think about my family, my respect for people who are caretakers, and my deep fear of ever causing those I love to have to sacrifice themselves for me like that. And the fucked up thing is it had me thinking Hawking had it easy, because it's terrible that he lost the use of his body but he still has his incredible brain. This thing in my family is the other way around, and that's worse. Fuck this.
Jessica Chastain Jessica Chastain Jessica Chastain. I remember her name. Jessica Alba. Oh jesus, I forgot the other Jessica again. JB is the initials. The one that's Whistler's daughter. Jessica Biel. God damn it, I had to look that up. It's probly all right, but it scares me.
So I watched this half brilliant/half shitty thriller with more heavy thoughts in my head than recommended. But I guess that's part of what I like about the movies. Wherever you are in your life and what you've experienced changes your reaction and connection to even a movie like this. It's an ever-evolving relationship. You can watch something as a kid and relate to the kids and then years later you watch it and all the sudden you're seeing it through the eyes of the parents, or the adult narrator remembering being a kid. And everything looks different.
Because of this we might have too much trouble watching an amazing movie because it rings too false to our experience or hits too close to home. Or we might see a kiddie cartoon or a schlocky drive-in throwaway and find deep meaning in it, intentional or otherwise. We can see our lives and our feelings in the actions of a samurai or a talking pig or a confused mega-acting CIA agent on a revenge mission. Even a shitty movie can give us a way in to process these feelings, force us to confront them, and feel like we're not alone. So thank you, The Movies. You have been good to me. I'll do my damndest to enjoy you for many more years.
* * *
* * *
* * *
Ah hell. I don't want to end on that, that's too much. Sorry about this one, guys. Let's enjoy a screengrab together. It's not sad when it's out of context: