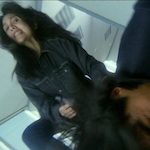 NAKED KILLER (not to be confused with NAKED GUN or NAKED LUNCH) is a 1992 Hong Kong action movie, one of the good ones that colors outside of the lines of reasonableness. An unhinged plot, extreme behavior and acrobatic, sometimes gory action make it fun, especially since those qualities tend to overlap.
The film's central theme is a collision of violence and sexuality – the female lead is an assassin trained to seduce men and then kill them, the male lead is a cop who has been impotent since accidentally shooting his brother to death. It's kind of a romance, and how's this for a meet cute? Tom (Simon Yam, BULLET IN THE HEAD, LARA CROFT is the TOMB RAIDER in THE CRADLE OF LIFE) and Kitty (Chingmy Yau, LEGEND OF THE LIQUID SWORD) are in the salon getting their hair cut at the same time. Another hairstylist is hitting on Kitty when his pregnant girlfriend comes in to confront him. Kitty pretends to take his side until she attacks him with a cigarette and stabs him repeatedly in the groin with his scissors. Tom chases her and she steals his gun, which triggers his trauma and makes him puke, so she feels sorry for him and gives it back. This story would make an amazing wedding toast! (read the rest of this shit…)
VERN has a new action-horror novel out called WORM ON A HOOK! He has been reviewing movies since 1999 and is the author of the film criticism books Seagalogy: A Study of the Ass-Kicking Films of Steven Seagal and Yippee Ki-Yay Moviegoer!: Writings on Bruce Willis, Badass Cinema and Other Important Topics as well as the crime novel Niketown.