The first DELTA FORCE movie, directed by Menahem Golan, seemed like it was trying to be a prestige Chuck Norris movie. You got Lee Marvin, Bo Svenson, Robert Forster and Steve James in the cast, but also Martin Balsam, Joey Bishop, George Kennedy, Susan Strasberg and Shelley Winters. There's a long section in the middle that has no Chuck Norris at all and is based on a real life hijacking incident.
But DELTA FORCE 2 (arguably subtitled THE COLOMBIAN CONNECTION) is directed by Chuck's brother Aaron and it's pretty straightforward about just being about Chuck's character Colonel Scott McCoy going around being more awesome than everybody else. He's introduced having dinner with his friend Major Bobby Chavez (Paul Perri, MANHUNTER) when three punk rockers cause a scene elsewhere in the restaurant, so he excuses himself to go beat them up. He says he likes the food and slams a guy's face into a plate of rice in a possible homage to a way better part 2,  A BETTER TOMORROW 2.
The villain is the straight up blatantly evil South American drug lord Ramon Cota (Billy Drago). We know he doesn't have a human soul because he goes to visit the coca fields where poor villagers are forced to work and he immediately gets angry that one of them (Begonya Plaza, HEAT, 'R XMAS) is tending to her baby instead of the plants. He has his men take away the baby and stabs the father right in front of her.
(So don't go talking shit about unions. We need unions.)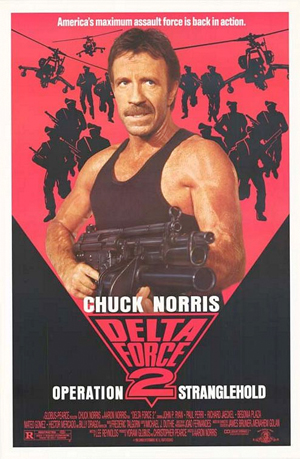 And things get worse for her offscreen. Later McCoy's boss General Taylor (John P. Ryan) explains why he can trust her: "Ramon killed her husband, murdered her sick baby, and used the baby's body to smuggle cocaine, and then he raped her. Probably a good idea not to bring it up when you meet her. She might be a little sensitive."
The Delta Force boys manage to apprehend Cota on his private jet and get ready to jump off with him in their custody. He won't put on a parachute, because he thinks McCoy is bluffing about throwing him off. Dumb bastard tries to bribe McCoy with a briefcase full of cash.
"Come on, let me go. Let me go!"
"Okay!"
And McCoy throws him off, leading to some great skydiving stunts. McCoy knows he can do that thing that you can do if you're really awesome, where you jump off way later than another guy but then pose like Superman and it makes you fly over and catch up with him and then you grab on and pull your chute.
And the best part is that he still feels it's important to hold a knife at his throat so he doesn't escape.
Of course it's against the law for DEA to go into another country and arrest somebody, and they're real proud of this loophole they found (later used by Batman) that Delta Force or whoever can capture him and deliver him and then the DEA arrests him. But then the judge sets the bail at $10 million, and they get all mad. "$10 million is like pocket change to that scumbag! We risk our lives for nothing!"
What, they didn't know about bail? Why are they surprised by this?
Anyway, Chavez can't keep his cool and punches Cota out in the court room. That's Bobby's first mistake. Mistake #2 is that the next scene is about watching his son play basketball and kissing his wife. So of course in the scene after that thugs come to his house and murder his wife and kid.
Chavez knows he has to get revenge, so he knocks out McCoy and sneaks off to the polo match where he knows Cota is. The DEA guys see him and try to stop him before he gets himself killed, but  suddenly they're surrounded by gunmen and kidnapped. They put Chavez in a glass chamber, gas him to death and send McCoy the video. He responds by going to the base and training (taking turns beating the shit out of recruits using choke holds, leg locks, armbars, flying kicks, head scissors and a surprising amount of hair pulling) to prepare for a mission to the country of San Carlos, where Cota is protected by the government and keeps the other hostages. He has 48 hours to go in before the rest of the military to "save the agents," which means avenge his friend.
Alot of this is about tricking other countries. General Taylor loves going along and lying to his official guide Ernesto (Mateo Gomez), smiling the whole time. So fuckin proud of himself.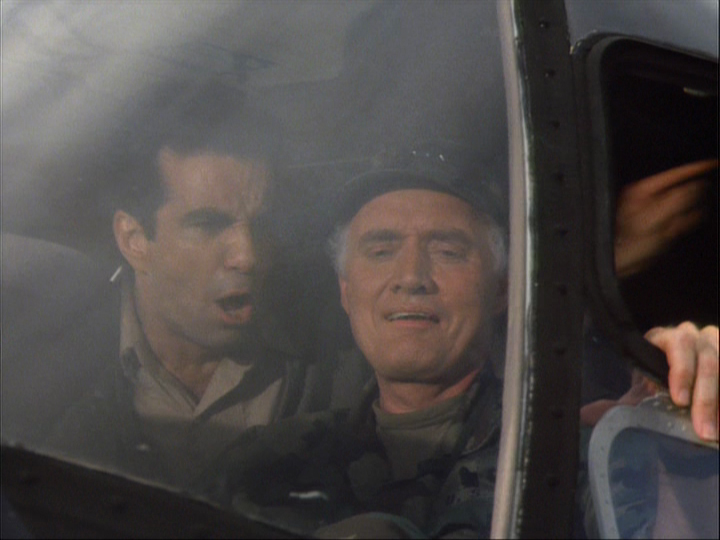 Unfortunately once McCoy gets to this sort of jungly place the movie's not as fun. He does climb a mountain, talk to a snake, and sneak into a mansion, but there's a couple stretches where it's just a bunch of footage of helicopters flying over shooting at soldiers and blowing up their houses and you don't even see what McCoy is doing for a while.
There's a pretty good fight with the Superfly looking henchman, but when McCoy announces "Lesson #1" and "Lesson #2" and "School's out" between moves it seems more like a parody than a real action movie. And then, as soon as he impales the guy on a statue's sword, Ramon strolls in in a silk bathrobe and sarcastically claps for him.
Maybe the best thing in the movie is when McCoy is captured in his chamber and being gassed and suddenly smiling, gum chewing General Taylor flies over the mansion and fires missiles at it. I don't think he has any clue that McCoy is in there, and it's only a coincidence that it saves him instead of blowing him into little chunks of meat floating in the swimming pool. I couldn't help but think about recent U.S. air strikes overseas and how we hope they really are targeting specific terrorists they're after but also know how impossible it is to always get that right.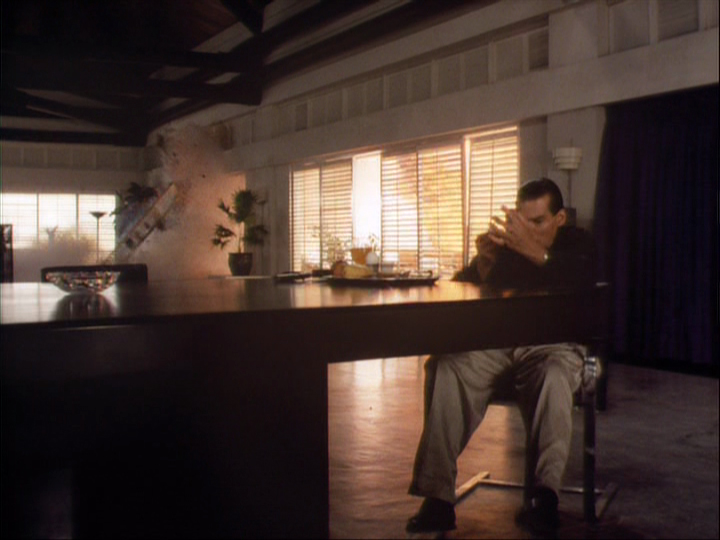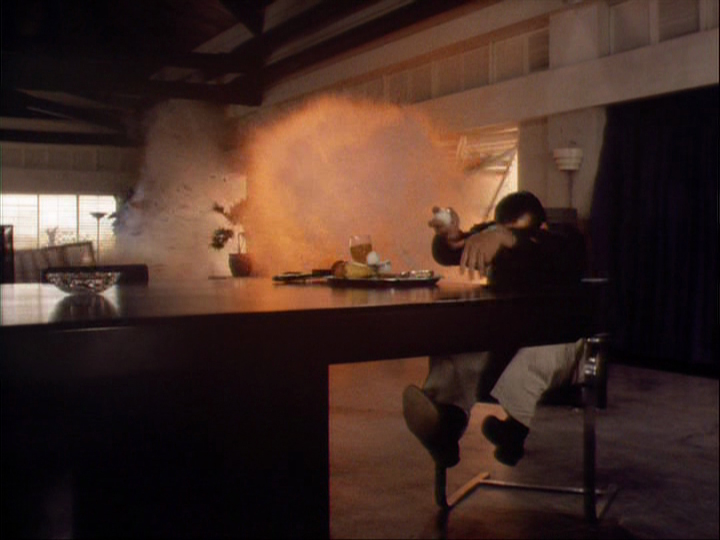 To show how evil Cota is he stabs the lady with a machete and kisses her at the same time. McCoy comes floating in to kick him about ten feet in the air and call him a sonofabitch. His ultimate fate is kind of a repeat of earlier. They're both dangling by cables as a chopper flies them to an aircraft carrier. He's talking alot of shit about "cocaine flows like a river in your pathetic country" and McCoy reaches for his knife, but then notices that the cable is breaking anyway. So he just lets it break, calls Cota an asshole and smiles as he watches him plummet to his death. Then it goes right into a great Lee Greenwood end credits song about "flying high on the winds of change."
The music in this is weird – some of it is really classy and RAMBO-esque, some of it is shitty fake-orchestra-keyboard bullshit. Maybe some of the real shit was left over from the first one. Or they didn't have enough time with the orchestra to do the whole movie.
Like most Chuck Norris movies that aren't INVASION USA, I didn't love this one. But it's pretty good, and definitely more fun than the first one. I will close with a few screen grabs of its greatest achievements.