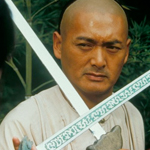 CROUCHING TIGER, HIDDEN DRAGON is an important movie to me for a couple reasons. One is personal, but the other is kinda about you guys. I had been writing reviews on my Geocities websight for a bit, but I didn't really think anybody gave a shit, so I had kind of given it up for a few months when I ran into an old friend who mentioned he liked what I wrote about CROUCHING TIGER and wondered when I was gonna write more reviews. So I did, and then I continued for like 17 years, and here we are. Thank you, Jacob M., for saying that to me that day.
I love CROUCHING TIGER. I wasn't sure how well it would hold up after all these years. It was such an exciting movie of its time, but it's been imitated, techniques have evolved, new things have been achieved in martial arts, we've changed. And though I still like HULK, the other Ang Lee film I was obsessed with in the early 2000s, it doesn't quite knock my socks all the way off anymore. Just part way off.
CROUCHING TIGER, I'm happy to discover, still does. And it knocks them off in a deeper, more mature way than it used to. My socks were very impressed.
I remember because Lee had done SENSE AND SENSIBILITY lots of people said this was like kung fu Jane Austen, and back then I kinda sided with the smarty pantses who said well, actually this is an old genre in Chinese cinema. But now more than ever I see that both are correct. This is a unique version of the period wuxia melodrama, leaning more on the quiet, reserved dialogue scenes, but with fights beautiful and thrilling enough to sustain them, to keep the engine idling in case it needs to take off all the sudden. As I mentioned many times in my dumb 2000 take on the movie, Yuen Woo-Ping's still amazing fights feel more like dance numbers than attempts to murder each other. I still remember the feeling of seeing it the first time and the crowd erupting into applause at the end of that first one that takes place on the roof at night.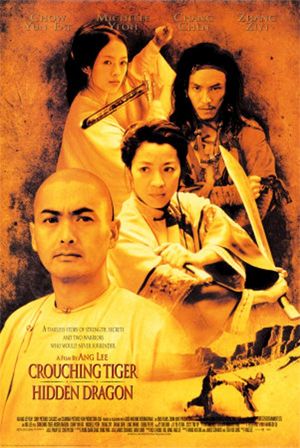 I thought I loved it then, but 17 years later I'm more personally attuned to the story of Li Mu Bai (Chow Yun Fat, THE KILLER), who missed out on a normal family life while he trained on Wudan Mountain, and even then didn't achieve to the level he'd hoped, leaving the meditation training after it brought him to a dark place instead of enlightenment. Took a wrong turn somewhere.
He doesn't tell Yu Shu Lien (Michelle Yeoh, ROYAL WARRIORS) or the audience what it was he saw in that "place of deep silence," the "something pulling [him] back," the "something [he] can't let go of." But we know from the look on his face – and I think she does too, from the look on her face – that it has to do with her, the woman he always loved. Maybe he regrets choosing training over her, or maybe there was no choice, because she was engaged to his now-deceased friend. Either way, in the deepest recesses of his mind he knows he fuckin blew it. And the best he can do now is swear off violence and hang up his sword. (Not literally. He keeps his sword in a case and gives it to Sir Te [Sihung Lung, EAT DRINK MAN WOMAN].)
That was one powerful thing I remembered: that potent tension of longing, these two great characters who are incapable of declaring their love to each other. Li Mu Bai sitting politely having tea, giving away his entire life's purpose in the form of the Green Destiny Sword, trying to act casual, testing the feasibility of divulging his most intimate thoughts through implication during small talk.
There's a part later where he comes to her and she thinks it's because of the sword being stolen, but then she realizes he didn't know it was stolen until he got there, so she asks why he came and he doesn't know what to say… Wow.
Lee famously revisited doomed, repressed, forbidden love in BROKEBACK MOUNTAIN. I never realized how much the two movies had in common. And I guess HULK has it too. I wonder who or what broke Lee's heart?
So, into the lives of these two who may wish they'd chosen different paths comes this young woman Jen (Zhang Ziyi, THE GRANDMASTER, RUSH HOUR 2) who is just about to set out on a path chosen for her – a marriage. Each having fought her (while she was in disguise) they recognize her great potential as a swordswoman and martial artist. They see her hidden restlessness, sneaking out at night, stealing the Green Destiny (not exactly a stealing-the-rival-team's-mascot level small town shenanigan in my opinion) and running with wicked Jade Fox (Cheng Pei-Pei, COME DRINK WITH ME).
I always love when movies have martial arts masters reading each other's styles. Here Li Mu Bai reads Jen's moves like metadata. He observes that her style has elements that Jade Fox's does not, which tells him at least three things:
1) She has transcended her mentor, so she's a great warrior
2) She's not a toady beholden to Jade Fox
3) He has something to offer her: a fuller understanding of the Wudan style.
Shu Lien refers to herself as a sister and a friend to Jen, but I almost want to say that she and Li Mu Bai act like surrogate parents to her. They might see her as the daughter they might've had if they'd been together. But that's not quite right. Parents probly wouldn't help cover for her theft and hope that she'll return the sword, so maybe they're more like a cool aunt and uncle. But I definitely think Li Mu Bai sees Jen as a potential heir in a way. Someone to teach. He and Jade Fox fight over her as a student/heir.
But I don't think Jen likes all this attention from the grown ups. She sees all this from a young, rebellious perspective. She's a girl who doesn't put up with much shit – after being kidnapped in the desert, she keeps beating up her abductor even though he's non-threatening to her – and only on the surface does she accept her privileged aristocratic life.
She hasn't learned honor yet. When she tells Li Mu Bai that she'll be his student if he can take the sword from her in three moves, and he takes it in one move, she immediately breaks her promise. But this bratty behavior is also kind of charming in what might be my favorite fight, the battle in the inn with a group of masters who she taunts and humiliates. It has just the right comical tone so that we can appreciate her joy in letting loose in public and laugh at her opponents looks of shock as she insults them. They just can't believe this is happening.
To her, fighting is a way to escape this life that has been forced on her. While in the guise of a normal rich girl she says something revealing to Shu Lien: "It must be exciting to be a fighter. To be totally free." Because that total freedom is what's important to her, she doesn't want Li Mu Bai deciding what her life is about anymore than her parents or Jade Fox, and he figures that out. He knows she wants to train at Wudan, and also that she wants to be with the desert tiger dude Dark Cloud (Chang Chen, RED CLIFF). They don't want her to end up their age having regrets, so they do what they can to make her dreams come true.
Li Mu Bai does finally go through with that thing that was holding him back – he confesses his love to Shu Lien. He does it quietly, in a cave, just before dying. She begs him to save his energy for Jen to arrive with the antidote, and then to use his last breath to meditate as he was trained to, to "rise to eternity."
"Don't waste it on me," she says. But he does.
Thankfully I don't have the same missed love connection troubles as Li Mu Bai, but man, I've been on that mountain for a long time. I dedicated my life to my training and now it's like – oh shit. Should I have had a kid at some point? Was that a mistake? I didn't even make it to full monk status.
Don't worry. I'm not gonna hand over my sword to anybody. I love my sword. I'm just saying – I love when movies have these relatable emotions in them, things that you may connect to differently at different ages, transforming the whole experience. This can happen in a regular contemporary drama, with characters who face difficulties you may have run into before. For me it's even better when these recognizable human experiences are not literal, like when they happen in a kung fu or samurai movie. Life seems a little more exciting when you look at it through that lens.
CONFIDENTIAL TO FRED TOPEL: The cover of the movie doesn't have a comma in the title, but the opening credits do.
This entry was posted on Wednesday, September 13th, 2017 at 10:49 am and is filed under
Action
,
Martial Arts
,
Reviews
. You can follow any responses to this entry through the
RSS 2.0
feed. You can skip to the end and leave a response. Pinging is currently not allowed.