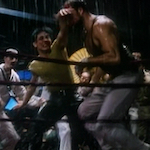 Recently I was a guest on the podcast Postcards From a Dying World, and the topic of the episode was the films of Jet Li. I'd actually been meaning to rewatch some of Li's movies, and this pushed me to fill in a few of the ones I hadn't seen.
BORN TO DEFENCE seemed like an important one, because it's the only movie Li has directed. It was released in 1986, when he was in his early twenties, only his fourth movie and first without SHAOLIN in the title. Credited as "Jet Lee," he plays Jet, a hero of WWII who opens the movie flipping and flying through tanks, explosions and machine gun fire. It's cool but it made me think "Oh shit, I hope this isn't a war movie."
Never fear! The war ends and he comes home to Qingdao. Things have changed (there are orphan children for sale on the street – uncool) and his fellow vets are disgusted to find that nobody gives a shit about what they did, giving all the glory to the American sailors who are still stationed there and lording over everybody.
Jet goes to find his war buddy Brother Zhang (Zhao Erkang, THREE KINGDOMS) and luckily it's not a FIRST BLOOD situation – Zhang is still alive, though not doing well. He has shrapnel in him, works hard as a rickshaw driver, and says his daughter is dead. But he lets Jet stay at his place and seems amused by him.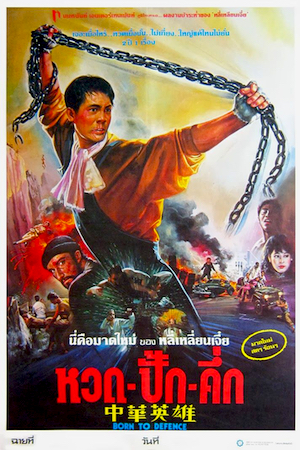 When Jet is walking in town a car plows through the crowded market street and hits him as he tries to help a guy with crutches get out of the way. An angry crowd surrounds the car and the movie's towering gwailo villain Captain Hans ("European Boxing Champion" Kurt Roland Petersson, BRUCE LEE'S DRAGONS FIGHT BACK, dubbed in kind of a Clint Eastwood voice) punches through the glass, steps out and confronts Jet. The police side with the white guy who just almost killed a bunch of people, the crowd lights the car on fire, and the cops beat a bunch of people with clubs.
It's weird that a crazy scene like that would seem very contemporary and relatable to American culture, but here we are in a time when people like to drive cars into crowds. In Seattle we had one who drove down a closed road toward a protest with a gun in his lap, shot a bystander who tried to stop him, got out and briefly ran around pointing the gun at people, then went directly to the police line. They had been brutally beating and gassing unarmed protesters and the rest of the neighborhood every day for weeks, then didn't even notice a vehicular assault and shooting literally right in front of them, or raise their guns when the shooter (who said his brother worked at the precinct) surrendered to them. The next day they mysteriously abandoned that precinct, leading to the "Capitol Hill Occupied Protest" that fueled feverish right wing fantasies for a while, judging by the phone calls I got from relatives. Later a different guy drove into a closed area of the freeway, did a u-turn and intentionally plowed into a line of protesters, murdering one of them.
Such insanity may feel specific to 2020 America, but there it is in a kung fu movie from 1986, because it's a reoccurring phenomenon – something that happens when there are explosive political tensions between local citizens and militarized forces who don't consider them human and won't be held accountable for abusing their authority.
So… get that fucker, Jet!
After the mayhem, the guy on the crutches wants to buy Jet a drink. Jet seems shocked what bars are like now – dominated by loud American sailors, whistling and hooting at the sexy dancers in the boxing ring. Jet has to use his fighting skills to intervene with a drunken international incident, so one of the sailors, Bailey ("Kick Boxing Champion" Paulo H.P. Tocha, "Paco," BLOODSPORT; "Perez," DEATH WARRANT: "Detective," PREDATOR 2; "Bolivian," STONE COLD; "Stone," FIST OF THE NORTH STAR; "Fitt," TARZAN AND THE LOST CITY; "Victor," IN HELL), challenges him to stay in the ring with him for 3 minutes.
I like the drama of cultural differences that leave Jet feeling helpless but also looking cooler than the Americans. He doesn't understand that American boxing is only punching – they have to keep telling him not to kick or throw. But he's not trying to cheat, he's just confused why that would be considered the way to fight. Later there's conflict because the bar owner hires him to spar and he's forced to accept the humiliation of those guys pretending they're beating him.
He's always a nice guy and an underdog. He gives his fight proceeds to orphans on the street. When Brother Zhang ends up in the hospital, Jet drives his rickshaw to get money for him (bad idea, because the Americans attack him and fuck up the rickshaw). He donates blood for money, which is one of the grossest things I've ever seen in a movie – it looks like Jet did it for real, more than once, and they have a nasty shot of a fat needle puncturing and pulling on his skin. Actually, I think two shots of that! In other bodily grossout news, there's a closeup of him pulling blistered skin off his foot, and a weird obsession with pee, including washing his face with "water" from a bedpan, peeing on a guy's face ("Come on you bastard, how about a hot beer?"), and getting peed on by a gang of cops.
There's a subplot about how Jet befriends a prostitute named Na (Song Jia, THE GOLD RUSH KING) who turns out to be Brother Zhang's daughter, alive and well but disowned for her profession. Some of Jet's methods for making him accept his daughter are a little weird, but it's a good cause.
This doesn't seem to be considered one of the better Li movies, but I really liked it. The main thing that stands out is the long centerpiece fight against Captain Hans at the bar. It starts as a normal fight in a ring, but there's a horrible storm outside, so we see lightning flashes through the stained glass windows, and the roof starts leaking so bad they might as well be outside. I guess the regulars have been through this before, because they all open umbrellas.
I mean, the water is just dumping on them. It's like that scene in STEP UP 2. It's crazy.
Eventually Jet gets thrown not only out of the ring, but through the window, into the storm. A humiliating defeat? No. He gets up, climbs back in. The Americans are celebrating and then they have to let the fight continue. Like when LA LA LAND actually didn't win best picture. And Jet ends up lifting the giant captain above his head and throwing him out of the ring, smashing him through a table.
And it's still not over – Hans drags him out of the ring and continues on the floor, like a wrestling match, and it escalates into an all out bar brawl between "the U.S. Navy and the locals," wrecking the place. I should've timed how long that fight lasts. I guess it wouldn't qualify to compare with THE QUIET MAN since most of it is a sanctioned athletic competition, but it's an epic scene.
The climax is not in the ring. The Americans do something that even makes Hans say "Jesus – what the hell have you done?" and it transforms Jet into an emotionless avenger, stalking them in a warehouse almost like a slasher. It's weird to see young Jet staring cold-eyed after pushing a guy into an incinerator.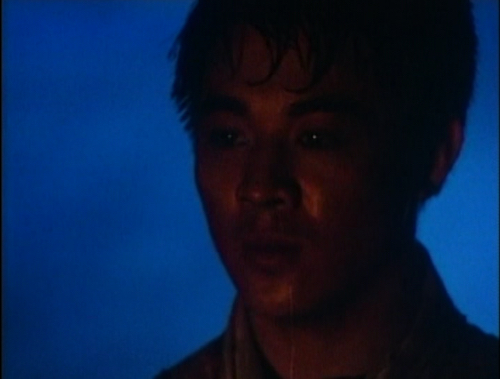 The final fight is really good, reminiscent of the more brutal Jackie fights like DRUNKEN MASTER 2 and WHEELS ON MEALS. IMDb says that Jet did the choreography, but Tsui Siu-Ming (writer/director of THE BUDDHIST FIST) is credited as action director. Favorite moves: swinging a chain, elbowing Hans while Hans holds him by the hair.
I may have made a mistake with my viewing choices here. I was worried Dimension's release would be dubbed or edited, so I rented a code 2 import. I get the feeling with good presentation it would be a pretty nice looking movie, but this had a pretty shitty transfer cropped to 4:3. Regardless, it's not gonna be one of Li's high class movies. It's the type that can suddenly have a cheesy guitar riff that you suspect might be lifted from Knight Rider. But I like this subgenre of the martial artist standing up to the colonialist bullies, and there's so much that's cool about this rendition.
I don't know what BORN TO DEFENCE/DEFENSE means though. Google translates the original title 中華英雄 to CHINESE HERO. That's not terrible, but I'd suggest HOT BEER FOR UNCLE SAM.
P.S. Matt Damon should do a remake, either as BOURNE TO DEFENSE or JAMES FRANCIS: SAVING PRIVATE RYAN PART II.
This entry was posted on Wednesday, December 30th, 2020 at 10:59 am and is filed under
Action
,
Martial Arts
,
Reviews
. You can follow any responses to this entry through the
RSS 2.0
feed. You can skip to the end and leave a response. Pinging is currently not allowed.