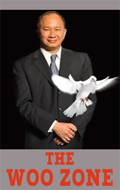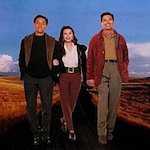 I can't explain this, and it's embarrassing to admit, but somehow I had never seen ONCE A THIEF (1991) until now. How the hell did I not watch the movie that John Woo and Chow Yun Fat did between their two greatest home runs? Especially since I even watched the North American TV pilot he made based on it five years later! I knew this was gonna be more light-hearted and comedic than THE KILLER and HARD BOILED and that I probly wouldn't like it nearly as much, but come on. Obviously it was something I needed to see. As I should fuckin known, it's a fun time with some great stunts and action and a type of ludicrousness I enjoy in many Hong Kong films, if not usually Woo's.
The story is about a trio of thieves, Cherie (Cherie Chung, PEKING OPERA BLUES), Joey and Jim (Chow Yun Fat and Leslie Cheung, reuniting after A BETTER TOMORROW 1 and 2). We meet them as they're staking out an art museum for a heist, with Joey walking around admiring the art in the suave manner of Chow Yun Fat, Cherie pretending to be an idiot walking her dog through some deliverymen so she can mark the crate that holds the painting they're planning to steal, and Joey strutting to his motorcycle in a leather jacket and scarf, bragging to a random street artist that he's a famous thief. Soon they're performing a really cool FAST AND FURIOUS-esque mobile truck heist that involved climbing on and under the truck, cutting a hole through the bottom, and gliding away with a parachute.
Joey and Cherie are apparently in love, which seems a little weird when we learn from flashbacks that these three grew up together as orphans, learning to pickpocket from abusive guardian Chow (Kenneth Tsang, also from A BETTER TOMORROW, as well as THE KILLER and THE REPLACEMENT KILLERS) before getting help from a nice police officer, (Paul Chu, also in THE KILLER), who has a chance to bust them but instead buys them food and becomes their godfather. As adults they live together in a beautiful rich people place where they do lots of joking around, including prank cakes and pushing each other into their full-sized indoor swimming pool with a wall of windows with a view of the lake it's right next to.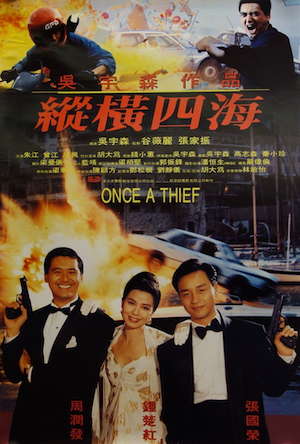 Cherie has more qualms about stealing than the boys, and she's also the only one who speaks French, so when a rich French guy tries to hire them to steal a painting from a castle she mistranslates to make both parties believe no deal is agreed to. But the boys go ahead and plan the robbery anyway – separately, and then they run into each other inside. (You know how men are.) The heist involves scaling a cliff with a grappling gun and discovering a secret room behind a fake cellar. (Is it a shame or pretty cool to have an amazing painting and then keep it in a stone chamber hidden behind a wall and the floor will kill you if you step on it but it's always well-lit with candles anyway?)
There is some wonderful ludicrousness where Joey launches off Jim's back and hangs from his feet from a chandelier and then Joey does a weird gravity-defying flip and Joey grabs his ankles and they swing like trapeze artists to grab the painting and then Jim does a back flip and Joey is left holding his shoes. (I remember the equivalent scene in Woo's pilot for the North American TV series adaptation and I assumed it was his tribute to Ethan Hunt hanging in the quiet room in MISSION: IMPOSSIBLE, but of course I should've known Woo got there first.) Once they get the painting they still have to acrobatically navigate a grid of security lasers (which for some reason they're able to see by looking through glasses of wine).
Although the action doesn't have the poetic beauty of Woo's best, he certainly lets loose with the stunts. Philip "Mad Dog" Kwok is the action coordinator, with Bruce Law (SUPERCOP 2) coordinating car stunts and fire sequences – both would also do HARD BOILED. I love the part where a bunch of cars roll down a big set of steps at the same time, like they're toys being blown around by a leaf blower. A minute later there's a sequence that involves Jim getting rammed on his motorcycle, jumping and rolling off and shooting the car so it blows up, then continuing a shootout with a bunch of people on foot and another set of people zooming past on a speed boat. Flowers and newspapers get shredded by bullets, Jim runs and rescues a kid in the middle of it all (just like Chow in THE KILLER) and Joey jumps his car off a dock into a boat and it (SPOILER) explodes!
It seems like he's dead, but later, after Jim and Cherie have become a couple in Hong Kong, he reveals that he's still alive, but confined to a wheelchair. He has a cool place where he lives with their godfather and paints and shoots hoops and talks to a bird named Bobo and says he enjoys computer games. I'm not clear if he really is playing King's Quest and shit or if it's only a cover for looking at blueprints to plan crimes.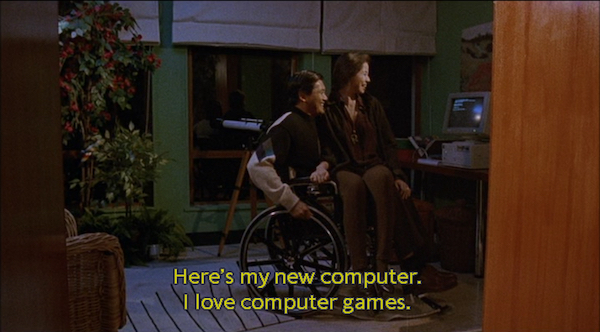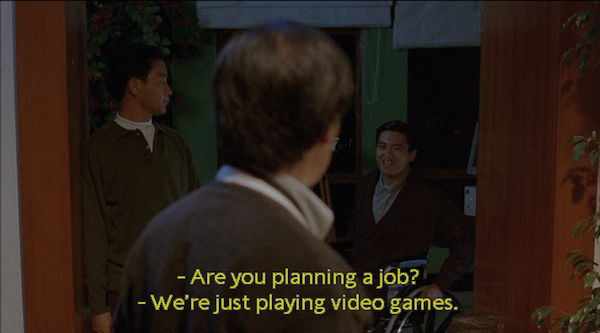 Joey also reveals himself to their abusive dad Chow – who has done very well for himself and become a big shot crime boss; in fact Joey was secretly stealing that painting for him. He pretends to be happy to see him, then the motherfucker pushes him down a flight of stairs! Right in front of Godfather! Joey blames himself, and seems to be torn between these two father figures.
The gang gets back together when Cherie convinces Joey that Jim needs his help to steal a painting from a museum to get out of debt from Chow. It goes pretty OCEAN'S ELEVEN, with a complicated scheme involving an auction, stealing and making a copy of a key while ballroom dancing and breaking into a vault. Joey breaks in at night, slides around on the floor, beats up a whole bunch of guards, talks to Jim over a headset, but eventually Jim has to roll in to help him. There's an excellent part where they work together to throw and detonate plastic explosives at security guards. It kind of feels like this will be the climax, but it actually culminates in a huge shootout and fight the next day at Joey's crib.
This is a SPOILER, but the ultimate example of how silly this one is is that Joey gets shot up, mostly in the legs, then he leaps out to reveal that the lrgs were fake and so was his paralysis and he does a bunch of flying and spinning kicks! Moments later Joey performs an all-timer of an "I don't think that would reall work, but I love it" improvised weapon: he puts some shaken up Coke cans in a microwave and a basketball in front of it and then it explodes and the basketball catches on fire and flies like a cannonball and hits a guy in the belly and propels him out the window. (Let's see that on a very special John Woo episode of Mythbusters, please.) And in the very next shot an unexplained character credited as "Magician Henchman" (Declan Wong, GOD OF GAMBLERS PART III) fans out a bunch of playing cards which he starts throwing as deadly weapons!
So I guess what I'm learning here is that the specific type of beautiful preposterous I associate with some of Woo's American work (specifically HARD TARGET and BLACKJACK) actually originated here. This scene is way goofier than what we get in most of Woo's Hong Kong classics, but equally meticulous. So much happens in this sequence – just a huge amount of props used as weapons, so many bullets fired into everything Joey owns, so many henchman blown through windows, set on fire, electrocuted or shot in the ass. And Joey is doing handsprings, swinging a giant fishing pole as a weapon, breathing fire, smiling and having fun through most of it.
The synth score by Violet Lam is a liability, overly emphasizing which parts are supposed to be funny and using artificial orchestra sounds that in my opinion have dated poorly. I don't want to harp on the lady so I wouldn't even bring it up but I wanted to mention that she uses that one sound I knowmostly from low budget horror movies, the Digital Native Dance.
It's weird to see Woo, who I love for his heart-on-the-sleeve melodrama, doing this much comedy. HARD BOILED has the baby peeing, but this has multiple pee related jokes, a line about farting, etc. But a bunch of the humor is good, it translates. Maybe because Chow does his charming smile most of the time when he's talking shit. There aren't that many parts with the type of painfully broad humor that makes me cringe, one exception being the happily-ever-after final scene which involves some mugging and fast speed and shit. But it's still a thematically interesting theme because they achieve their dream of settling down in the U.S., and Woo paints a cartoonish vision of America: Disney characters on multiple clothing items, a Garfield doll, a framed poster of BUTCH CASSIDY AND THE SUNDANCE KID on the wall behind Joey as he watches American football on TV. Woo still had HARD BOILED to make, but after that he moved to the U.S. too, and I wouldn't be surprised if he had that same poster at his place. I don't know about the Garfield doll. Maybe. Hopefully.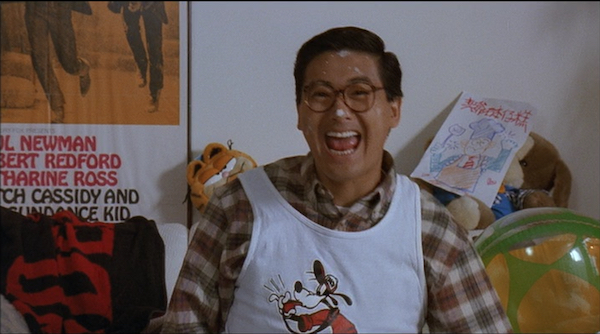 P.S. According to Wikipedia and IMDb, Joey and Cherie are nicknamed "Red Bean Pudding" and "Red Bean," but that wasn't in the subtitles of the DVD I watched. I swear there was one part where a French guy called Joey and Jim "Jules and Jim." I guess it must've been a joke but I thought at first that was their names.
This entry was posted on Thursday, February 18th, 2021 at 10:45 am and is filed under
Action
,
Comedy/Laffs
,
Reviews
. You can follow any responses to this entry through the
RSS 2.0
feed. You can skip to the end and leave a response. Pinging is currently not allowed.