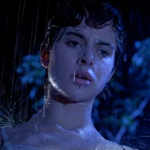 In 1982 Paul Schrader followed AMERICAN GIGOLO with a look at another oft-ignored segment of society, the CAT PEOPLE. It's a much hornier movie than GIGOLO – some of the posters even call it "AN EROTIC FANTASY" – and it compares sexual desire to turning into a hungry animal. That may sound like some 'Schrader was raised as a strict Calvinist' shit, but he actually didn't get a writing credit on this one. Believe it or not he used a script by Alan Ormsby (CHILDREN SHOULDN'T PLAY WITH DEAD THINGS, DERANGED, DEATHDREAM, PORKY'S II: THE NEXT DAY, POPCORN, THE SUBSTITUTE)! I've read that he rewrote the ending, but I don't see how he could've changed the very premise. So I honestly don't know what this one is supposed to be saying – it seems to be a sexy anti-sex movie – but it's artful and weird and compelling in all the right ways.
Irena (Nastassja Kinski, TERMINAL VELOCITY) is a pescatarian virgin orphan who arrives in New Orleans to reunite with her long lost brother Paul (Malcolm McDowell, FIST OF THE NORTH STAR). Paul lives in a big house with his Creole housekeeper (Ruby Dee, UP TIGHT) whose name is pronounced "Feh-molly" but spelled "Female." The brother and sister do a juggling act together as they reminisce about playing circus as kids, and Paul is immediately standing uncomfortably close to her and doing weird incestuous nuzzling. The movie never addresses that if the actors are playing their real ages Paul would've been 18 when she was born. But Ruby Dee seems to be playing her real age of 60 while looking about half that, so what is age, anyway? (read the rest of this shit…)
VERN has a new action-horror novel out called WORM ON A HOOK! He has been reviewing movies since 1999 and is the author of the film criticism books Seagalogy: A Study of the Ass-Kicking Films of Steven Seagal and Yippee Ki-Yay Moviegoer!: Writings on Bruce Willis, Badass Cinema and Other Important Topics as well as the crime novel Niketown.