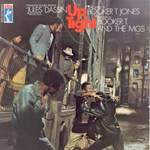 You guys know who Booker T and the MGs are, right? The amazing instrumental R&B group, centered around soulful organist Booker T. Jones, with a group of super-tight studio musicians including Blues Brothers Steve Cropper and (in a later lineup) Donald "Duck" Dunn. They were the house band for Stax Records, so not only did they have all their great albums but you can hear them backing up Otis Redding, Wilson Pickett and others.
If you know them you might also know this song, "Time Is Tight":
Recognize that? Their somewhat similar song "Green Onions" is used in way more movies, but "Time Is Tight" is in FEAR AND LOATHING IN LAS VEGAS, so you've at least heard it in there.
One thing I didn't know until a couple years ago is that this song was originally composed as part of the score for a 1968 movie called UP TIGHT, directed by Jules Dassin (RIFIFI). I found the soundtrack on vinyl, but at that time the movie had never been on video. It finally came out a couple weeks ago so I checked it out.
(Note for title punctuation buffs: the cover of the new blu-ray and DVD spells it "UPTIGHT," IMDb says it's "UP TIGHT!", but I'm going with UP TIGHT 'cause that's what it says on the record.)
Although the whole score is by Booker T and the MGs it's not a heavy music movie – it's actually very quiet, not unlike RIFIFI. It's a re-telling of the novel The Informer, but instead of dealing with Irish independence it's about black militants in Cleveland. It kinda reminds me of that Sidney Poitier movie THE LOST MAN (which came out a year later), except artier. Dassin wrote it with Ruby Dee (her only writing credit) and star Julian Mayfield (he has one other – the novel and screenplay for something called THE LONG NIGHT, not on video).
Right from the beginning it feels like a different kind of film. The opening credits are a Booker T vocal song called "Johnny I Love You" over painterly experimental animation by John and Faith Hubley. Then there are a few minutes of intense color documentary footage of Martin Luther King's funeral procession, thousands of people on the streets watching solemnly as his coffin goes by. From there we go to our setting in Cleveland, where people are gathered around quietly watching on TV. (The movie came out less than 9 months after the actual event, so feelings were still raw.)
Tonight a group of black militants led by Johnny Wells (THE MACK himself, Max Julien) are planning a heist of guns and ammo, but when they go to pick up one member of their crew, Tank (Mayfield, who only had a bit part in one other movie), he's drunk and ranting about not wanting to do it, sad about Dr. King and mad at these other guys who disliked the reverend anyway. He's clearly not in a condition to come along, but knows it's trouble when they decide to go without him. It's his fault when it goes wrong.
The heist sequence is not the centerpiece so it's not as long and involved as the all-time-classic one in RIFIFI, but it reminded me of that a little. It's all silent as they try to sneak in without arousing a security guard's attention. There are some ahead-of-their-time POV shots that bring you into the action and it ends with a camera zooming in on a jacket left at the scene, and its label that reads "J. WELLS." Whoops.
So Johnny is wanted for the murder of a security guard, and he goes into hiding. The informer of the previous title is Tank – he's a drunk, he's got no money for his lady and he seems more associated with this movement out of confusion or desperation than actual political passion. They don't really trust him, and they shouldn't.
When he gives in and snitches for the cash reward the whole deed is done in his P.O.V., like the opening of HALLOWEEN. Then his world gets more and more surreal. He should bring the money home but instead he goes out for a night on the town. Eventually he ends up drunk at a party some rich white people are having at some kind of carnival place. He plays a shootout game where he has to draw an a mechanical cowboy. Shooting a white man with glowing red eyes. The white people start asking him about being a militant. He freaks them out by ranting about a fictional plan to take all the white people's water. It's all shot through a funhouse mirror.
At best you can feel sorry for Tank, he's not the most sympathetic protagonist. But there's not really a clear "good guy" either. The white cops are appropriately portrayed as assholes. Clarence (Roscoe Lee Browne, narrator of BABE), a gay black man who works with the police, is a very strong and interesting character, but cynical in the way he's willing to sell out his brothers. The militants aren't totally wrong in their skepticism about non-violent protest, after all they just saw what happened to Dr. King. But they are obviously shown as wrong in their rejection of Teddy (Michael Baseleon), a white civil rights activist.
That's one of the best scenes. B.G. (Raymond St. Jacques), the leader of the local non-violent group, meets with the militants in an abandoned bowling alley, and the militants are pissed to see this Jeremy Renner looking white guy in a suit and thick-framed glasses. They act like he's a cop, but he reminds them he's marched and been arrested with them before. He's for real. "I'm no conscious stricken liberal." But they still make him leave.
"That's great," he says. "Stomped on. Spilled blood. But you can't work here anymore."
This is coming from a white director. Of course he's gonna have a white guy who's down with the cause. What's interesting is as he's leaving one of the militants says something to him that makes some sense:
"Teddy, we got to do it alone. We don't want your know-how. We've got to develop our own, or die. Think about it. Go help the white brother. He's in deep trouble. Change him. That's your job."
(Of course, another guy leaves him with the less helpful request, "Teddy. If you want to help us, send us some guns.")
But later there's a scene where Teddy's riding the bus and there's a bunch of police activity. His window is open and the bus happens to stop right next to a patrol car, where he hears an officer saying they found out where Johnny Wells is. Teddy gets off the bus and runs to a phone booth, tries to warn them… but they won't listen. And the police shoot Johnny. Maybe they should've accepted a little of his know-how after all.
The traitor Tank is stuck between all these factions, and when they find out what he did they basically give him a trial, facing down his accusers, people testifying against him. And he gets the death penalty. B.G. disagrees: "You need a legality!" But there is no appeals process here. The real justice system screwed them all over so they had to make their own, and it wasn't very good either.
The best thing about this movie is that it looks incredible. The colors are stunning and it's an amazing record of these Cleveland locations. You see all this rain at night, neon lights reflected in puddles, smokestacks, molten metal, blood banks, the ugly Cleveland Indians mascot on store front windows, which may or may not be intended as an ironic comment on racism… there's a scene that takes place with characters running between piles of burning garbage in an actual junkyard. All these great locations – a burnt down house, the abandoned bowling alley, the alley behind the abandoned bowling alley. But some of it looks so cool that I'm not sure whether Dassin just knows how to shoot things or whether he has a huge, elaborate soundstage for some scenes. I'm leaning toward yes, but I honestly can't tell for sure. You wouldn't think a movie like this would get a budget big enough for that, but I don't know.
Since it's basically about a guy wandering around killing time before somebody comes after him the story sometimes feels a little aimless. And like alot of movies from this era the acting and dialogue are very theatrical, not naturalistic, so it's not exactly a believable portrait of the time and culture. But it's an interesting caricature. And I think the best moments are when nobody is talking. Although hints of "Time Is Tight" show up in other parts of the movie, the actual song appears at the end in a beautiful sequence where Tank sits and enjoys a view of the city and comes to terms with his inevitable fate. It's one of those endings where I'm not even totally sure what the filmatists intended, but it just feels so right that it makes any meandering that came before seem okay.