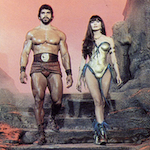 August 26, 1983
Arnold Schwarzenegger's first movie experience was playing Hercules in the comedy HERCULES IN THE NEW YORK (1970). Here, thirteen years later, his PUMPING IRON opponent Lou Ferrigno played the character in a serious (but still laughable) Greek-mythology-meets-'80s-sci-fi-fantasy epic – his second movie role. Like Arnold in his debut, Ferrigno's voice is dubbed (by Marc Smith, who played a mafia boss in CURSE OF THE PINK PANTHER and later became a prolific anime dubber). He had turned down other movie offers, but had also been obsessed with Steve Reeves' Hercules movies growing up, and jumped at the chance to follow in his hero's footsteps.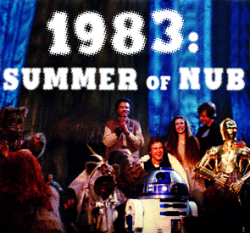 It's definitely a movie made in a post-STAR WARS world, with mythological creatures depicted as robots and a poster painted by Drew Struzan. It's also clearly inspired by the existence of Arnold's CONAN THE BARBARIAN, even introducing adult Hercules on the Wheel of Pain, though without dissolving from a younger version. They were able to steal the image, but not what was cool about it.
Most of all it strikes me as a poor man's CLASH OF THE TITANS, with its gods sitting around on the moon talking about how to control human affairs. But let me tell you, its stop motion sequences do not deserve to be mentioned in the same sentence as. Ray Harryhausen's. Important information I neglected to mention: this is produced by Cannon Films and directed by "Lewis Coates," a.k.a. Luigi Cozzi (STARCRASH, CONTAMINATION).
It's humorous how long it takes to get to Ferrigno, but I like the ballsy touch of a prologue depicting the creation of the universe as literally involving a giant jar "filled with all the essences of life itself" exploding in space and its shards forming the planets and the solar system. Narrator Anthony La Penna (THE BRAIN THAT WOULDN'T DIE) explains the whole deal as it's illustrated through models, light, smoke, and optical effects. It's six minutes before we see any actors at all, and nine minutes before we get into the actual narrative of the movie, which is about a baby Hercules until the 20 minute mark (though we did already get a shot of Ferrigno flexing in space).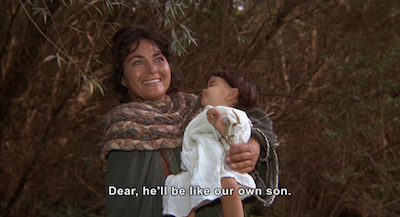 Baby Herc is about to be murdered by the king's men, but a maid sends him down the river (like Moses, Elora Dannen or Oswald Cobblepot). I got a good chuckle from the random couple finding him on the shore and taking like five seconds to go from "oh shit somebody dumped a baby in a river" to "we're his parents now." They were ready for anything I guess.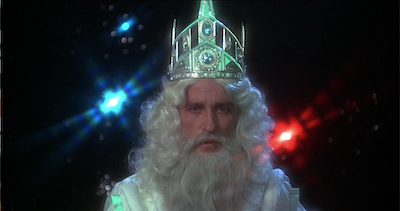 So is Hercules. He was created to be "stronger and more intelligent than all the other men" by
Zeus (Claudio Cassinelli, SCORPION WITH TWO TAILS), at the suggestion of Athena (Delia Boccardo, TENTACLES). I'm afraid I could not take Zeus seriously because his goofy expression behind a very fake looking beard and wig kept making me think of Steve Carrell in EVAN ALMIGHTY.
Anyway, Hercules struggles like any of us do – he wonders what his purpose is, since he's so fucking amazing, but he doesn't know why. And that mean goddess Hera (Rossana Podesta, HELEN OF TROY) keeps scheming to fuck him over, like sending rubber penis monsters to attack him as a baby, or a bear that kills his dad when he's an adult. Hercules always triumphs, whether it's by lightly squeezing the penis monsters or throwing the bear into outer space (which involves a really funny miniature shot worth rewinding a few times).
King Minos of Thera (William Berger, IRONMASTER) I guess wants to impress Hera or something so he takes up the cause of getting rid of Hercules. He calls up Daedalus (Eva Robins, TENEBRAE) for help. Since she's the goddess of knowledge she scolds him for believing in gods, wears kind of a space woman type outfit, and creates the mechanical monsters to fight Hercules. I like her. She has style.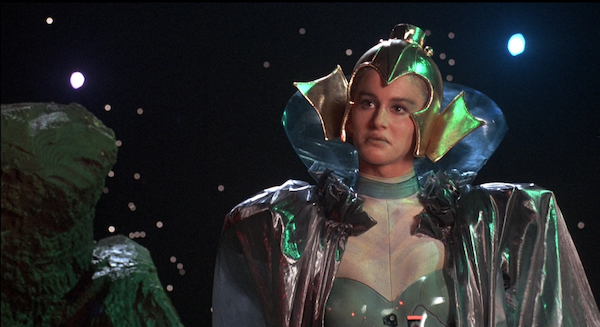 The idea of robotic mythical creatures could maybe be attributed to Bubo from CLASH OF THE TITANS, or to trying to keep up with STAR WARS, but it's a cool gimmick no matter where it came from. It must be said, though, that they're first shown as miniatures in the hands of the gods, who call them toys, and then when they're composited into the shots with Ferrigno they still look tiny. I enjoy the goofiness of it, but it's funny that we have RETURN OF THE JEDI to document what specifically the state of the art was at the time and get an idea just how calamitously short this movie falls. That it was not considered up to snuff at the time is confirmed in the review by Andrew Adler in The Courier-Journal saying the effects "would have looked silly in a Buck Rogers serial of the 1930s." It's an exaggeration, but possibly fair for the scene where Zeus' wiggly animated foam hand comes out of a waterfall to catch baby Hercules. I can compare this to when I was older and got to see Reptile in MORTAL KOMBAT two years after the dinosaurs of JURASSIC PARK. Not all movies are equal.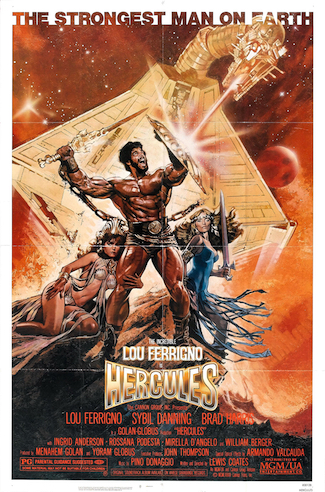 After killing an Insecticon, Hercules decides to go to Tyre to enter the king's games "to find the best warrior for an important mission." He wins and impresses Princess Cassiopea (Ingrid Anderson, later in Chicago's "Stay the Night" video) by jumping over a carriage. Jackie Chan shit. The mission is to bring Cassiopea to Athens under attack from creatures sent by King Minos and his wicked daughter Adriana (Sybil Danning, BATTLE BEYOND THE STARS). Seems like it would've been narratively simpler to have Minos after either Hercules or Cassiopea and not both for separate reasons, but I don't make the rules here.
I'm sorry to say that for me the novelty of this silly movie wore off maybe half way through, and it became kind of a slog. It's hard not to be episodic when you're just stringing together a bunch of famous myths, so it requires the right mood to get into it, I think. But it's not repetitive, exactly – crazy shit keeps happening. There's a part where the sorceress Circe (Mirella D'Angelo, CALIGULA) turns him giant and he creates the continents "by separating Europe from Africa." And they fly through space by throwing a rock tied to a chariot and then getting into the chariot. They look like Barbie dolls in many of the shots. Eventually he draws Zeus' golden sword to kill Minos and Adriana even though it "unleashes the phoenix" (lava destroys the island) which he spins as a good thing because he freed fire for the world to use. Great job, Hercules.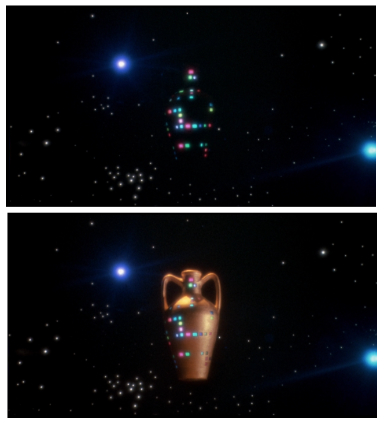 You know, The Rock's HERCULES movie was much more entertaining to me, but the hook of it was that he lets people spread these legends about him but there's not actually all this magic and shit. That was their way of putting a different spin on it and that's fine, but I respect that this version takes the more absurd route of "fuck it, in this movie the planets were formed from the fragments of an exploding jar, and if you throw a bear into space it turns into a constellation." Magical realism I guess. Good approach.
A movie where the main character is dubbed was probly a big joke by '83 (though they did it with the female lead in KRULL). But I want to say that the dubbing isn't terrible, and I bet it works much better than it would've if they'd used Ferrigno's real voice, though it doesn't manage to turn him into a compelling character. But it's hard to deny the casting; the dude's bulbous muscles look so fucking preposterous they do seem created by a magic king on the moon with a fake beard. Every part of him seems to be inflated more than would be safe if he was a tire. I don't believe Arnold ever looked this ridiculous in a movie and I don't think he should've, but it was a good choice for this movie. Ferrigno has said it was the best condition of his life, and I believe it.
HERCULES was filmed back to back with Bruno Mattei's THE SEVEN MAGNIFICENT GLADIATORS, starring Ferrigno and Danning. Danning says that she and Ferrigno hated each other so he got them to make her part smaller in HERCULES, from the love interest to a sub-villain. Still, both returned for the sequel THE ADVENTURES OF HERCULES (a.k.a. HERCULES II: THE ADVENTURES OF HERCULES) in 1985.
I haven't watched the sequel. Apparently some stock footage is utilized. Also he turns into a gorilla to fight Minos turned into a dinosaur. That sounds pretty cool. But so do alot of things.
Though HERCULES was considered a joke by many viewers (and yes it won Razzie awards) it made $11 million at the box office, becoming the 19th most successful Cannon movie.
I will end by sharing some screen grabs to give you an idea of what this is like in the fun parts.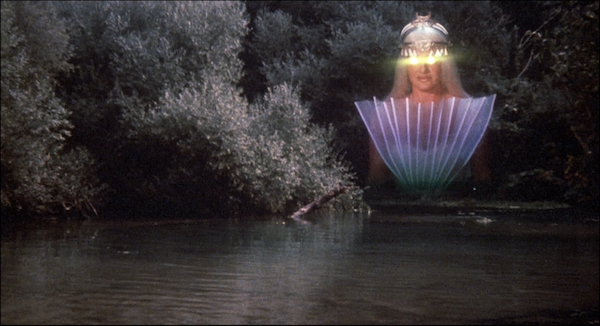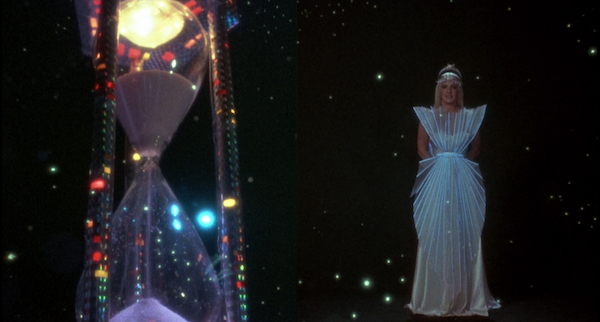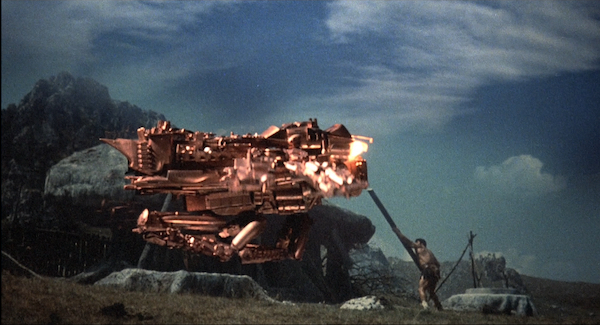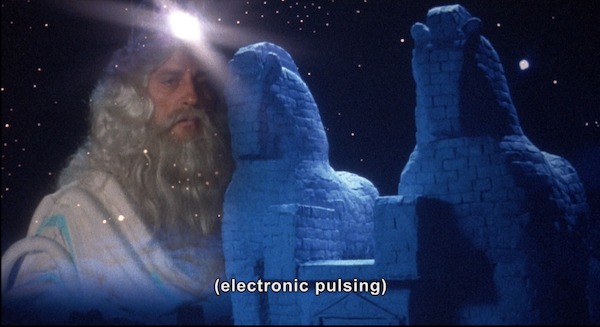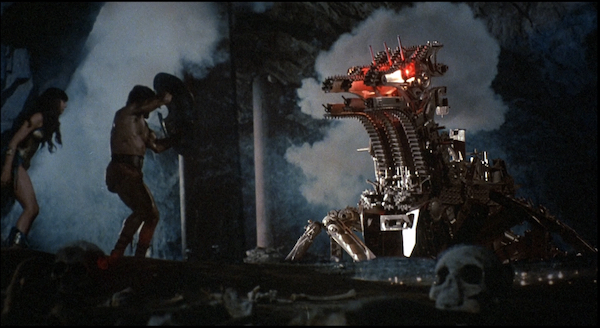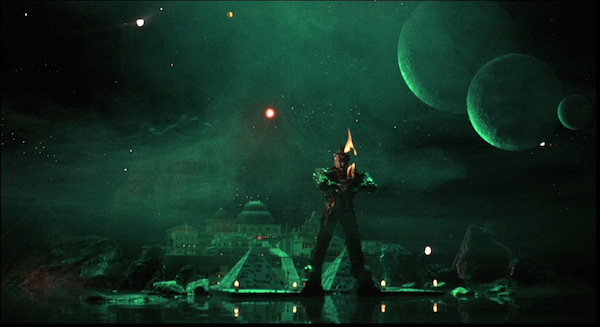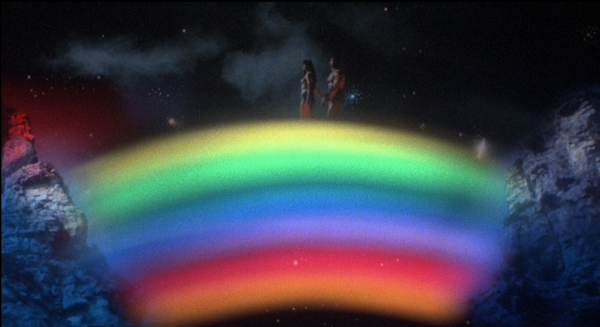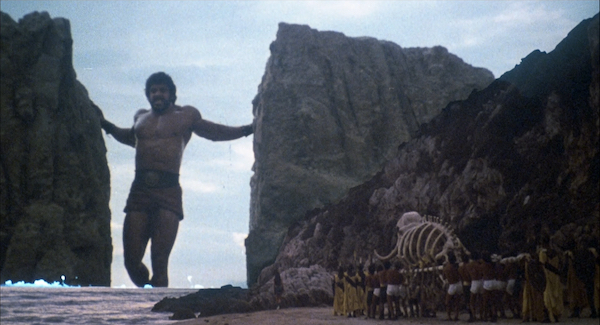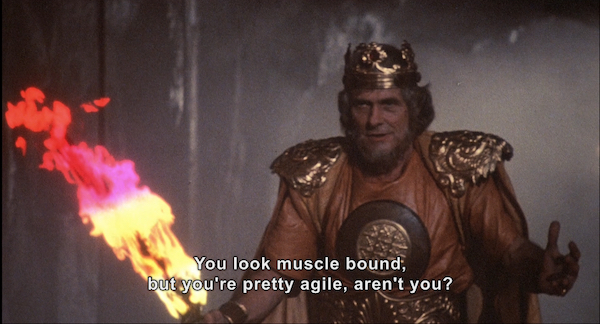 p.s. I have a couple different friends who have visited the bookstore Profondo Rosso in Rome. It's co-owned by Dario Argento and has a museum of props from his films in the basement. It's co-owned and managed by Cozzi and I've heard that he actually works there and talks to people about his movies if they ask.
p.p.s. Cannon's YOUNG WARRIORS, a.k.a. THE GRADUATES OF MALIBU HIGH, was also released on August 26th.