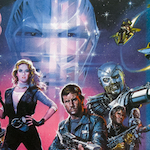 August 19, 1983
METALSTORM: THE DESTRUCTION OF JARED-SYN is yet another sci-fi/fantasy/adventure released in the summer of RETURN OF THE JEDI that seems like it wouldn't have existed without STAR WARS. In fact, a 1983 Cinefantastique article quotes screenwriter Alan J. Adler (PARASITE, THE CONCRETE JUNGLE) saying that he "packed my bags and left town for Los Angeles" when he saw STAR WARS. To be fair, this particular movie seems much more inspired by THE ROAD WARRIOR, but we'll get to that in a minute.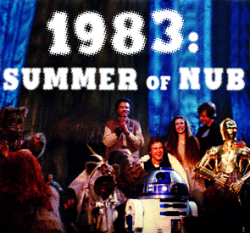 Before seeing them, I always mixed this up with SPACEHUNTER: ADVENTURES IN THE FORBIDDEN ZONE, without realizing they were released a few months apart, and both in 3D. Now that I've seen them I know that they actually are kind of similar – both have a tough bounty hunter guy driving around a wasteland planet in large all-terrain vehicle, fighting mutants and warlords and shit while searching for someone. Dogen (Jeffrey Byron, HOT RODS TO HELL) is a "Finder," and instead of trying to rescue some abducted tourists he's trying to kill a wizard guy named Jared-Syn (Michael Preston, Pappagallo from ROAD WARRIOR), who's trying to do a, like… evil crystal thing. Because the treaty with the Nomads was violated, I believe is what Dogen says. You know how it is. Gotta stop that, obviously.
On his trek, Dogen comes across a crystal mine where Jared-Syn's ugly cyborg son Baal (R. David Smith, later Hell's Angel #1 in SHOWDOWN IN LITTLE TOKYO) killed a prospector (Larry Pennell, Lassie), leaving his daughter Dhyana (Kelly Preston in her second movie, after 10 TO MIDNIGHT and before CHRISTINE) behind. He takes her along so I thought she would be the equivalent to Molly Ringwald's character in SPACEHUNTER. Maybe that's an unfair standard, because I really thought Ringwald made that movie, but regardless, this Dhyana character has zero personality or agency. Her only memorable trait is wearing a black vest so when she's standing next to Dogen in his leather duds they look like a couple going to a Halloween party as Mad Max and Sexy Han Solo.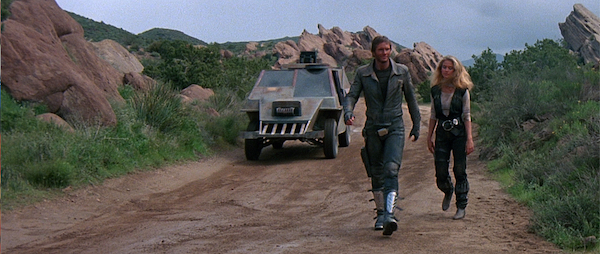 But she almost immediately gets abducted and spends 2/3 of the movie cowering in a cave while Jared-Syn makes very dull, low energy threats to her. This is miles better than PRISONERS OF THE LOST UNIVERSE on almost every conceivable level, but there are a few stretches where it's almost as boring.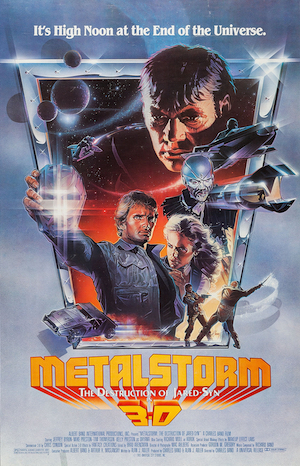 Fortunately there are also parts with post-apocalypse-type vehicles and car chases with violence and crashes and stuff. I don't want to be too hard on them because I do think they're pretty cool chases, but they also really underline the brilliance of George Miller because he knew how to make absolutely everything look and feel and sound like it's tearing across the surface of the earth with a giant rocket attached to its back. If that required speeding up the film he wasn't too proud to do that. These chases feel like they're being careful to obey the speed limit.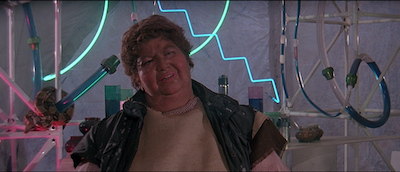 Things pick up narratively when it gets more into the "okay, you got us, we've seen STAR WARS" portion of the proceedings – specifically when Dogen goes to the cantina to find his Han Solo. In this case the cantina is a white tent with some fluorescent lights and a live snake on the wall behind the bar. Customers sit cross-legged on the dirt floor next to short, illuminated translucent tables. And the Han Solo is a former Finder turned pro-drinker named Rhodes (Tim Thomerson in the same year as UNCOMMON VALOR). It comes up in conversation that he fought in "The Sand Wars." Later Jared-Syn will invoke the "Dark Lords of Set." But there are no light sabers.
I can't complain about the casting of Thomerson because he immediately makes everything more fun, but it's a little bit of an odd fit because he's doing the job of the smartass sidekick but he also a grizzled tough guy presence equal to or greater than Byron's, and when they're in the vehicle together you realize that they look kinda similar, they're way more of the same type than you usually see teamed up in a movie, and for good reason. You need some contrast.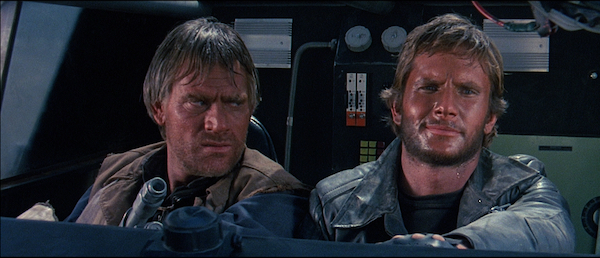 No disrespect to Byron – he's fine – but I was kinda thinking maybe it shoulda been Thomerson as Dogen and somebody who looked very different from him as Rhodes. I bet director Charles Band had the same thought, since he later produced six TRANCERS movies, two DOLLMAN movies and one ZONE TROOPERS with Thomerson in the lead.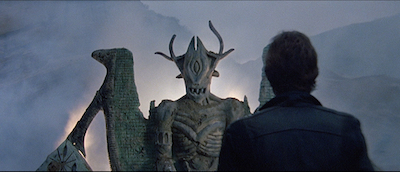 Dogen hires Rhodes as his guide to lead him to "The Lost City," though Rhodes protests that he knows it doesn't exist because he's searched for it a dozen times. Then they just drive straight down a road for like two minutes and pull up to the "Cyclopian burial grounds" that mean they found it. Thirteenth time's the charm, I guess! There's a cool tomb (I would want to be buried in one of those if I shared the Cyclopian spiritual beliefs) and a crystal mask and then they get pulled into the sand – I believe this is our second quicksand scene of the summer, after KRULL, but third if you count the giant guy sunk up to his neck in mud in PRISONERS OF THE LOST UNIVERSE. This time we get movement under the sand, like TREMORS, that turns out to be little rubber puppet monsters.
I forget if it's referring to that or not, but at some point Rhodes says "I'm gettin too old for this stuff," which I liked since it sounded like a TV dub of LETHAL WEAPON.
Hurok (Richard Moll, THE JERICHO MILE, AMERICAN POP), leader of the one-eyed mutant Cyclopians, finds Dogen and Rhodes and is impressed that they found the mask but is going to execute them for trespassing until Dogen defeats him in ritualistic combat (occasionally pointing a dagger at the camera for 3D effect) and then spares his life, winning his respect. Now that they're pals, Hurok points them in the direction of a war council meeting where Jared-Syn will be in attendance.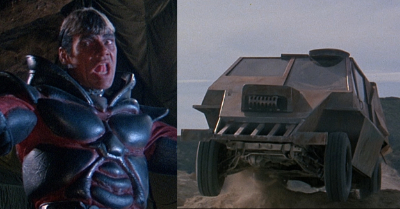 Although Jared-Syn and his men have cool costumes, almost cool enough to overcome his terrible haircut, I find them to be extremely boring villains. The most exciting thing about them is that the fake muscles on Jared-Syn's armor kind of look like a face. Dogen's vehicle also looks like a face (or at least a skull). Maybe the car and the muscles could be friends. Or maybe they could make out.
I guess I sort of like the gimmick that when Dogen puts on the crystal mask he has trippy visions. The one where he sees a tree with red light behind it and then hits it with an ax and it cries kinda reminds me of something that could be in LORDS OF SALEM.
For the finale there's a "skybike" chase that's pretty similar to RETURN OF THE JEDI's speeder bike chase, except they fly higher, much slower, and only in a straight line. Just like the car chases do for MAD MAX, the skybike chase reminds you of how important speed, momentum and action storytelling are to the STAR WARS movies. Those guys knew what they were doing.
I'm actually really curious whether this is a coincidence or not. It seems very possible there was advanced awareness of the speeder bike chase, whether or not they had seen the finished product. Either way, their scene obviously pales in comparison, and it's the finale, not just a high point in the middle. But in fairness to the makers of METALSTORM they did have to figure out how to do the FX in three dimensions, which I'm sure was difficult.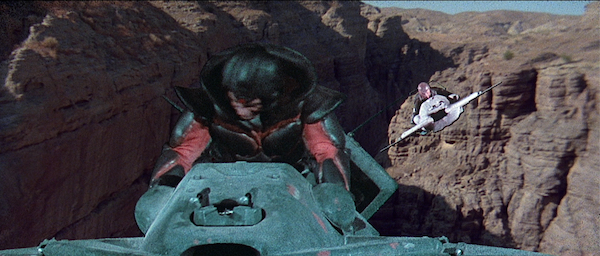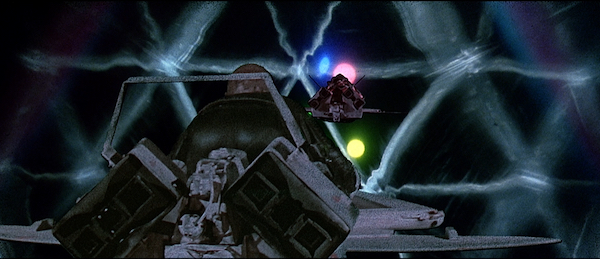 At the end of the chase they fly into a trippy grid of triangles and colored lights, kind of a 2001 light show deal, until Jared-Syn disappears. Dogen later explains that Jared-Syn "tapped into the Master Crystal. He created some sort of energy tunnel." And he says that wherever he is, he's going after him. Then he shoots the crystal. Then Rhodes drives him and Dhyana into town. The end.
I couldn't tell if this was supposed to be a cliffhanger or not, but the Cinefantastique article mentions that Adler "based many of his ideas on the Atlantis legend, a theme he hopes to develop more fully in the proposed sequel," and that they were hoping for a trilogy, which of course was not to be. If you are hoping to see any destruction of Jared-Syn, let alone the destruction of Jared-Syn, this one might not be your best choice. There is way too much Jared-Syn in the movie and zero destruction of him. Unless it's supposed to be metaphorical.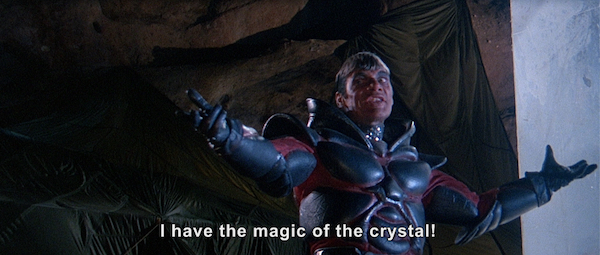 Band had previously directed LAST FOXTROT IN BURBANK (1973) and CRASH! (1977) but considered this his second real movie after PARASITE (1982). By his standards its $2.5 million budget was extravagant, but it was piddly shit compared to most of the competition – even SPACEHUNTER cost almost five times as much. So it's impressive that a 3D test reel at Cannes caught the attention of Universal, who picked it up to capitalize on all the theaters they'd convinced to get proper set ups for JAWS 3-D. They must've been pissed when it only made $5.3 million, but shit, that was a big win for Band, even if he couldn't complete the trilogy or do the Metalstorm: The Sand Wars animated series or whatever.
Band has certainly been involved with some good movies (for example he produced several of Stuart Gordon's classics) but many more of them are cheapo bullshit, so although this one isn't great I gotta say it does feel like a real movie and is done on a much larger scale than most of Band's works. It has some impressive FX work, like Baal's robotic claw arm that mechanically opens up in what must've been a spectacular 3D shot. I would also like to praise the score by Charles' brother and regular collaborator Richard Band. He got to work with an orchestra twice as big as he'd ever used before but he also throws in some interesting electronic parts here and there.
If you'd like a ranking of the trio of long-titled summer of '83 sci-fi movies go, I would say PRISONERS OF THE LOST UNIVERSE takes a very, very distant third place for being terrible, METALSTORM: THE DESTRUCTION OF JARED-SYN gets second for being fun at times, and SPACEHUNTER: ADVENTURES IN THE FORBIDDEN ZONE takes the gold for being easily the best and most entertaining, for whatever that's worth.
As we discussed in the SPACEHUNTER review, the Cinefantastique 3D issue reported that technical problems with the 3D on that film rendered it painful to watch, and it seems to me it never overcame the initial bad impression that made. But the same issue raved about METALSTORM boasting "some of the best 3-D photography seen in years; crisp, well-lit and with a satisfying mixture of scenic landscapes and 'off-the-screen' gimmicks."
On the other hand, Lawrence Van Gelder of The New York Times called it "a slow-moving, thoroughly derivative movie that makes little use of the possibilities of 3-D" and Gary Arnold of The Washington Post called it a "clownishly farfetched and inept adventure spectacle… the poor man's SPACEHUNTER right down to an inferior grade of 3-D filming."
Whoever's right about that, Cinefantastique's article paints a funny portrait of cinematographer Mac Ahlberg, who'd also shot PARASITE in 3D for Band. Ahlberg brags to the magazine that he fired the 3D consultant "because he was such a pain in the neck," and purposely did everything they told him he couldn't do (quick cuts, high contrast shots) because "there really are no rules to follow" in 3D. But as he elaborates it becomes clear that he really just followed his own set of rules based on a deep understanding of the format. For example, he talks about the importance of making the convergence of each shot flow out of the one before it and into the one after it, so that our eyes aren't strained from bouncing back and forth. Later he says "Really, I hope that I never will have to work on a 3-D movie again. I find it so boring, so uninteresting."
I do believe he got his wish, and he also continued working with Band until the very end – his last films were PUPPET MASTER: THE LEGACY, DR. MOREAU'S HOUSE OF PAIN, PETRIFIED, EVIL BONG, and THE EVIL CLERGYMAN. Along the way he also got to shoot such notable films as GHOST WARRIOR, RE-ANIMATOR, HOUSE, PRISON, Michael Jackson's "Black or White" video, INNOCENT BLOOD, STRIKING DISTANCE, THE BRADY BUNCH MOVIE, GOOD BURGER and KING OF THE ANTS. A career well spent.
Byron next starred in DUNGEONMASTER, directed by Band and co-starring Moll. Some of his later roles include "CHP Officer" in FALLING DOWN and "Test Administrator" in STAR TREK (the famous Kobiashi Maru test? I think so). Screenwriter Adler's subsequent credits are Band's THE ALCHEMIST (1983), one episode of the cartoon Ghostbusters (the one with the ape, not the one based on the movie) and one episode of Star Trek: The Next Generation. He was also a toy consultant on Barry Levinson's TOYS (1992).
Band of course would soon become unhealthily fixated on small creatures and dolls, and through his company Full Moon Pictures was the mastermind of such killer-small-thing home video franchises as PUPPET MASTER, SUBSPECIES, DOLLMAN, DEMONIC TOYS, SHRUNKEN HEADS, LEAPIN' LEPRECHAUNS, HEAD OF THE FAMILY, BLOOD DOLLS, RAGDOLL, EVIL BONG, SKULL HEADS, OOGA BOOGA, UNLUCKY CHARMS, TROPHY HEADS, WEEDJIES, THE GINGERBREAD MAN, THE GINGERWEED MAN, and CURSE OF THE DINKIES. I swear I only made up that last one, and it's very possible I missed some other real ones.
Unlike any other director mentioned in this series of reviews, Band did a tour of rock clubs in the aughts called Charles Band's Full Moon Horror Road Show. From what I remember he told stories, showed clips, tried to auction off memorabilia, and did some very dumb skits described on the poster as "unspeakable acts on stage!" It seemed like he was trying to make Full Moon into a brand name more like Troma, and at times it was kind of sad. One of his gimmicks was to convince a few local volunteers to show their boobs on stage, but that violated Washington State liquor laws so they had to have tape over their nipples. It was cool though to see some of the puppets on display.
Unfortunately I hadn't seen METALSTORM then so if he talked about it it didn't make much of an impression.
IMPORTANT NOTE: Amazingly, YOR, THE HUNTER FROM THE FUTURE was released in the U.S. on the same day. It's a goofy but enjoyable condensed version of an Italian mini-series starring Reb Brown as a barbarian fighting dinosaurs and rich people who are armed with lasers. According to The Numbers it opened slightly better than METALSTORM (coming in 7th above METALSTORM's 8th), but on more than twice as many screens with a lower per-screen average, and it ultimately made about half of what METALSTORM did at the domestic box office. Check out my review from 2019 for more on the movie.