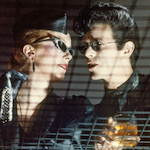 Last week I revisited that 2004-2005 period of Tony Scott's career, when MAN ON FIRE and then DOMINO went crazy with the hand-cranked visual chaos, and I talked about my impression at the time of Scott as a lifelong mainstream director suddenly showing up to work with a blue mohawk, cinematically speaking. You know what? That seems pretty off base now that I've seen where he started, his one movie before TOP GUN, the aggressively mood-and-style-over-narrative vampire tale THE HUNGER (1983).
It opens with a long sequence that's almost experimental in its editing, the kind of thing people compare to MTV, but it's much more underground, really. Bauhaus are performing "Bela Lugosi's Dead" at some goth club, though the series of shots never show us the geography, or even the stage, just Peter Murphy behind a fence, bathed in smoke, mouthing the words, no microphone. Meanwhile, the most unapproachable goths you've ever seen are eyeing the dance floor from above, looking like Nagel prints who escaped into the real world and became European fashion models. They are the Blaylocks, Miriam (Catherine Deneuve, THE MUSKETEER) and John (David Bowie, LABYRINTH), dressed like they're from different eras, stone faced and hiding behind sunglasses. On the floor below, people vaguely twitch to the music, and it doesn't look like any of them are having any fun, but I get the sense that this is everything they wanted out of their evening, if they survive it.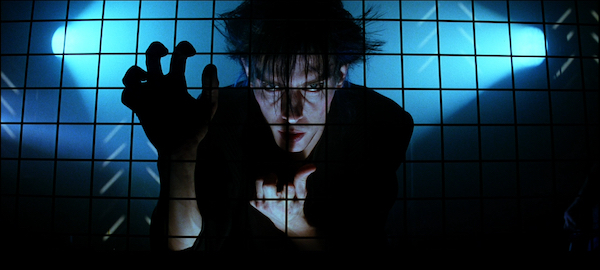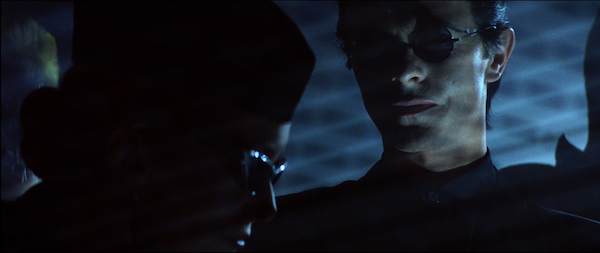 By the time the sequence ends, or soon after, we understand that it was about two vampires selecting their prey (Ann Magnuson [SMALL SOLDIERS] and John Stephen Hill [DEADLY EYES]), bringing them home, beginning foreplay, then rather than biting them on the necks, just making little slits with the tiny knives hidden in their ankh pendants. Before that it seems like nothing is happening in the movie at all. Just posturing and minimalistic gyrating. Even so, the scene strikes me as hugely influential – a look and attitude echoed in BLADE and THE MATRIX, especially. Did it have an influence on Neil Gaiman making his embodiment of Death in The Sandman a goth with an ankh necklace? Possibly.
For a while there are fewer words spoken than there are beautiful shots of hazy sunbeams shining into dark rooms. Nobody believes in bright lights in the movie, even in hospitals. Most indoor scenes are lit only by sunlight, usually through curtains.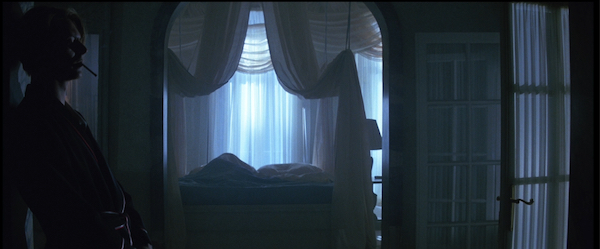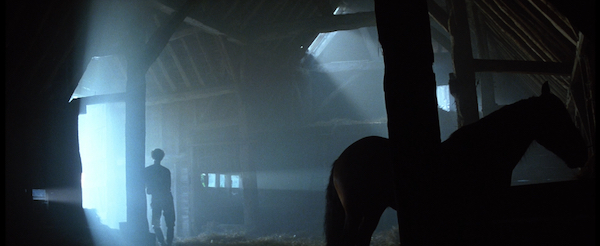 While the vamps are getting it on with their victims it keeps cutting to a screaming monkey, then, as they're killed, we see one monkey bite another monkey's throat out. Nasty shit. That's at the research lab where Dr. Sarah Roberts (Susan Sarandon, SPEED RACER) works, trying to learn how to slow down the process of progeria and/or aging. It would obviously be cool if there was some sort of vampire/monkey partnership where each vampire has a pet monkey they bring with them during murders, hanging out at the club, etc., but unfortunately the monkeys aren't seen much after this point. But can I interest you in a cool stop motion shot of a monkey aging and rotting on fast speed? That does happen and the clever thing is that it's animation through degraded black and white video, because it's seen on a security video.
My wife is always big on wanting to know what the rules are when we watch vampire movies. This one has such an emphasis on sunsets and dark rooms that I assumed they were vulnerable to sunlight, but that never seems to pan out. There's none of the traditional cross, holy water, garlic or wooden stake business, and John definitely has a reflection. The only rule we really need to know is that Miriam never ages but the people she turns eventually do. John's looked 30 since the 18th century and doesn't know there's an expiration date on that until his hair starts falling out and he gets liver spots on his hands. He learns of Sarah when she promotes her book Sleep and Longevity on TV, so he goes to the research center to see her, but she leaves him in the waiting room long enough that by the time he gives up and storms out he's literally turned into an old man. On the way out a cabbie calls him "You stupid old fuck!"
The old man makeup is really good – Dick Smith (THE EXORCIST) and Carl Fullerton (FRIDAY THE 13TH PART 2) are credited with "makeup illusions."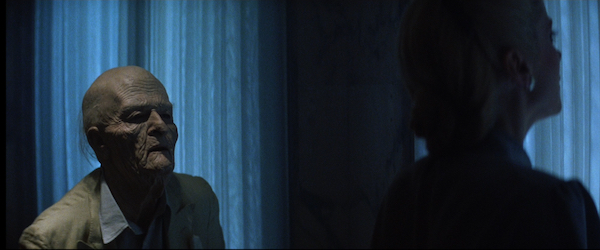 The Blaylocks' only friend is a neighbor kid, Alice (Beth Ehlers, Guiding Light), who comes over to play music with them three days a week. So when she shows up and John looks like he's in his eighties he has to pretend to be somebody else. She keeps asking if he's John's father, but he says he's just a friend. They play music and then he kills her, but even that young person blood doesn't help, and Miriam can barely bring herself to kiss him, or kill him. He looks like Grandpa from THE TEXAS CHAIN SAW MASSACRE now, and he falls down the stairs and breaks his legs. So what does she do? She puts him in a coffin in the attic, which seems to have also been the fate of around half a dozen of her other exes, all still alive! That's real fucked up, Miriam.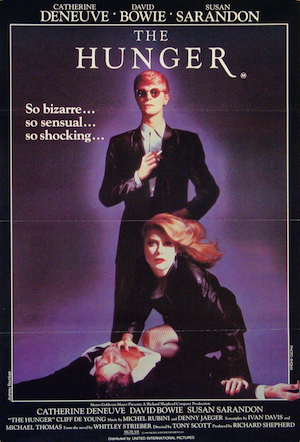 Sarah actually saw John leaving the research center, and noticed how much he'd aged, so she takes his case seriously now and comes to their building looking for him. Miriam claims he's in Switzerland. Then I think she puts some mojo on Sarah because she seems to hear her voice calling to her, and she can't resist coming back. Miriam gives her a glass of sherry, plays piano for her and takes her to bed – a scene that has reportedly caused certain realizations for many a young lesbian, despite the blood drinking parts, or the depiction of this character as literally predatory. It's a well done scene.
That night Sarah seems unfazed by what happened and goes to dinner with her co-worker/boyfriend, Tom Haver (Cliff De Young, DR. GIGGLES), who questions why she spent 3 1/2 hours at some lady's house. Also he notices her new ankh necklace. "You just met her and she gives you a present?"
"Well, she's that kind of a woman. She's… European."
Sarah wants her meat rare and even in the middle of an argument she keeps looking out a window to two naked women in a swimming pool. Seeing the world with new eyes, I think.
Tom thinks she's acting weird and makes her get a blood test at work – okay, now you're the one who's acting weird, Tom – which is how she learns that "some alien strain" is consuming her blood. I don't think she remembered the blood exchange part of the Miriam experience. When Sarah confronts her about it, Miriam correctly predicts "You'll be back. When the hunger hurts so much you've lost all reason then you'll have to feed, and then you'll need me to show you how."
The guy Miriam brings home to become Sarah's first victim (James Aubrey – Ralph from the 1963 LORD OF THE FLIES) is comically douchey. He comes in wearing sunglasses and chewing gum, and does an Elvis pelvic thrust pose when he sees the place. It reminds me of the section of HELLRAISER where Julia's luring in guys to kill and you know she's the bad guy but you also think well, if it has to be somebody…
When Sarah doesn't come home one night, Tom gets desperate, knocks on Miriam's door asking if she's heard from her, is shocked to hear, "Yes, she's upstairs." He finds her seeming out of it, like she's dope sick, then she hungrily kisses him, then pushes him and screams for him to leave. It's possible he was supposed to play like the hero who's trying to rescue his girlfriend from being corrupted by evil, but it's hard to see it that way. Instead it's darkly humorous because he's so out of his league. Once you go vamp you're off the ramp. How ya gonna keep her down on the farm after she's seen Catherine Deneuve?
Since the club, the lab and the house are pretty much the only locations, the cast is small. Willem Dafoe shows up in one scene as "2nd Phone Booth Youth." His only line is "Hey lady, how bout it?" It was his second movie, but the first one was Kathryn Bigelow's THE LOVELESS, where he was the lead. Dan Hedaya (DOWN) is also in a couple scenes, lookin kinda like Elliot Gould, as a detective looking for Alice.
The finale is really cool – John and her other aged former companions mob her. They look like zombies and they're coming out of coffins, so it's like some Edgar Allan Poe shit where a killer's former victims come back to life. Also for extra style points there are doves flapping around like it's a John Woo movie.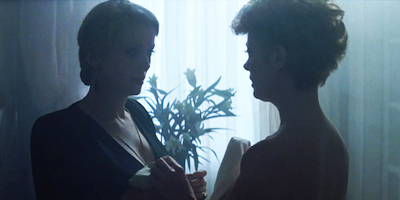 When it was released, reviews of THE HUNGER varied, but all seemed to mention that it looks nice, and even more than that, they made a big deal about the lesbian sex scene. TV Guide called the movie a "largely empty visual exercise," adding "The Deneuve/Sarandon sex scene, however, is not to be missed by fans of either actress." Beloved horndog Roger Ebert opened his review by calling it "an agonizingly bad vampire movie, circling around an exquisitely effective sex scene," and apologized before spending most of the review explaining what was so great about the scene.
As good as Deneuve, Sarandon and Bowie are in the movie, I think it's fair to say that cinematographer Stephen Goldblatt edges them out for MVP. He'd made his name as a photographer shooting publicity shots of The Beatles for The White Album, and graduated to movies with 1980's BREAKING GLASS. He'd later be known for LETHAL WEAPON 1 and 2 and Joel Schumacher's Batman movies.
There are others deserving of recognition. This is the second movie for editor Pamela Power, who started with Scott's brothers' THE DUELLISTS, and followed this with the famous Apple Mac: 1984 commercial. According to Wikipedia but not IMDb, Peter Honess (IT'S ALIVE, HIGHLANDER, RICOCHET, THE FAST AND THE FURIOUS) was also editor. Production designer Brian Morris had done PINK FLOYD: THE WALL and later reunited with Scott for THE LAST BOYSCOUT. He's the guy who did JACOB'S LADDER, EVITA and PIRATES OF THE CARIBBEAN: THE CURSE OF THE BLACK PEARL.
Howard Blake (THE DUELLISTS) was the music supervisor, arranging all the classical music, which nicely blends with the modern score by Michel Rubini (BAND OF THE HAND, MANHUNTER, NEMESIS) and Denny Jaeger (The Powers of Matthew Star) with additional electronic music and effects by David Lawson (THE DARK CRYSTAL). It would set a good tone for the movie even if it didn't match the theme of people who live long enough to span many different eras.
The script is by James Costigan (MR. NORTH) and Michael Thomas (LADYHAWKE, THE DEVIL'S DOUBLE), adapted from a 1981 book by pre-alien-abduction Whitley Strieber. In the original ending Sarah killed herself to avoid the curse of living a long life as a vampire, but the studio made them change it so she sort of takes the place of Miriam, to leave it open for a sequel. It lost money in theaters, so that wasn't gonna happen. In 1997, Scott did direct the pilot for the TV series The Hunger, which aired on Showtime in the U.S., and he returned for episode 1 of season 2. The aforementioned Mulcahy directed five episodes. It wasn't a continuation or retelling, it was a sexy horror anthology. Season 2 was hosted by Bowie, though.
The Scott brothers were part of a wave of British ad directors moving into feature films, along with Alan Parker (FAME) and Adrian Lyne (FOXES). Similar to music video director turned feature director Russell Mulcahy, they made movies with stunningly gorgeous cinematography, unorthodox editing and heavy use of music. Their backgrounds helped them sell an idea with imagery but not necessarily tell a story or create a character. I think many of these films were knocked by critics at the time as style over substance, and I think just like me with my belligerent first review of Scott's DOMINO, they were just not open to a different approach to cinematic storytelling where the look and mood do the heavy lifting. If not always a good one, it's at least a valid one, and I think it works well here.
I think THE HUNGER is a good movie – the story is a little simpler, and yet less clear, than is my preference, but Scott makes up for it with the meticulous atmosphere and strong performances by the leads. Let me give you an example of one kind of puzzling, random scene. It's just shots of a silhouetted rollerskater (Richard Robles) that could be cut right into Lyne's FLASHDANCE if you left out the part where David Bowie in old age makeup murders the skater.

Do I know who that skater is or what this place is, where he's all alone except for one bird and a boombox? No. Do I understand why John doesn't seem to drink his blood after he kills him? No. Is it powerful to be thrown into this bizarre and vividly shot situation without any context? Yes. In horror movies especially it can be good to feel unequipped and off balance like this. It can be better to wonder about a scene, or a whole movie, than to completely understand it. THE HUNGER is never gonna be my favorite vampire movie, but I enjoy wondering about it.