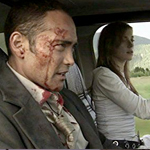 ALIEN AGENT is a 2007 made-for-Sy-Fy collaboration between Mark Dacascos and director Jesse V. Johnson. For Dacascos it might've been the type of quickie affair he could do for fun and profit between hosting Iron Chef America and appearing in occasional higher profile movies like CRADLE 2 THE GRAVE* and CODE NAME: THE CLEANER. For Johnson it was definitely a gig for hire, his fifth movie as a director but still a learning experience a decade before he started dominating the low budget action world with SAVAGE DOG, ACCIDENT MAN, THE DEBT COLLECTOR and TRIPLE THREAT. So it's not a career best for either, but it's a scrappy, entertaining little cheapie with some pleasingly odd touches stirred through the humble sparseness of its production.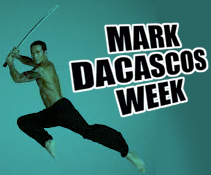 Dacascos plays Rykker, a guy who drives around acting like a fed, even flashing a badge, but then steals a police car and sleeps with his tie on in a closed church. He seems to be in an ongoing one-man guerrilla war against a gang of leather-jacket-wearing thugs led by a hot tattooed badass lady named Isis (Amelia Cooke, SPECIES III). In truth they're all aliens from the same dying planet, and Rykker is sort of a conscientious objector trying to stop Isis's group from enslaving the human race. Apparently they used to date, and they seem to still kind of like each other, but he believes their people can find an uninhabited world to colonize, and she thinks that's not enough of a sure thing, so they fight. (read the rest of this shit…)
VERN has a new action-horror novel out called WORM ON A HOOK! He has been reviewing movies since 1999 and is the author of the film criticism books Seagalogy: A Study of the Ass-Kicking Films of Steven Seagal and Yippee Ki-Yay Moviegoer!: Writings on Bruce Willis, Badass Cinema and Other Important Topics as well as the crime novel Niketown.