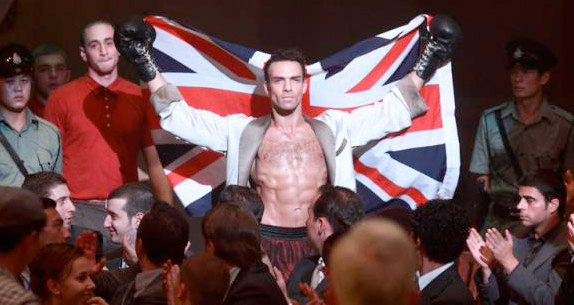 I'm afraid it is being reported that Darren Shahlavi, the martial artist best known for playing Twister, the arrogant villain of IP MAN 2, has died. I haven't found any explanation of a cause of death or confirmation from a news organization, but several people who have worked with Shahlavi, including Jesse V. Johnson (who directed him in THE PACKAGE) seem to believe it's true. Shahlavi was quite active on Twitter, so I imagine if it was a hoax he would've seen it and cleared it up by now.
Fans of DTV and late period Seagal would recognize Shahlavi even if they didn't know his name. He was in BORN TO RAISE HELL, TACTICAL FORCE and episodes of True Justice. He played Kano in the newer incarnation of MORTAL KOMBAT, and also was in an old movie called LETHAL COMBAT, where he played… Twister? I didn't know that.
He had been filming the new KICKBOXER movie (possibly called KICKBOXER: VENGEANCE now, but I think it's still a remake). He plays Eric Sloane, who in the original was Van Damme's brother who got paralyzed in the ring by Tong Po so he had to get revenge for him.
I learned to get excited whenever Shahlavi showed up in a movie, usually as a smug bad guy. I really did believe he was on the rise. He will be missed.
This entry was posted on Tuesday, January 20th, 2015 at 4:24 am and is filed under
Blog Post (short for weblog)
. You can follow any responses to this entry through the
RSS 2.0
feed. You can skip to the end and leave a response. Pinging is currently not allowed.