Despite the prestigious WWE Studios logo I had no reason to believe in this crime thriller starring the long-haired pro wrestler now credited as "Paul 'Triple H' Levesque." I looked up the director (Artie Mandelberg), he's a TV guy going back to Moonlighting. The writer (Dylan Schaffer) had no credits before this one. I almost didn't rent it, but I thought it was funny that '90s indie queen Parker Posey was in a WWE movie. I forgot she'd already worked with Triple H in BLADE 3. Could they be on their way to becoming this generation's William Powell and Myrna Loy?
Usually a movie with this type of pedigree wouldn't pan out, but this is the one-in-every-once-in-a-while one that I'm always looking for, the one that's better and more interesting than anybody expected. Like Dave Bautista in HOUSE OF THE RISING SUN it's a muscleman giving a sincere performance as a bottom-of-the-totem-pole criminal trying to do the right thing and getting pulled into somebody else's bullshit. I liked that one but this one is better – it's a little quirkier, has a little more personality and it doesn't have a shitty rock soundtrack.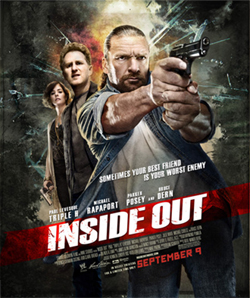 The movie starts with the voice of Michael Rapaport (BEATS, RHYMES AND LIFE: THE TRAVELS OF A TRIBE CALLED QUEST) seemingly narrating about this friend of his who went to prison. But then we see that he's standing there talking. And then we see that he's talking to a dog. He's Jack Small, and he's there to pick up his friend A.J. (Triple H), fresh off 13 years in Angola for manslaughter. A.J. has a box of pickle jars under his arm, which is unusual in my opinion.
See, I'm still searching for the perfect badass juxtaposition to use some day, and this is one that hadn't occurred to me yet: an ex-con who's "not going back to work" and his dream is to make pickles. And they never make a joke about how he ends up getting into a pickle. I guess maybe I just did. It's hard to say.
They establish right away what close friends Jack and A.J. are. There's some tension because Jack married A.J.'s sweetheart Claire (Posey) and had a daughter named Pepper (Juliette Goglia). Still, he lets A.J. stay in the guest room like he's family.
The friendship is genuine, but one thing we learned from KISS OF DEATH is that an ex-con trying to keep his nose clean should point it in the opposite direction of Michael Rapaport. I think Jack sincerely just wants to work with his buddy again, but he needs to learn to lay off. He keeps dragging poor A.J. into business that he has clearly stated he wants no part of. Come on, go with me to this place, come on just say hi to him, just meet this guy real quick, just count this money for me. When he fucks up and marvins a guy* he doesn't try to keep A.J. involved, he tries to get him to leave. But A.J. takes a deep breath, pistol whips Jack for being such an idiot, and takes over the cleanup operation. (See, it's a pickle.)
Another thing we learned from KISS OF DEATH is that Nic Cage can bench press Hope Davis. INSIDE OUT doesn't have anything that insane, but it's got some flavor. It has the basics of a type of story that we've seen before, but the details are all tweaked. For example, A.J. is not as glamorous as most wrestler-played protagonists. Not only is he obsessed with pickles, he drives a station wagon with fake wood paneling. But he knows how to handle himself. When he decides to punch out a car window, for example, he wraps his fists in cardboard.
Jack's dad, the crime boss who wants A.J. to work for him again (and is played by Bruce Dern!), is an old mob guy from back in the day that all the cops would love to bust but nobody has anything on him. He headquarters his operation out of the back of a veterinary hospital, which he also seems to run. I'm not 100% sure he's doing surgeries himself, but he's wearing a white coat and there are dogs there and everything. Anyway his operation isn't drugs or guns or protection money, it's cigarettes. He buys them tax free and sells them and there's big money in it.
The cop that's after him is not your usual renegade detective, she's a hard-working but non-tough-talking agent played by Julie White, the mom from the TRANSFORMERSes. She has an informant on the inside but the investigation is falling apart and one of her biggest obstacles is that she's having a hell of a time convincing other cops that it's even a crime she's investigating. We first see her in a small conference room with a bunch of pie charts trying to explain to some guys how money from cigarette smuggling funds al Qaeda. Even though I was already rooting for A.J. to get out of this mess and become one of the country's premiere picklers I liked this lady right away and wanted her to succeed too, even though she's on the other side, sort of.
One sort of mysterious character is Bruce Dern's scary henchwoman Irena (Jency Griffin), who does alot of (but not all of) his dirty work. She never talks and she makes crazy faces when she's beating up men. I thought maybe she was supposed to be deaf, but there's a part where she seems to overhear important information. She could still be mute though.
You can respect A.J. trying to help out his friend, but you almost want him to turn snitch, because really he had nothing to do with this and it honestly was an accident. Jack even says at first that he should just go tell the truth about what happened. But then he wants to take the money.
There was one point where I was disappointed in a choice A.J. made. He seems like such an honorable guy but then he's careless about letting the teenage girl see her mom in bed with him. Not cool, man. I expected more out of you. Probly ruined pickles for her forever.
Relationships with parents is a major theme in the movie. From the time A.J. gets out Jack is always bugging him to visit his mother. He keeps avoiding it and when he finally goes to see her it's short and awkward. Martha, the cop, has a father in the same home, who gives her coply advice and whose cancer is part of the reason she's fixated on cigarette smugglers. Jack has a contentious relationship with his father, who he's always trying to please and who doesn't respect him at all. Even their friend who owns the bar where the accident happens has an elderly mother living upstairs. And through all this the most important thing for Jack is to be a good father to Pepper.
Seeing that collection of actors on the cover made me laugh, but watching the movie I didn't feel like any of them were phoning it in, slumming or out of their element. They all give solid performances. Rapaport is his usual ball of nervous energy and jibber jabber, but it's a sympathetic kind of annoying. You can see how he's exhausting to A.J. but also means well.
I'm not familiar with Triple H's wrestling, and he didn't strike me as one whose ring charisma would translate to the screen when I saw him in BLADE 3. But he's really natural in this, I liked him. I even watched all the interviews with him on the DVD and found him very likable. They also have Bruce Dern on there talking, I think sincerely, about Triple H's strong screen presence and how good he is at listening during his scenes.
This isn't a movie I would beg you to see like UNIVERSAL SOLDIER REGENERATION, BLOOD AND BONE or the UNDISPUTEDs, but I do consider it a gem of some kind. It's less of an awesome kick to your ass and more of a low key charm, but there's room for that in the DTV renaissance. We need some humble, hard workers like this.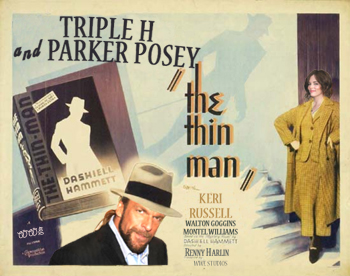 *having seen two accidental discharge deaths in recent movies (this and SETUP) I figured there should be a word for them and that the word should come from the part in PULP FICTION that probly inspired them.