Ever since the runaway Hong-Kong-equivalent-of-best-picture-Oscar success of the Donnie-Yen-starring biopic IP MAN in 2008, Ip-Mania has swept the globe. In the U.S. it's quickly become one of the most popular martial arts imports since ONG BAK, and this year will have its own balloon in the Macy's Thanksgiving Day Parade (at least I assume so. I sent them several letters demanding that). in Hong Kong it already has a (unrelated?) prequel and this very good sequel from returning director Wilson Yip.
IP MAN was very episodic and ended early in Ip Man's life, so there was a natural opening to continue the story. But the movie had such a perfect blend of character drama and martial arts action that it's alot to live up to. And in recent years the sequels to the international action phenomenons have been pretty iffy. I enjoyed ONG BAK 2, but it's a big mess that lost alot of people, and I ahven't heard anything good about part 3 yet. DISTRICT B13 ULTIMATUM was watchable but completely underwhelming. So this was far from a sure thing. There's curses to overcome.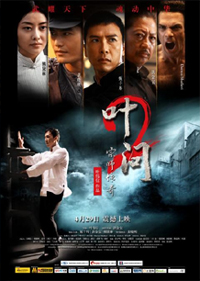 This is gonna sound weird, but there were some hats that worried me. The story begins in Hong Kong in the early '50s, but there's a couple young dudes wearing what look like modern headwear. I'm not sure what's up with that.
Ip Man is poor and living in the city, it's got less of that sweeping epic feel the first one had with the war time conflicts and his aristocratic lifestyle living in the mansion for the first part. This is more like FIST OF LEGEND, a story about rival martial arts schools. Ip Man rents out the top of a building to teach Wing Chun, but he has no students until a young hot shot named Wong Leung (Huang Xiaoming) shows up saying they'll spar and if Ip Man can beat him he'll sign up to become his student. Well, of course Ip Man can beat him, but Wong gets in a huff about it. Later Wong comes back with a bunch of friends, and Ip Man reluctantly beats them too, so they bow to him and he becomes their master.
These new disciples mean well, they're loyal to Ip Man and the Wing Chun style, but you know how disciples can be. They're dudes who like to go around and get in fights, so pretty quick Wong gets into a street fight with some jerks who represent what the subtitles on the DVD I saw call "Hong Kong style." When Wong defeats them with Wing Chun they pull a bitch move, they pretend he attacked them and unfairly beat them up, so they take him hostage and demand that Ip Man come pay a ransom to get him back.
Ip Man shows up but won't (and/or can't) pay the money. Luckily Jin Shanzhao (Fan Siu-Wong, STORY OF RICKY) sees what's going on and intervenes. Remember, that was the show off who showed up and challenged Ip Man in part 1, broke his wife's vase and everything. He was the main villain in part 1. Now time has passed, he's grown up a little, he has a wife and kid, so he and Ip Man might as well be old friends instead of enemies. It's that thing I love, the "Beer's To You" philosophy of ANY WHICH WAY YOU CAN, the Seagalian "I need time to change," the Korean opponent coming back to fight by his side in BEST OF THE BEST 2, the embrace between opponents after a grueling UFC fight. Enemies who bond and become allies. It's the perfect feel good theme for action movies.
So that situation is defused, but not completely, because then we meet Brother Hung, played by Sammo Hung (who also did the excellent fight choreography for both movies). He's the master of these assholes, and the boss of all the martial arts schools. He says Ip Man has to follow the rules, he has to meet with the heads of the other schools and get permission to teach. Because he's polite Ip Man does to got the meeting, where he doesn't understand the customs but quickly finds out he has to defeat anyone who challenges him in a fight on top of a large table without falling off. So he defeats a couple of the teachers and then has to fight Brother Hung.
This is a classic, gravity-defying fight where 58 year old, heavyset Sammo Hung flips around and glides through the air and the two manage to stay balanced when the table is split in half and tossed across the room. Ip Man wins the right to teach, but Brother Hung tells him to pay dues. He refuses, so the conflict is still on.
Brother Hung is the highlight of the movie. He just seems like such a mean asshole, but then after the fight he sits down and says "Medicine" because he has asthma. I immediately sympathized with him. These two gain the Beer's To You respect for each other over the course of the movie as Ip Man convinces him that having a duel with him is not as important as having dinner with his family (including a chubby little kid who stands licking a giant lollipop as they're about to fight), and as Brother Hung shows a few signs of respect toward Ip Man and then fights courageously for the honor of Chinese martial arts as they're being demeaned by westerners. So we don't even have to wait for a sequel for a great villain to turn into a great ally.
Yes, this is another international fight tournament movie like FEARLESS or TRUE LEGEND. Brother Hung is involved with organizing this western style boxing match. He's willing to compromise alot for it, but when the arrogant British boxing champ Twister (Darren Shahlavi) insults their wushu demonstrations he puts his foot down.
Ip Man's wife isn't as strong of a character this time, she's just the wife who sees the symbolic importance of what Ip Man does and sacrifices her time with him for the cause. In fact she makes sure they don't tell him when she goes into labor because she doesn't want to distract him from his training! Man, that's fucked. Just like A BETTER TOMORROW 2 how he missed the birth of his child to go have a shootout. Luckily Ip Man survives (SPOILER). Then when he gets home and his wife has a baby he doesn't even seem surprised or guilty or anything. Hopefully she'll make sure he doesn't neglect his new kid because he's so obssessed with the Wing Chun (like she did with the first one).
After the story's all wrapped up it fades out, but then instead of going to the credits there's a little scene where Ip Man's first student Wong (based on a real guy, by the way) brings by a kid who wants to learn Wing Chun. It's Bruce Lee, of course, a very good young lookalike. He acts humorously cocky, like he probly really was, but also like he somehow knows that hey man, I'm gonna grow up to be Bruce fucking Lee. Anyway he struts in, but Ip Man tells him to fuck off. The end.
Nah, actually he tells him to come back when he's older. I thought this scene was great 'cause it's the martial arts movie equivalent of the Joker card at the end of BATMAN BEGINS or the Nick Fury cameo after the credits in IRON MAN. You think it's all over and then they toss you a tantalizing excitement bomb so you'll spend the next few years anticipating a followup. I know Donnie Yen said he won't risk blowing it by making a part 3, and they had trouble with the Lee estate when they wanted this one to focus on Ip Man and Lee's relationship, but after this scene you definitely get hungry for the part 3 it implies, a sort of student and master buddy movie between humble old legend and young arrogant phenomenon. If they never make it I'm sure people will continue begging for it, like they do for EVIL DEAD 4 or some shit like that that's probly never gonna happen.
The good news is Ip Man at this point is supposed to be alot older than Yen currently is, so they could naturally pick it up years from now if they had to wait that long to convince everybody. Of course, by then the hats will be even more modern.
Anyway, unless and until they blow it with a part 3 the IP MAN movies are great for their combination of fights and characters. Just absolutely topnotch fight choreography and performance where you care what happens 'cause you like these guys so much. And once again Yen is perfect as this uniquely polite asskicker. I love how constantly humble and apologetic he is. When he gets kicked out of his rooftop studio he says, "I understand. I'm sorry." I think that should be the subtitle. When his future students want to fight him he says, "Don't be rash." In his argument with Brother Hung he says, "I understand what you're saying."
In fact, even in the fight with Twister, a total asshole with no sense of honor, Ip Man keeps his cool. Here is an early example of mixed martial arts and already they're trying to rig it in favor of their style without even showing Ip Man the respect of learning his name. "Please tell the Chinese guy no more kicks like these."
I can't remember if Rocky had a flashback to some wisdom from Apollo Creed just before the winning blows in ROCKY IV, but he probly did. That's sort of what Ip Man does here, remembering some words from Brother Hung during the fight, but then he flashes back to some of his own advice. With that in mind Ip Man's outward humbleness is even more impressive, because that means he knows how fucking awesome he is.
If I had to choose at spear point I'd have to go with part 1 being the better of the two, because the setting is a little more visually arresting and because the international tournament thing, even though it's inevitable in a continuing Ip Man series, has already been done well a few times in recent years. But that's nitpicking. This is a really good sequel, a gem in its own right.
When we non-martial artist martial arts fans see a great martial arts movie we have to admit that some part of our brains fantasize about how great it would be if we could do that type of crazy shit if it came down to it. Some junkie tries to grab your wallet, so both of you leap nimbly to the top of a tree and have a sword duel (you throw in some Wing Chun, he keeps using Dope Style). Or we wish that whatever it is that we do could be as disciplined and powerful as a martial art. I mentioned in a review of FIST OF LEGEND or something that I would want to have criticism duels showing why my style is the best. Ip Man often introduces himself "Ip Man. Wing Chun." I would have to say "Vern. Outlaw style."
But I think the sign that this is a classic is that as much as I admire the fights it's his personality that I go away thinking about. Since seeing the movie I've honestly thought about how Ip Man's peaceful discussions could be applied to situations in my own life. Next time I'm in an angry confrontation with somebody I hope I'll remember Ip Man and his "I understand" calmness, and see how well that can defuse the situation.
(if not, there's always the swords.)
This entry was posted on Wednesday, November 17th, 2010 at 2:36 pm and is filed under
Action
,
Martial Arts
,
Reviews
. You can follow any responses to this entry through the
RSS 2.0
feed. You can skip to the end and leave a response. Pinging is currently not allowed.