"You killed him?"
"Technically it was the explosion that killed him."
In his latest, RECOIL, Steve Austin plays a little bit darker version of his usual screen persona. A little Stone Colder. He's still an ex-cop who knows how to beat the shit out of people, still a stranger drifting into a small town and getting into trouble with the local criminals, still a scary-looking regular working man with a no bullshit attitude and an inherent sense of decency, but at least at the beginning he's more of a Terminator than usual. He drives into Hope, WA in his black 1968 Plymouth GTX with 12 score marks burnt into his arm, apparently representing the number of killers and rapists he's executed in his travels. He's way ahead of the FBI, who want to put "24 hour surveillance" on a child killer before they figure out Stone Cold already "made abstract art out of him" 2 days ago.
At first he barely talks. When he finds a biker pointing a gun at a dog he beats him unconscious without saying a word. He's tracked down the hangout of The Circle, the biker gang that controls the town, because one of them is a rapist and killer he wants to kill named Rex (Noel Gugliemi). Luckily Rex is the one sent to deal with him after the dog incident, so he's easy to find. "I know what you're thinking," Rex protests as Stone Cold straps him to the front of a car. "I was acquitted! I swear to God I was!"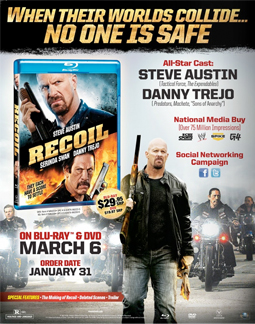 Trouble is, Rex's older brother Drayke is the president of the biker club, and perhaps more relevant to our purposes here he's played by Danny Trejo. So Stone Cold has to stay in town to do battle with the gang. Usually when Trejo's on a DVD cover I assume it's a glorified cameo like in URBAN JUSTICE, but here he actually is the lead villain. They wisely establish him as a threat to Stone Cold by showing his hobby of punishing his subordinates by competing with them in a ramshackle fighting cage. He's small but he has skills, and badly beats a guy a guy of Stone Cold size. I love it when they do that "here is a part where he fights just so we know what we're dealing with when he fights again at the end" storytelling move, like with Craig T. Nelson in ACTION JACKSON. Alot of movies these days don't bother with it, but I'm old fashioned, I expect it. It's just good manners.
Other than that it's not a standout character for Trejo, except for one great moment: as Stone Cold blows up his brother Drayke bolts awake, as if he senses it happening. As the camera pulls back a little he's comforted by the two women in bed with him.
Stone Cold stays in a hotel which doesn't seem to have any other guests (or rooms?) but does have a smokin hot owner named Darcy who he develops a sweet Platonic relationship with. Here's what she looks like: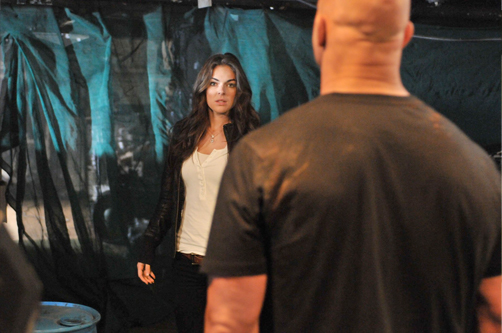 (she's the girl on the left, not the guy on the right that looks like Stone Cold. That's Stone Cold.)
So it's respectable that he's nice to her without trying to get down her pants. She's a widow, he's a widower, it would be okay for them to go for it but it's kind of nice that they don't. No time, too many bikers to shoot.
The actress is named Serinda Swan, and I knew I recognized her from somewhere. It took IMDB to remind me that I'd previously enjoyed her in the magical world of inside computers:
Also in the cast as the most dangerous of the bikers is the mixed martial artist Keith "The Dean of Mean" Jardine, who Stone Cold also fought in TACTICAL FORCE. In that one Stone Cold promised "You got the drop on me, but it won't happen again, Buttercup." Sure enough, in this one he (SPOILER) puts Jardine in his trunk and drops him off at the social club on fire. Which in my opinion is a good way to handle him. If he fights him in a third movie I hope he pulls on his trademark goatee, sort of in the tradition of Bruce Lee pulling out Chuck Norris's chest hair.
And yes, there is a biker named Jester in this movie. There always seems to be a biker or Hispanic gang member named either Jester or Joker. I don't know why.
Like all Stone Cold characters, this is a good one. He doesn't talk much, but has some good smart ass lines. He seems to have a supernatural ability to suddenly be standing near somebody and they didn't even notice he was there. For example Jardine fucks up playing pool and sends his ball flying, suddenly Stone Cold is standing right next to the table and catches the ball. Amazing. He also has a great idea for how to spice up his climactic fight with Drayke: he duct tapes their left arms together so they can just take turns punching each other in the face over and over again.
This could change at any time, but I consider Stone Cold to be the most reliable DTV action star of the last few years. He's coming out with movies frequently and other than the family movie KNOCKOUT they're always watchable. Even in the weaker ones like KNOCKOUT and TACTICAL FORCE he's always good and can be proud of his work. And now he seems to be knocking through a list of all the cool action people to co-star with: Michael Jai White and Darren Shahlavi in TACTICAL FORCE, Trejo in this one, Steven Seagal and Michael Pare in the upcoming MAXIMUM CONVICTION, Dolph Lundgren and Jerry Trimble in the upcoming THE PACKAGE.
I still think DAMAGE is his best, but this one is completely solid, up there with HUNT TO KILL I think. Another successful title defense for the reigning Intercontinental Champion of DTV.