ASSASSINATION GAMES teams up two of the best working action guys, Jean-Claude Van Damme and Scott Adkins. They were already in THE SHEPHERD: BORDER PATROL together and will both be in UNIVERSAL SOLDIER: A NEW DIMENSION, but this is the first one where they're co-leads. They play two elite assassins who work together after they realize they're after the same guy (for Van Damme it's business, for Adkins it's personal). It would be one of the most anticipated DTV movies of the year if it wasn't getting a negligible (Oscar qualifying?) theatrical release today. It's not playing on my coast, but luckily I was able to get a DVD screener. (Here's the official websight with theater listings – not sure how well they're gonna do with that title 'cause it was hard to even find on Google.)
Van Damme plays Brazil (I didn't catch his name in the movie, but that's what IMDb says), your typical lonely, burnt out assassin. He lives alone in Bucharest (I think) with a cool Batcave type setup – a nice apartment hidden inside a shitty one. He has dual badass juxtapositions:
1) he plays violin, and
2) he loves his pet turtle (also an obvious symbol for his life of hiding inside his shell).
If LEON taught us anything (besides that it's a good idea to cast Gary Oldman as a crazy, pill-popping police detective) it's that a guy like this needs to befriend a little girl to grow his heart back. Brazil goes for an adult instead, the ol' hooker-who-looks-like-a-super-model character. He saves her from getting beat up by his pimp next-door-neighbor, but his heart hasn't grown back yet when he does it so instead of saying "Hey, stop beating that woman with your belt!" he says "You're disturbing me." Says he's trying to practice violin. I like that part.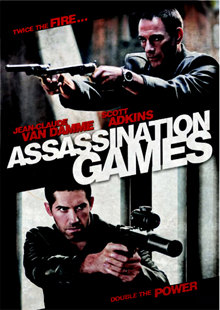 But that's a subplot. The main story is about a pair of corrupt Interpol agents who think an "out of the business" assassin named Roland Flint (Adkins) is gonna expose them, so they lure him out of hiding by releasing the gangster who put his wife in a coma. They hire Brazil to kill the gangster knowing Flint will come after him too and maybe the two will kill each other or something. I would've told them just to hire Brazil to kill Flint, but they were cheap and wouldn't pay me a consulting fee, so fuck 'em.
When the two killers interfere with each other's assassination attempts they reluctantly agree to pool their talents and chase down the now-more-careful target and the pricks who hired them. There is detective work, questioning, guns, kicking. Also knives and a crossbow. All things I enjoy.
Van Damme and Adkins are both good, playing stock characters without many quirks, but the generic qualities they have are ones that I tend to like. They're both quiet and brooding, and Adkins gets to use his own accent, which is his second best accent after Russian. Director Ernie Barbarash (HARDWIRED, STIR OF ECHOES 2, CUBE ZERO) gives them good entrances and makes them look good. Van Damme gets a few good character moments, like the scene where he awkwardly welcomes the prostitute neighbor to his living room and seems to realize, "Oh shit, this means I gotta stay in the fake crappy part of the apartment until she leaves."
The standout in the supporting cast is Van Damme's son Kristopher Van Varenberg as the younger of the two Interpol agents. You might've seen him on that reality show Van Damme: Behind Closed Doors if you're in a country that shows it. If not, he looks an awful lot like his dad and has the Belgian accent but speaks English more smoothly. He seems boyishly charming and optimistic, which makes him an interesting choice to play this corrupt cop. It's like he has no idea he's a bad guy. I really liked that.
I'm not sure if Van Varenberg is a fighter. If so he doesn't do it here, it's mostly dialogue and a little shooting. He doesn't do the splits either. Van Damme's daughter Bianca Van Varenberg is also in the movie, but since she's playing Flint's wife she's just laying in bed pretending to be unconscious the whole time, so she doesn't do the splits either.
I got one stylistic complaint: this is one of those movies where they drain out so much color that at times they might as well have shot it in sepiatone. I don't know why they think that looks good. It's kind of depressing. This is not a movie that makes room for humor, so why not, like, a couple colors? That might help liven things up.
A more important complaint: There should be more elaborate action. What's there is comprehensible, and there's a cool idea for the climax. Adkins gets to do his quick, graceful leaps from walls and shit. The fight choreographer is Stanimir Stamatov, a Van Damme stunt double who also worked on the fights for the new CONAN movie. Van Damme and Adkins do fight each other, so don't worry about that. They both get some good moves (Adkins moreso) but we've seen them do better, including against each other in THE SHEPHERD. Too bad the occasion of their team-up didn't inspire more striving for fight excellence on the part of the choreographers, schedulers or whoever. The action is fine, but because of this cast and the fact that it sort of got a big screen release it's too bad it's not better than fine.
(to be fair, if this was a big budget studio movie I would probly be impressed that there were some flying kicks and stuff and I was able to see it)
(also to be further fair I just remembered that Van Damme had a heart attack while filming this movie. There's definitely more action than you'd expect from a guy who had a heart attack during filming)
My final complaint is that I think it could use more strangeness. I enjoyed these characters and this story, but some more original tweaks to the formula would make it more memorable. Maybe if he carried the turtle around for most of the movie like he did with the bunny in THE SHEPHERD it would be enough for me. Or if he literally built himself a shell to run around in and hide inside when the going gets tough. I enjoyed this movie from beginning to end but I doubt there's anything that will really stick with me and make me want to watch it again.
Still, it's a solid effort, and one of the better late Van Damme joints. And it's pretty brutal. Not in the sense of being real gory or anything, what I mean is it shows no mercy on either side. Nice people die horribly, and the good guys don't hesitate to hand out death sentences even to the lower guys on the totem pole. It's pretty fitting, actually. I know in movies assassins can turn all sentimental at the end, especially after they meet a nice hooker that makes them look at the world in a different way, but it makes sense that these guys just want to kill everybody. That's the name of their game.
"Extreme positions are not succeeded by moderate ones, but by contrary extreme positions." –Friedrich Nietzsche*
*the movie starts with a Nietzsche quote. Makes it seem important or something. I thought I should try ending with one to see if it helps my reviews.