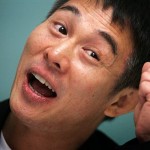 From the same director, producer and cast as Romeo Must Die and Exit Wounds comes another exciting pile of disparate elements squooshed together into the same basic shape as an action movie. It's really more of a booger sculpture than a movie, but for a booger sculpture, it's not that bad, I guess.
Joel Silver originally announced this as Untitled DMX Project, supposedly a remake of Fritz Lang's M. If that was the case, then I guess Tom Arnold (our generation's Peter Lorre) would've been playing a perverted child killer whose killing spree had caused the police to clamp down so hard that organized crime would be pretty much put out of business. So the leaders of rival gangs (DMX, Jet Li, Mark Dacascos) would pool their resources to catch Tom Arnold so everything could go back to normal.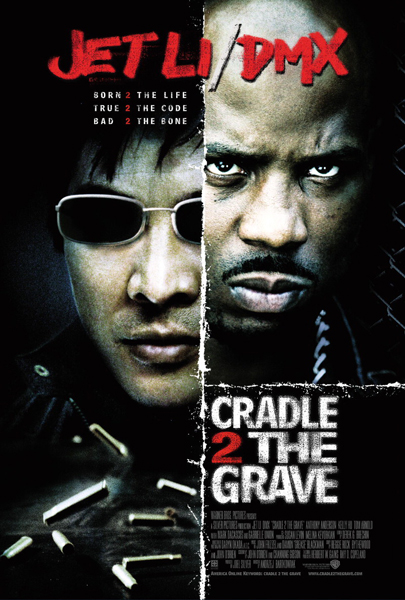 I knew Silver was trying to put one over on us though 'cause I remembered when Romeo Must Die was supposed to be a "hip hop/kung fu adaptation of Romeo and Juliet" and when Exit Wounds was supposed to be an adaptation of John Westermann's novel Exit Wounds. It's all hype. When people hear something like "they're doing a remake of M starring DMX," they get riled up, and this guarantees that they will later see the movie when it comes out as Cradle 2 the Grave and turns out to be about diamond thieves who steal diamonds that are actually magic plutonium weapons and their daughter gets kidnapped so they have to team up with a Taiwanese intelligence agent to do various stunts and kung fu to save the daughter.
(?)
No, I guess actually come to think of it I'm not sure what they were thinking comparing this to a movie it has no relation to in any way. Or calling it Cradle 2 the Grave, which only relates to the plot in the same way that "Grape Nuts" describes that nasty cereal that doesn't have grapes or nuts in it at all. But these guys are professionals, they must know what they're doing.
If not, I'll tell them what they're doing. The approach to these movies is this: we don't have a good story or characters, but we know what audiences want. They want Jet Li. They want DMX, on the screen and on the soundtrack. They want the end credits from Exit Wounds. They want a bunch of fire. Going off jumps. Stuff crashing. There should be high tech equipment. Ultimate fighting. Motocross. A hot chick stripping to her underwear (but no further. This is America, fer crying out loud).
Some of these elements do in fact work. DMX rarely appears in a halfway decent movie, so he has a lot of practice at being better than the movie. He is as magnetic and charming as usual, and this time he doesn't believe in guns and just wants to save his daughter so he can hug her and talk about angels. Jet Li does a lot of good kicking and jumping around and climbing down buildings and shit. But I'm not sure I like the way the Americans always doll him up, giving him spikey hair and sunglasses, trying to make him look that kind of cool. Jet Li is kind of a timeless figure. When you try to hip him up and dress him in all black (but not a kung fu tunic) you emphasize that he's this little babyfaced dude with a squeaky voice. He seems like he's trying to overcompensate for something, which is ridiculous. Jet Li doesn't need to compensate at all.
The screenwriters are in fact overcompensating though, figuring if they can pile enough complications onto the storyline then everybody will get confused and forget how dumb the movie is. At one point in the movie, Jet Li is in a cage, swinging an angry bald kung fu midget at 20 kickboxers and Ultimate Fighting Champions, while Tom Arnold scans the crowd trying to find a particular guy wearing a particular ring, and this keeps cutting to Anthony Anderson and friends trying to get a limo to a particular parking garage in Chinatown so they can meet up with DMX, who is driving an ATV/quadracer/4-wheeler/whatever you call those god damned things across rooftops, being chased not only by police but by the angry professional motocross racers who he stole the thing from. And meanwhile DMX's daughter is taped up in a motorhome inside a building where "international scumbags" will later meet to see a demonstration of the new powerful artificial plutonium weapons, and until then she is watching her dad get chased on TV.
And that pretty much sums up what this god damn movie is like. Except I want to say one other thing. At the end, Jet Li takes some kind of atomic weapon and shoves it down Mark Dacascos's throat, forcing him to swallow it. There are then shots from inside his throat. And on the outside, he starts to glow from his neck, mouth and eyes, and his face melts like at the end of Raiders of the Lost Ark. I just want to say, that was really dangerous Jet Li, you should probaly go see your doctor, you don't know what kind of effect that could have on you being right next to that shit. It's unhealthy.
Honestly, this movie was more entertaining than some less retarded but equally unimaginative action movies. But it's still a low down shame to think how much effort goes into an enterprise like this. Why not take all that elbow grease, bottle it up, and save it for a real movie? I know DMX is ready for one. Or if you can't handle that, you could probaly take this budget and make 7-10 really hilarious straight to video Seagal movies.