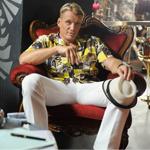 William Kaufman is one of the elite few DTV directors whose names I remember in a positive way. So far he's not an identifiable master of a style like Hyams or Florentine, and doesn't have as many under his belt as Roel Reine, but he's done enough that I keep an eye out. THE HIT LIST is a real solid Larry Cohen-esque high concept thriller that could've been a theatrical release if it starred somebody more theatrical-release friendly than Cole Hauser. SINNERS AND SAINTS is messier but earnest and with some distinctive touches. Both have a little bit of a political subtext that hints at an authortational type voice.
ONE IN THE CHAMBER is Kaufman's newest, and has his best cast so far, by which I mean Dolph Lundgren is in it. Unfortunately I don't think this one is really a step forward. Story-wise it's more direct than SAINTS AND SINNERS, but not nearly as clever or gripping as HIT LIST. It's about a war between Russian crime families (never really a good subject for a DTV movie) in Prague. Cuba Gooding Jr. plays Ray Carver, not the author of Short Cuts (I don't think) but an elite killer who's hired to off some guys but fails to shoot one because the guy uses a woman as a shield and Carver has human feelings, etc., so that gets him fired. His replacement is Aleksey the Wolf, played by Dolph. He's not in the first 25 minutes of the movie, but as soon as he shows up he steals the whole thing.
Gooding has played a hitman in HIT LIST, SHADOWBOXER, WRONG TURN AT TAHOE and probly others. I like him in all these roles, but this one's a little more generic. It's the ol' "following around a woman because he feels guilty that he killed her family so he wants to protect her but then he meets her and is afraid she's gonna find out the truth" bit. But I do like his vulnerability when he starts talking to her. And I noticed at the beginning his alarm goes off at 6:57 am. What kind of a man sets his alarm for 6:57? Why not 7:00? Why not 6:55? Does this suggest a man who has always precisely planned for how much time he will need to do anything, whether sniping somebody or eating his morning bagel? I don't know.
Gooding's okay but Dolph's character is more fun. He wears loud Hawaiian shirts, white pants, a hat, drives a convertible, brings a dog with him everywhere. He smokes, which is funny to me having recently watched the Dolph Lundgren: Maximum Potential workout video (check my column in CLiNT Magazine for details). In that video he goes on for a while about his healthy eating, and it does not sound like a man who would ever smoke. But he knows it looks cool, so he goes for it in this movie. It's right for the character. Someone says "he looked like Frank Sinatra on steroids."
His fighting style is cool. He lets his opponents flail around, but catches their punches, then crushes them with fewer moves. He's bigger and stronger but also more economical with his blows. When he shoots a gun he's casual about it, the gun held loosely and close to his body, still hitting everybody between the eyes. His fights with Gooding are well done, although I'm still not entirely convinced Gooding could beat him.
Ray's traumatic past is hinted at in a low-rent version of the SEVEN opening credits. Headlines, Bibles, images of a little girl. But the glimpses of the Wolf's personality are better. He says he restores cars from the '70s and pinball machines from the '90s. (I was hoping he'd see the pinball machine in the girl's restaurant, but he doesn't. It looks '80s anyway, so maybe he wouldn't have the right parts.)
He's also funny about his dog. When he realizes that there are gunmen sneaking up on him he calmly puts his dog in a cabinet and says "Sorry about this." He brings it into clubs. When a security guard tries to block his way into a private club he hands the guy the leash and walks right past him.
Alot of this is as generic as you'd probly expect. They got those horrible freeze-frames introducing the heads of the different families by name. Of course they annoyed me without managing to make me remember who any of them were. One of these days somebody's gotta figure out that they should create characters that stand out from each other and put them into scenes that reveal who they are instead of showing us flash cards.
I think there are 3 scenes where sex or kissing is interrupted by a phone call that the man says he has to take.
But I do enjoy the rivalry between Cuba and Dolph and the way their relationship is resolved. It also sets up for what could be a fun sequel, something you actually don't see too much in DTV. There are surprisingly few sequels in the world of DTV, other than WRONG TURNs.
I enjoyed it pretty good. It's an above average DTV movie, but mostly it's more evidence for the Dolph Lundgren Is Underappreciated file.