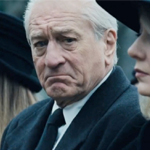 Well, this is the world now: Martin Scorsese has an excellent new gangster epic starring Robert De Niro, Joe Pesci and Al Pacino (plus Harvey Keitel!) and it pretty much went direct to video. Not "We can't justify the budget for a theatrical DARKMAN 2" DTV, just "It's easier to get money from Netflix than from a real movie studio" DTV. I wish I had gotten my shit together to see it in its week at Cinerama, like many of my friends did – I'm glad I managed to see ROMA and DOLEMITE IS MY NAME in theaters. But for THE IRISHMAN: I HEARD YOU PAINT HOUSES (actual onscreen title) I turned the lights off, put the phone far away and got the ol' attention span out of storage for the full cinematic living room experience.
It's written by Steve Zaillian (SCHINDLER'S LIST, MISSION: IMPOSSIBLE, GANGS OF NEW YORK, AMERICAN GANGSTER, MONEYBALL, THE GIRL WITH THE DRAGON TATTOO) but it definitely has some of that GOODFELLAS spirit: tons of narration (sometimes with gimmicks, like it's in his head then switches to fourth-wall breaking), jumping around through time, quick comical/horrifying cutaways to things he mentions, some slo-mo, nearly wall-to-wall music, but also some guitar noodling (the score is by Robbie Robertson). And there's a long steadicam shot at the beginning but instead of going into a hot club it's going into an assisted living joint. So this is old man GOODFELLAS.
The story is bookended by two aging gangsters and their wives, dressed like retirees, on a long drive to a wedding, pulling over frequently because one of them doesn't want anybody smoking in the car with his cataracts. And that's bookended by the title character even older, in a home, miserable because he outlived all his crime buddies and nobody will talk to him but nurses too young to know who Jimmy Hoffa was.
Frank Sheeran (De Niro, THE ADVENTURES OF ROCKY & BULLWINKLE) knew him personally. I didn't actually know that's what the story would be about. Working as a truck driver, Frank happens to run into and get some tips from gangster Russell Buffalino (Pesci, MOONWALKER) that inspire him to start running scams such as skimming from meat deliveries. He gets into trouble and gets help from a lawyer of questionable ethics (Ray Romano, ICE AGE) who happens to be the cousin of Russell, bringing them together again. He starts to work for Russell, who hooks him up with Hoffa (Pacino, DICK TRACY), and before long he's sort of a secret thug staying with Hoffa for protection and dirty jobs. And then Hoffa makes him a union president.
Some of it is about what it's like working for an eccentric boss. In the straight world, Hoffa is worshipped as a great hero for the working man, including by Fred's daughter Peggy (Lucy Gallina), who has feared her dad ever since he curb-stomped a shopkeeper for kicking her out of his store. That's a great scene because it initially has a kick of wish-fulfillment – ha ha, you thought you could push a little girl around, you didn't know who you were messing with – but it ends up being the beginning of life-long misery for Frank.
I strongly disagree with the people criticizing the movie for having Academy Award winner Anna Paquin (FLY AWAY HOME) as the grown up Peggy and only speaking seven words of dialogue. Her stares of disgust and disappointment over the years, and her refusal to even allow him the comfort of an empty apology, are one of the movie's most powerful features. It's a great performance and one of those cases where I believe the remedy prescribed by people who don't like it (for her to have more dialogue) would undoubtedly detract from its greatness.
Hoffa is always portrayed as corrupt, indistinguishable from the gangsters except for things like his insistence on punctuality, his habit of flying off the handle (the gangsters are always calm) and his occasional insults to those of Italian heritage. Frank's role is often as peacemaker, not just as an ethnic outsider but just because he can try to laugh everything off. "Ha ha, Jimmy, come on!" can be more effective than straight up telling the guy he's out of line and about to get himself killed. If you act like it's all silly maybe it'll become that way.
(Or maybe not.)
By the way, some have complained that De Niro doesn't do anything to seem more Irish than usual. Fair enough. Not something I give one single shit about myself, but I guess if you were excited to see him do whatever it is you picture him doing to be Irish, it could be disappointing.
Another point of contention that I predict will be soon forgotten by history is Scorsese's use of "digital de-aging" to smooth out the actors' faces in the scenes where they're supposed to be younger. Admittedly I thought it looked weird for a second (the first shot of young Frank driving reminded me of airbrushed Tom Hanks on the cover of THE GREEN MILE) and I was a little confused wondering "is he supposed to be young young, or just younger than now?" because he still looked pretty old. But it's just a different type of suspension of disbelief than if they had a different actor playing the character in those scenes, and mostly THE IRISHMAN has the same artificiality as any movie with people playing the same characters across decades – for example De Niro himself in ONCE UPON A TIME IN AMERICA. Their hair changes colors, they add wrinkly makeup, not-entirely-convincing wigs fill in hairlines. The computer touchups are just one more tool in a conceit that, if it doesn't entirely work, is a worthy sacrifice for being able to see motherfucking Joe Pesci come out of retirement to reunite with De Niro and Scorsese (and now adding Pacino!) for the regretful old man final chapter to their gangster saga.
(Also I want to note that since Pesci has been retired for more than a decade I honestly didn't know which age was closest to what he actually looks like now.)
Pacino is fun, at times trying an accent. He gets to have a tirade or two, and many chances to play it big and loud. The other two leads get to be more interior and subdued, which is thrilling in the case of Pesci, who we don't associate with that type of role. One of my favorite scenes has to do with Russell's Christmas clearly not impressing Peggy, Frank telling her to thank him and Russell saying no, it's okay. It's like any awkward gift exchange except they all know and aren't saying that she doesn't like him because she knows what he does and the things he normally does to get people on his side don't work on her.
De Niro's performance reminds me a little bit of Louis in JACKIE BROWN, a quiet, mellow exterior trying to contain a capability of explosive violence. But for Frank killing is not something that happens when a slowly boiling anger finally overflows, it's more of a professional obligation. I like how much of the movie is spent on the various parties beating around the bush about killing Hoffa. First, hoping he'll do what they want him to do. Meeting with him. Taking him aside to warn him. Discussing how many times they tried to warn him before deciding "It is what it is." This is a world where you can be long time friends with a guy and his family and still believe it's your duty to execute him. Because the profession demands it.
It's not a matter of Russell threatening him or yelling at him to do it. He orchestrates it to keep Frank out of the loop for as long as possible before it needs to be done and I think it's kind of an act of friendship. I know this is going to be hard on you, but also I know you understand you have to do it, let's rip the Band-Aid off.
Coincidentally I was re-reading the book The Evil Dead Companion by Bill Warren recently and in Chapter 1 it talks about a teenage Bruce Campbell with flour in his hair playing Jimmy Hoffa in a Super-8 slapstick comedy called The James Hoffa Story, "shot on the exact spot where he disappeared" two weeks after it happened. Maybe if they ever release a longer cut of THE IRISHMAN it will include a scene about that important event.
Part of the game here is tension and suspense about when and what horrible things will go down, as well as all the interesting detail about crime operation. And there's dark humor in their casual amorality, in how much of their time is spent on things like business meetings and awards banquets, and in the repetitive technique of introducing characters along with the date and manner of their inevitable violent death. Everybody in this world check out early. Everybody except Frank. Which is a curse. He has to live with what he did. I think that's one of the things that makes THE IRISHMAN stand out from the other movies in this vein, including the ones by Scorsese. I love the part in GOODFELLAS where they're cooking in prison, talking about how thin to slice the garlic. In THE IRISHMAN's prison scenes they're so old that a special treat is bread softened by being dipped in grape juice. The moral isn't "eventually you'll get killed or go to prison." It's "eventually you might get out of prison and things will be even worse because you still won't be able to enjoy anything and you won't even have friends."
The last stretch is about this miserable existence with no hope for redemption. One daughter won't accept his apology. Another won't even look at him. I suppose the police give him an opportunity to tell what happened to Hoffa and give some closure to his family, but he doesn't do it. Against the code or something. He could confess to a priest, but doesn't know how. Only he and we are privy to the particular low point that has apparently nagged at him all these years. When he blurts out "What kind of a man makes a phone call like that?" the priest doesn't have any idea what he's talking about.
Peggy is 100% right not to talk to him, and let him feel absolved in some way. Not for one second do we think "Come on, cut him some slack." And yet we can still sit with this dishonorable murderer as he stews in failure and regret and we can feel sorry for him. That's the humanity of Scorsese, and of movies.
Though I'd prefer if this was given a longer theatrical release I do have to give Netflix credit for funding the movie, promoting it well and letting Scorsese give them something that's the opposite of today's short attention span expectations for entertainment. It's long and it's slow and you're not going to get jack shit out of it if you're not paying attention. And they even programmed it to play the entire end credits before it autoplays KUNDUN.
(Just kidding. It autoplays a special with Scorsese, De Niro, Pesci and Pacino in conversation, which was a nice idea.)
Also Action Bronson is in one scene. It's pretty good.