THE MAN WHO KILLED HITLER AND THEN THE BIGFOOT is not the wacky SHARKNADO type bullshit that the title may bring to mind, but instead an odd, humble little character piece about aging, regret, loneliness and sacrifice. Its greatest strength is that it stars Sam Elliott (or as I call him, The Man Who Mentored Dalton and then Fought The Hulk). He plays Calvin Barr, who many decades ago gave up the love of his life (Caitlin FitzGerald, Rectify) for an important WWII tracking, infiltration and assassination mission that he could never tell anyone about, and in his old age has failed to either feel good about what he did or find another purpose for his life. Its second greatest strength is that it attempts the daredevil feat of telling us that outlandish alternate history tale, following it with his being recruited to save the world by finding and killing a sasquatch, and not treating any of it as something to laugh at.
Who does that? And who pulls it off? In this case it's a first time feature writer/director named Robert D. Krzykowski. 
I'm a guy who enjoyed ABRAHAM LINCOLN: VAMPIRE HUNTER and PRIDE + PREJUDICE + ZOMBIES for executing intentionally ludicrous premises with a completely straight face. But even those rare cases have an irony to them. They don't wink at you, but they know they have an agreement with you that treating something like this seriously is what makes it funny. The act of pretending it's not funny is funny.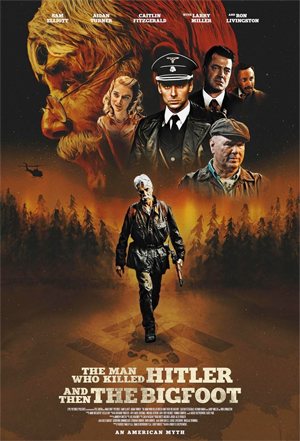 In my view that's not what this one does. The closest tonal comparison I can come up with is Don Coscarelli's BUBBA HO-TEP. Yes, it posits an eccentric view of what sorts of things can happen in the world, but its goal is not to be humorous. It's very sincere about wanting to explore and deeply feel this character's melancholic life. And there are similarities in that both characters are feeling shitty about life dragging on and having once lived a glory that no one knows about. But BUBBA has more hijinks and more action, it feels like ARMY OF DARKNESS compared to this. This is much more of a quiet, broody character piece.
It seems to take place some time in the '80s. Or at least before flat screen TVs. Calvin sits alone at a bar, occasionally talks to his barber brother (Larry Miller, SUBURBAN COMMANDO, RADIOLAND MURDERS, FOODFIGHT!), mostly only has his dog to confide in. He talks about going fishing, but never seems to get around to it. Things keep reminding him of the old days. In fragments, out of order, we see parts of his World War II mission. They do an okay job of making us (or at least me) accept some dude (Aidan Turner, THE HOBBIT) as young Sam Elliott, even without sending him to The Bradley Cooper School of Talking Like Sam Elliott. But it's a great relief when he finally gets the mustache.
When full grown Sam Elliott Calvin is called upon to save North America, it seems poised to be an empowering old-guys-prove-they-still-got-it story like TOUGH GUYS, ACES: IRON EAGLE III, SPACE COWBOYS, ROCKY BALBOA, TROUBLE WITH THE CURVE or the aforementioned BUBBA HO-TEP. It does have an early scene where some guys try to carjack Calvin and he leaves them all unconscious on the pavement, just like a Liam Neeson old man action movie. But he never treats this mission as a chance to prove something, or even a welcome interruption to his dull routine. It's just another time when he must do his sad, solemn duty.
It's the simplest and yet most apocalyptic Bigfoot scenario I've ever seen: the creature carries a prehistoric virus that will wipe out mankind if he keeps traveling south. But the story is intimate. One quiet man alone in the forest, searching for this animal to kill, feeling terrible about it. If you didn't like killing a human being when the human being was god damn Hitler, of course you're not gonna be thrilled about killing someone (even if you consider them an animal) who is dangerous through no fault of their own.
The creature (Mark Steger, who has played monsters in I AM LEGEND, THE LAST WITCH HUNTER, Stranger Things and Critters: A New Binge) is unglamorous, ugly, not that big, kind of Chaka-esque. (Note that his creators, Mike Elizalde and Spectral Motion, also did the LAND OF THE LOST movie.) But Calvin shows a great respect for him that I interpret to be compassion for a fellow living being rather than admiration for a unique specimen, though it could be either or both. My favorite thing in the whole movie is when he tries to offer the sasquatch a gesture of brotherhood and dignity in death. Being a historic badass doesn't make him an unfeeling macho man.
According to interviews, Krzykowski started writing the movie 12 years before it was filmed, and it started more as the pulpy thing you might expect, but he was going through some sort of loss in his personal life and he started putting it into the character. Previously he directed a short and was co-producer/location manager/production coordinator/"sequence artist: Darlin's dream" on Lucky McKee's THE WOMAN. McKee is one of the producers, and somehow John Sayles and Douglas Trumbull are also on there as executive producers. Trumbull also worked on the visual effects! A few interesting actors pop up, including Ellar Coltrane (BOYHOOD), Ron Livingston (KING OF THE ANTS) and Sean Bridgers (THE WOMAN). But mostly this is a story about an old man out there alone, facing his past.
Is it a mistake to use such a goofy title? And doesn't it contain, like, two major spoilers? I don't think so. Once you're watching you realize it's less of a PYTHON VS. GATOROID type title and more of a THE ASSASSINATION OF JESSE JAMES BY THE COWARD ROBERT FORD. And to lay it all out there from the beginning is part of the process. You already know what's gonna happen to the boat in TITANIC, there's no need for it to be a surprise. The suspense is in who will survive and what will be left of them, emotionally, after these historic events.
I think THE MAN WHO KILLED HITLER AND THEN THE BIGFOOT is a pretty good movie. I enjoyed it, didn't love it. But I'm so glad it exists because there's gotta be somebody out there who it's the perfect movie for, and they never could've seen it coming.