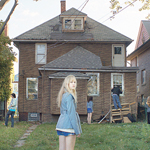 IT FOLLOWS seems to be the horror hit of the season, rightfully praised for its clever premise, excellent cast and effective indie drama type naturalism. As usual I don't think it's as bone-chillingly spookerific or as powerfully groundbreaking as the "I don't normally like horror movies but this is the greatest horror movie of all time" crowd, but that's okay. They picked a pretty good one to flip out over. And maybe my respect for it will go up if somebody can convince me that it's as about something as it seems like it might be.
If you haven't heard, the college age kids of IT FOLLOWS are experiencing a sexually transmitted haunting. You get it on with the wrong person, next thing you know you start seeing… something following you all the time. Sometimes it looks like a creepy stranger. Sometimes, from the looks of it, murder victims (previously followed people?). But sometimes it's just some dude standing on the roof with his dick out. And then sometimes it's your mom. It's fucked up.
Wait a minute, what if they saw it and they thought it really was their mom? "Hey Mom, what are you doing out here? Did you get my text about the student lo–"
Our lead victim here is Jay, played by Maika Monroe, who was so good as the daughter in THE GUEST. She's been seeing what seems like a nice enough boy (he takes her on a date to see CHARADE at an old timey movie house, at least) but after some of the old fashioned car sex he, uh, chloroforms her and ties her to a wheelchair and explains the rules to her. It follows, and you gotta run. You don't want that thing to touch you. Or to jump your bones literally and/or figuratively, 'cause that'll kill you.
The thing is, all you gotta do to get rid of it is fuck somebody. (Not sure if oral counts.) That doesn't just spread it, it transfers it. Passes the baton. Trouble is if that person gets tagged by It then It will come back for you, and on down the line until… I don't know, it's following some dead caveman? It's not really clear. Maybe we'll find out the end game if they make ITS FOLLOW.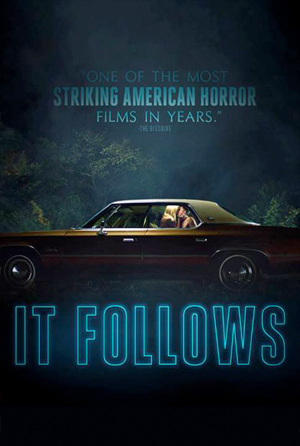 Jay's group of friends include her younger sister Kelly (Lili Sepe) and her friends Paul (Keir Gilchrist) and Yara (Olivia Luccardi). This is an unusual group of horror protagonists in that they never fight. They all get along and support each other, there's no bitchy friend or bratty older sibling who has to be won over to their cause.
My favorite is Yara, who wears Velma-from-Scooby-Doo type glasses and usually seems tired and uninterested, like she just does not give a fuck about anything. But she must, because she sticks with them through all this. She might be a new character type, a hot girl but pretty gross. She makes them listen to her fart, falls asleep in the car with junk food all over her, loudly chews a sandwich while doing an important book-reading, and I'm guessing doesn't wear deodorant, although that is not specified in the text.
Director David Robert Mitchell previously did THE MYTH OF THE AMERICAN SLEEPOVER, and having a modern indie style is a plus. The characters all look and act more natural, more real than in many of the teen horror movies I still love. In the old days you had to accept that actors who looked around 30 were playing younger, while these actors I at first assumed were still teenagers before they said Jay was 21.
Most of the horror business is executed very well. Before the "creepy blank person walking slowly toward us" thing can get too old they switch it up so we're not always seeing her perspective, now we see it like her friends do, that there as an invisible person attacking. This makes for some cool set pieces where she has to keep telling her friends where It is, a fun use of the left-to-the-imagination approach to horror. It also reminded me of those occasional bits in A NIGHTMARE ON ELM STREET when we're outside of the dream world seeing the sleeping victim being attacked.
There's plenty of stuff that's reminiscent of HALLOWEEN, including some of the music and some shots (steadicam of the girls walking through their neighborhoods, Jay in class looking out the window at a stranger watching from across the street) that are clearly modeled on it. Also the almost complete absense of parents seems HALLOWEEN-esque (or Peanuts – would've been cool to hear them talking in that trombone voice). It never feels like a HALLOWEEN wannabe, though, because storywise it's a totally different type of horror movie, and because that's a type of camera-work that I love, that is particularly effective in horror movies, and that is sorely lacking in modern cinema. (Though I gotta admit that there could be a good reason for that: long sideways pans strobe on digital projectors. An argument for V.O.D. I guess.)
Admittedly it felt a little anticlimactic to me, and not because it's inconclusive. ENDING SPOILERS THIS PARAGRAPH ONLY MY FRIENDS. In retrospect it makes sense: Paul passes it on to a hooker, and probly immediately to a john, and hopefully further after that. And they realize that's the best they can do is push it along and then spend the rest of their lives worrying about it coming back. But I guess it's just structurally weird. The swimming pool scene feels like a final showdown at first, except it didn't seem like they'd done anything different. They'd already shot It with a gun earlier. The theory that electrocution would kill it seems spurious too but it was a cool idea to try it. When they couldn't do it it felt like okay, now they have to regroup and try something else, but then it was over. It feels like it could've used an ELM STREET style fake ending first, everything seems fixed and then oh shit, It Follows again, and then the cool unresolved ending. I don't know.
There's a recent trend of horror movies with analog synth scores inspired by John Carpenter and other '70s and '80s low budget movies. The MANIAC remake and THE GUEST come to mind. I love this type of music so I'm a sucker for it, and I think this one (by somebody named Disasterpeace) is probly the best of the recent ones. But there's also some defensive part of my brain that feels like I'm being manipulated with all this nostalgia. This one has a less common trick, an indistinct time period like an old Tim Burton movie. All the furniture, decor, phones and rabbit-ear-antenna TVs are early '80s, late '70s style, probly inspired by the director's childhood basement, but one of the characters has a cool clamshell pocket mirror style e-reader. It's kind of a clever way to pander to us grown up horror fans without losing the real audience. It doesn't go full-on period piece like HOUSE OF THE DEVIL, but it stimulates that "remember what it was like to be a teenager?" area of the brain instead of the "get off my lawn/look at these dumb kids and their reality TV and their hashtags and what not" one that some of the slicker modern teen horror ones do.
But in a way this fake '80s reminds me of something about the real '80s, which is that the Baby Boomers funneled their nostalgia for stuff from when they were growing up into stuff that this generation was growing up on. That we keep seeing Paul staying up late watching '50s b-movies seems less like a reference to those b-movies than a reference to the '70s and '80s movies (including HALLOWEEN) referencing those movies by having them on TVs. Hand-me-down nostalgia.
But the aspect of the movie that catches my attention the most is the subtext, because I can't decode it. It's an interesting movie because it seems like it's supposed to be about something, but I'm not completely clear on what. Since the curse is sexually transmitted there's that old "it's about AIDS" thing people love to say about horror movies, but if so that's pretty dumb. First of all, what would it be saying about AIDS and other STDs? That there is such a thing? I don't think that's very good subtext, I think I need more than that. More importantly, the analogy just doesn't fit well at all. You get the curse by having sex but that's also how you get rid of it. It's like THE RING or THE BOX, the interesting part is the moral quandary of being able to save your own ass only by passing the problem to someone else.
Leaving the theater I heard a couple trying to decide whether they liked it or not based on whether or not it was "sex shaming." I think I like it either way, but I definitely question what it's saying. On one hand, it is a very effective literalization of this "sex = death" theme that is such a horror tradition and point of contention. You can't deny an undercurrent of "stay away from penises or you are in HUGE trouble, girls." The fear is of the consequences of having sex.
But what consequences is it referring to? Warts? Babies? The analogy doesn't really hold up, because you don't get rid of a disease by giving it to someone else. Maybe a baby. But you don't have to spend your whole life looking over your shoulder because you had sex one time in your twenties. The protagonist isn't a guy so we can't say it's about the fear of finding out you have kids you didn't know about.
The good news though is this is a horror movie where the female protagonist gets to have sex with three different dudes without being judged by the movie for it, or even accused of being a skank by other characters. I'm no database but I'm pretty sure this has never happened in a horror movie ever before. So even if it is "sex = death" it's looking at it from an unusually sympathetic angle. It's not following the buttoned-up goodie two shoes (or the virgin, if you believe SCREAM) while the sexually active people get slaughtered. The sex = death is not exemplified by a trail of victims offed throughout the movie, but by the heroine and her ongoing struggle.
The closest to a convincing interpretation I've heard is that it's just about the fear of growing up. Adulthood is scary and once you get into it you spend the rest of your life fuckin worrying. And it temporarily helps to have sex with strangers? I don't know.
But I think that's why the movie (which I saw a couple weeks ago) has stuck with me more than some do. Whether it meant to or not it left me with something to chew on. And for the most part IT FOLLOWS is an effective and skillfully directed horror movie. I'm down.