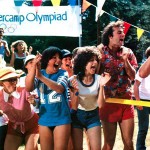 SLEEPAWAY CAMP parts 1-3
There's no way around it: SLEEPAWAY CAMP is a blatant ripoff of FRIDAY THE 13TH. It borrows the summer camp setting, the child with a tormented past and messed up guardian, and the unseen killer who's unmasked in a crazy twist ending that nobody could've seen coming because it came out of nowhere. Alot of slasher movies take the same formula and put it in a different setting, this one takes the same formula and puts it in the same setting. It's like DIE HARD in a building.
The reason it's survived in the popular consciousness, though, is that it has its own weird brand of sleaziness that gives it a feel different from any other slasher movie, including other summer camp slasher movies. For one thing, the kids at the summer camp are played by actual kids. The vast majority of '80s slasher movies were about teens played by actors in their early to mid twenties. And FRIDAY THE 13TH focussed on the counselors. Adrienne King, who played FRIDAY heroine Alice, was 20. Felissa Rose, the star of SLEEPAWAY CAMP, was 13. It makes it more uncomfortable.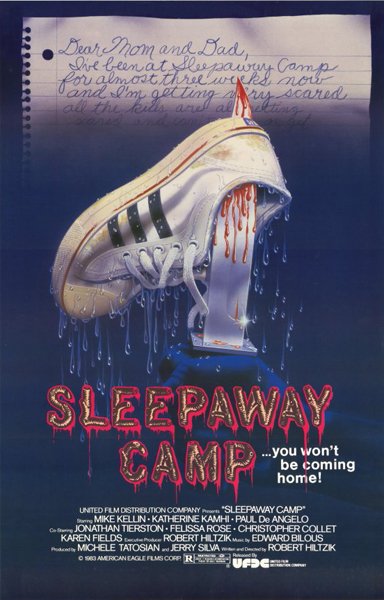 Rose plays Angela, a troubled new girl at the camp who barely talks or eats food, maybe because she's so traumatized by that time 8 years ago when her brother and dad were killed by a motorboat. She went to live with her crazy Aunt Martha and her cousin Ricky. Now her and Ricky are enrolled in summer camp.
But please note, this is Camp Arawak, New York, not the much more polite Camp Crystal Lake in Connecticut. These little bastards swear like a sailor who just dropped an anchor on his toe after listening to Redd Foxx records all day. And they're mean. Because Angela is a girl, and because she's new, and because she's weird, the kids swarm in on her. A stuck up girl says Angela has small boobs, makes fun of her for being shy. In a classic bit of kid logic the bully girl argues that Angela must be a lesbian because she doesn't take a shower with the other girls.
Then somebody starts murdering people, mostly the people that are mean to Angela. Who could it be? Protective cousin Ricky? Crazy Aunt Martha? The ghost of her dead brother? The ghost of her dead father? Alternating ghosts of dead brother and father, either in cahoots or separately? Oh, who am I fooling, you all know who the killer is and what she has dangling between her legs at the end. This is a pretty weird movie.
After watching the sequels (and especially the recent RETURN TO SLEEPAWAY CAMP), going back and rewatching this it seems to have better production value and filmatism than I originally gave it credit for. For example there are lots of kids in the camp, and they pull up in real school buses. And there's some genuine artfulness involved here and there. The score is good. The opening pan across the empty camp is nicely ominous. The memorable last shot, with that crazy facial expression, is some pretty incredible staging. But to be honest it's the less successful parts that make it enjoyable: the stiff acting, the over-the-top dialogue, the ludicrous methods of murder. I don't understand why a guy taking a shit can't escape from a beehive hanging down into the bathroom stall on a stick, or how the bees so quickly sting him to death. Which is why I like it, I guess.
I think the movie is literally homophobic, as in the filmatists are afraid of gay people. There's a flashback/childhood memory of kids seeing two men in bed together, and this is portrayed as kind of a freaky thing that apparently fucks the kid up for life. I don't know, I don't think it really promotes any existing stereotypes or anything, I don't find it all that offensive but I bet the people who made this movie weren't all that in favor of gay people back when they made this. Whether or not they will be voting for proposition 8 I cannot say. But I doubt they are members of PFLAG.
SLEEPAWAY CAMP is a strangely enjoyable rendition of the classic slasher formula. It is definitely not one of the best ones and yet those weird touches make it a must-see if you're into this type of movie.
SLEEPAWAY CAMP 2: UNHAPPY CAMPERS was made 5 years later by different people. Original director Robert Hiltzik wrote a draft of the screenplay, but they wanted to go in a more "funny" direction so apparently all they used was some of his murder methods. This sequel dumps everything that was original about part 1. Now the kids are played by adults and to take advantage of this they have them already flashing their boobs a few minutes in.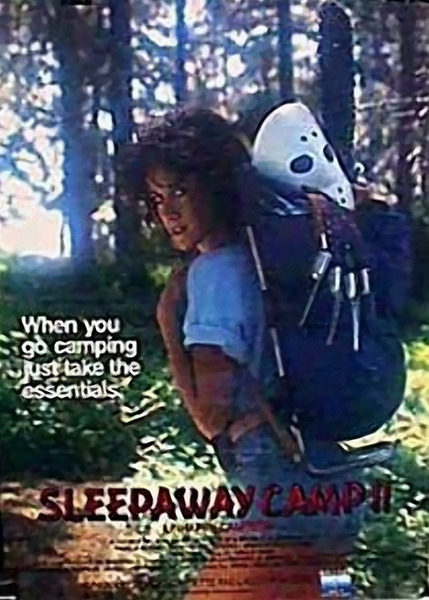 Actually the opening scene is a direct ripoff of FRIDAY THE 13TH PART 2's opening: part 1 recounted as a ghost story/urban legend around a campfire. After that, though, the basis seems to be all the worst aspects of the ELM STREET sequels: shitty heavy metal theme song, clueless portrayal of teenage life, killer who makes unfunny wisecracks while murdering one-dimensional characters using extravagant methods sometimes inspired by the victim's obsessions or perceived sins. This time Angela (with an assumed last name) becomes a counselor at a different camp called Camp Rolling Hills. She's been through therapy and gotten a sex change and I guess must be nostalgic for that great, great summer she had at Camp Arawak. So this is just a perfect job for her, what a good idea that was for her to come work at a summer camp.
She's got these prudish values instilled in her by Aunt Martha, so when she sees a camper do something she considers immoral – sneak out to tell campfire stories about part 1 with the boys, for example – she kills them and tells everybody she sent them home. It starts to get amusing how brazen she is about it. Does she really believe this won't come back to haunt her, that the parents won't notice their kids didn't come home? That's Rumsfeld planning.
Pamela Springsteen (age 26) plays Angela and yes, I looked it up, she is Bruce Springsteen's sister. She does make the character kind of amusingly clueless, not seeming to understand that she's in the wrong on this one. So the movie is mildly amusing though much farther away from legitimate, effective horror than part 1 was.
But you know, I couldn't help but think the movie has a bit of a puritanical judgmentalness to it. Obviously it's not advocating for actual murder, but it definitely feels like you're supposed to think it sort of serves some of these characters right, and root for Angela. After all, that kid used drugs, drugs are bad, let's burn her alive, etc.
The main thing I remember about this movie from back in the '80s VHS days was not the movie itself, but the cover. It shows some hot chick in cut-offs carrying a backpack with a Jason mask and a Freddy glove in it. There's actually a scene where she kills kids who are dressed as Freddy and Jason, which is the excuse for the cover. But I cannot explain why the woman on the cover is not Pamela Springsteen, or if they expect us to forget this character used to be a boy. Maybe the series isn't homophobic anymore at this point. They definitely want you looking at her cleavage on the cover of part 3, too. The cover model, that is. I assume that's supposed to be Angela, since she's holding a knife, but that's clearly not really her. Then again, who is to say that's really Bruce Springsteen's ass on the cover of Born in the USA? It could be someone else. Maybe the Springsteens didn't do covers back then. It's hard to say.
SLEEPAWAY CAMP 3: TEENAGE WASTELAND
Shot back-to-back with part 2, part 3 is a pretty similar tone with slightly adjusted plot. This time the story begins in New York, where Pamela runs over a girl with a garbage truck, steals her identity and goes to camp. After her last rampage the camp was closed and is now re-opened as Camp New Horizons under new management who are using it for a social experiment where they bring together rich kids and troubled street kids to learn and share and what not.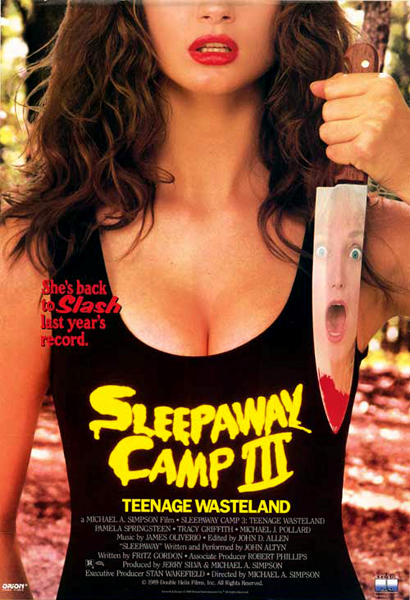 The troubled street kids are of course the 1989 horror movie idea of a troubled street kid, which is to say they all look about 25 to 30 years old and seem to be dressed up as street toughs for a Halloween party. The title comes from when one of these dipshits (who calls himself Snowboy) for no reason yells "Party all night! Teenage wasteland!" I have no clue what it means, neither did the actor I'm sure or the writer of the line. It's funny man, they got these guys like this in about a thousand movies made between 1978 and 1990, but I never once ran into one in real life. At the very worst you get some smelly fucker in clown makeup arguing with the bus driver about whether he has to pay for his dog to ride. You never get these giggling goofballs like in DEATH WISH movies or guys like this yelling about "partying." I just don't get it. Who writes this stuff? Where does it come from? Do they seriously know people who act like this? Have they seen people like this? Or did one guy make it up at one point and everyone else copied from his test?
To be fair this is not an entirely serious movie, it is definitely trying to be kind of a horror comedy, and it has a good line here or there. I like when one of the rich kids tries to make conversation by saying, "So… you're underpriveleged?" But more often the jokes are along the lines of somebody asking for coke and Angela thinks she means Coke, or some murder pun like – you better swallow any milk or coffee before continuing – she says "It seems every year I'm at camp someone loses their head." But get it, the joke is because she cut off somebody's head. Not because they suddenly become angry or upset, which is one meaning of "losing your head," but because they actually literally lost their head, it was removed from their body and then presumably the body lost track of where it was because of the lack of signal between the brain and body that occurs upon death. That is why it is funny. Think about that one. Let it wash over you.
If a variety of gimmicky murders is a selling point for you, though, it definitely has those. Some of the better ones include tying somebody to a flagpole, lifting and dropping them, and tricking a reporter into snorting Drano instead of coke. Of course that's only after Angela figures out she means cocaine and not Coca-Cola. I still can't get over that crazy mixup, what a bunch of funny stuff they got going on in this one.
The body count is 15, by the way, and the puritanical streak continues. She scolds people about using drugs and about not being virgins, but also about bigotry. Obviously we agree with opposing bigotry, so either we're supposed to kind of agree with her morals, or she is a complex, multi-faceted character with lots of moral grey area and interesting contradictions. You be the judge.
The low point of the movie, and therefore most memorable, is when she kills Riff, the black guy who you will not be that surprised to hear always carries a boombox (or ghetto blaster we called them sometimes in the '80s). She decides to play with him by switching his favorite tape with a recording of her sub-BULWORTH attempt at white person rapping: "Angels are pretty / Angels can fly / and here is the angel that'll make you die! / You got no style and, you got no cares / all ya do is fight and swear / So say your prayers and make amends / 'cause ya life story is about to end!"
This was before Eminem though so nobody expected much out of white rappers.
I cannot make any claims to parts 2 or 3 (or even part 1 come to think of it) being good horror movies. I think "cheesy fun" might apply though, depending on your mood and patience.
RETURN TO SLEEPAWAY CAMP (part 4)