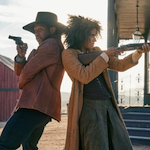 THE HARDER THEY FALL (no relation to THE HARDER THEY COME) is one of the better movies I've seen this year, and definitely one of the better made-for-Netflix ones. It's a western with an all-Black, all-star cast, and the opening title card says, "While the events in this story are fictional… These. People. Existed."
That hand clap emoji type cadence makes me think they're talking to doofuses who don't know basic history and/or Mario Van Peebles' POSSE and think there weren't Black people in the Old West. But also They. Existed. in the sense that most of the main characters are based on – or at least named after – actual historical figures. But writer/director Jeymes Samuel and co-writer Boaz Yakin (THE PUNISHER [1989], THE ROOKIE, FRESH, FROM DUSK TILL DAWN 2, PRINCE OF PERSIA, SAFE) have no qualms about putting together people who never would've crossed paths, giving them totally new origin stories, killing them young in a gunfight even if they died of old age. But think of it as a LEAGUE OF EXTRAORDINARY GENTLEMAN type team-up fantasy. It's a good western story.
Jonathan Majors (HOSTILES, DA 5 BLOODS) ably stars as Nat Love, the legendary outlaw whose tragic backstory opens the film. He's a kid (Chase Dillon from The Underground Railroad) at the dinner table with his parents when Rufus Buck (Idris Elba, PROM NIGHT) and another guy come in, blast them away with golden pistols for some unexplained debt, and carve a cross into little Nat's forehead. So, like Harmonica in ONCE UPON A TIME IN THE WEST or Ellen in THE QUICK AND THE DEAD, this kid's got a pretty good revenge mission to get to when he grows up.
It jumps straight to him killing the sidekick Cortez (Julio Cesar Cedillo, the titular buried person in THE THREE BURIALS OF MELQUIADES ESTRADA) in a church in Salinas, one bullet and one freeze frame for each word of the title.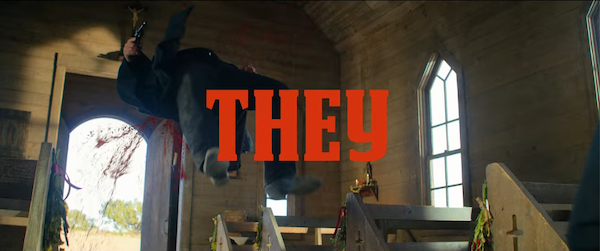 Then we're off to the races with a flashy credit sequence set to a song called "Guns Go Bang" by Kid Cudi and Jay-Z. The latter produced the movie along with Lawrence Bender (RESERVOIR DOGS) and Will Smith's partner James Lassiter. Like the aforementioned POSSE, THE HARDER THEY FALL contemporizes the genre partly by mixing modern music with its score, which is by director Samuel and blends more traditional western guitars, strings and percussion with dub echoes and Schifrin-esque bass grooves. There's more Jay-Z, and Lauryn Hill even pops up on a song, but it's not all hip hop. There's some very effectively used reggae, including "Better Than Gold" by Barrington Levy and "Promised Land" by Dennis Brown.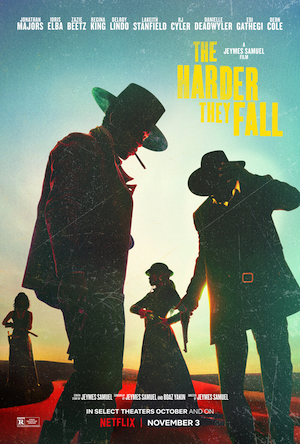 Nat has a bunch of other outlaw buddies out there raising a ruckus by robbing bank robbers. Bill Pickett (Edi Gathegi, DEATH SENTENCE, TWILIGHT, MY BLOODY VALENTINE) and quick draw Jim Beckworth (RJ Cyler, POWER RANGERS), ambush Monroe Grimes (Damon Wayans Jr., THE OTHER GUYS) and the Red Crimson gang not knowing the money is going to Rufus Buck.
In Douglastown Nat finds his incredible (but not so happy to see him) ex "Stagecoach" Mary Fields (Zazie Beetz, DEADPOOL 2) who in real life was the first African-American female star-route mail carrier in the United States and she owned a tavern for about ten months, so in this she's a former outlaw running an incredible saloon/inn where she sings in a corset and top hat while pounding the rhythm on the floor with a rifle handle.
Nat thinks he can settle down now because he got Cortez and Rufus Buck is in Yuma, but then Rufus's right hand woman "Treacherous" Trudy Smith (Regina King, BOYZ N THE HOOD, doing an accent but still sounding like her Huey voice from The Boondocks) and sidekick Cherokee Bill (LaKeith Stanfield, THE GIRL IN THE SPIDER'S WEB) bust him out. And he's been pardoned! Shit! Bass Reeves (Delroy Lindo, BROKEN ARROW), the legendary marshal also referenced on Justified and portrayed in HBO's Watchmen, doesn't like that, and teams up with Nat to go after Rufus. Nat's gang, including Mary and her cool trans or male-impersonating doorman Cuffee (Danielle Deadwyler, THE DEVIL TO PAY), insist on helping.
(By the way, doesn't it seem like Brian Tyree Henry would be in this? They must have a limit of two Atlanta cast members per movie. "Brian and Zazie already did JOKER. Brian, why don't you do ETERNALS and let LaKeith do this one with Zazie?")
Even if they're starting to be more common, big crowd pleasing Hollywood movies where white people are mostly irrelevant still feel new and fresh. This is an incredible ensemble of Black actors, both veterans and up-and-comers, and they get to shine in a period piece that's not about slavery, and that recognizes racism (both individual and systemic) but isn't primarily focused on it. I think all that is great, but if you could somehow mentally set it all aside you would still be left with a really good movie. It's an ideal modern western because it sincerely follows the traditions of the genre but with a rowdy, entertaining tone and playful visual style.
It has all the mythologizing, melodrama, codes of honor, tough guy posturing and shit you want in a good western, with bonus funny dialogue and fits of violence in the blissfully excessive tradition of THE QUICK AND THE DEAD (though I suspect the influence is more Tarantino). Samuel definitely digs gimmicks like freeze frames, split screens and giant titles that the characters can walk in front of, but I think he keeps it at just the right level of restraint where it's energetic rather than annoying.
Hats off to director of photography Mihai Malaimare Jr. (THE MASTER, A WALK AMONG THE TOMBSTONES, JOJO RABBIT) and production designer Martin Whist (SMOKIN' ACES, CLOVERFIELD, CABIN IN THE WOODS, ROBOCOP, THE PREDATOR) for creating a look that stands out in the genre. Right from the opening the look is unusually warm and colorful for a western. Nat's childhood home looks cozy and inviting despite creaky wooden floors. Trudy wears a bright blue skirt walking past a maroon train. Buildings and wagons in Redwood City are painted blue, purple and red, with green and yellow interiors. Rufus's saloon has yellow curtains and blue dancers. The best fight scene takes place in a barn between different colors of hanging fabric and vats of dye – no one gets dunked in them, so I guess we're just seeing behind the curtain, how the town looks so nice.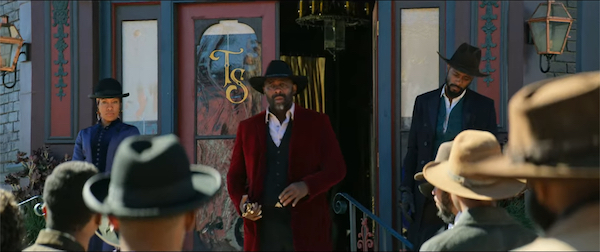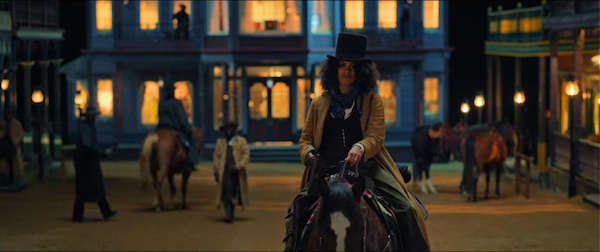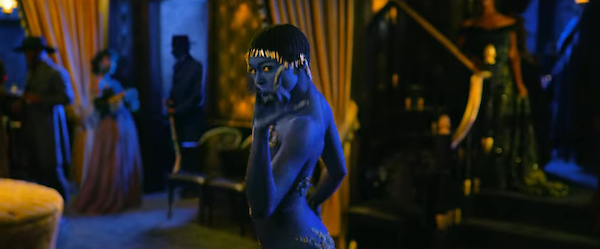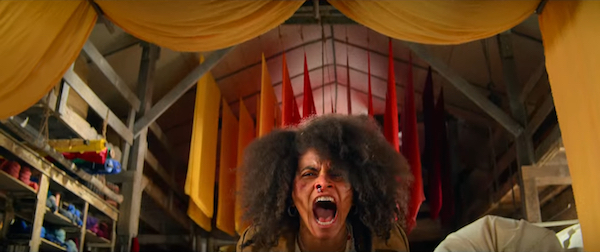 This look makes THE HARDER THEY FALL a distinct western but it's invested with meaning (and a punchline) when they venture into the only white town we ever see in the movie, and it's literally a white town.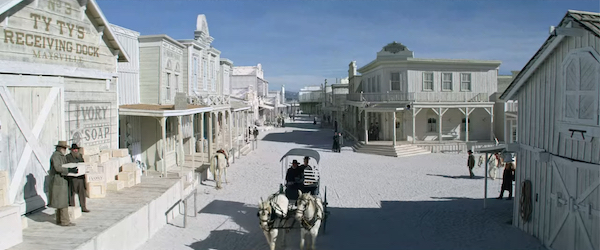 The running time is 139 minutes, which is not too long for a western, but I do think it could've been improved with some tightening in the middle. That's easy to forgive, though, when it gets to the last act and all these interesting characters on both sides have a big, violent showdown.
The arguable main event is Mary vs. Trudy in a well-performed fight featuring my favorite use of music in the movie, a needle drop of "Let's Start" by Fela Ransome-Kuti and The Africa '70 with Ginger Baker. I happen to know that song from one of the handful of albums I have from the Nigerian Afropop genius. It brings an upbeat tone to the violence, but the brilliant part of it is that they didn't just use the song, they used the stage banter that opens the album.
It's such a weird thing to do. It threw me off for a second. I know that voice – where is it coming from? He says that he's going to play a song called "O l'oun t'awa se n'yara Je k'abere" and then he translates: "Now, which means, 'Let's start what we have come into the room to do.'" And Mary and Trudy have come into the room to beat the shit out of each other, so when the music kicks in that's exactly what they do.
Stunt coordinators: Richard Bucher (longtime Ethan Hawke stunt double), Keith Woulard (ELITE SQUAD 2, THE EQUALIZER), Johnny Yang (FEMALE FIGHT SQUAD). Fight choreographer/coordinator: Aviel Ayoung (a dancer in STEP UP and HONEY 2).
NON-SPECIFIC IMPLIED SPOILER: All this is good enough that I wasn't expecting or needing any big revelations, but god damn does it put an exclamation point on this story when Rufus tells Nat why he did what he did. A real never-saw-that-coming, maybe-I-need-to-rethink-some-of-what-I've-seen-here, emotional wallop of a twist. And it deftly makes a long monologue the satisfying climax of the movie. I loved it.

I don't think any of this cast are wasted. For Majors it's a real "fuck, no wonder they're giving this guy all these roles" moment, all the odd little choices he makes, somehow seeming both unusual for and almost too perfect to play the lead. He has a unique physicality in the way he pulls and fires his guns, including in a couple of shots that I think are really him on a horse.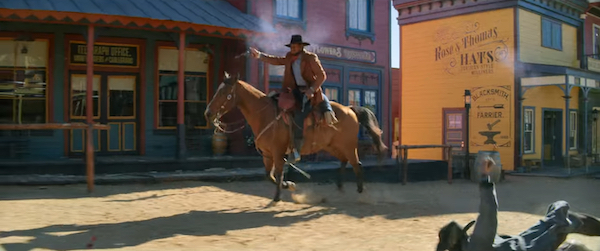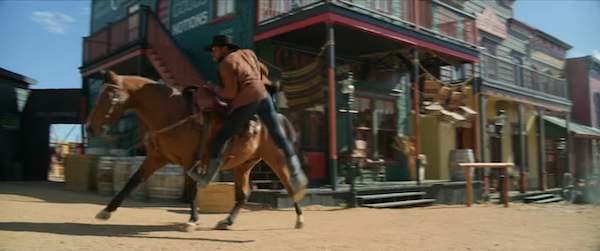 For Elba it's an "oh, thank god somebody let him do that charismatic menacing in a role that's not totally stupid" moment. A total bastard and then you sympathize with him even as you realize the thing you sympathize with him for makes him even more of a bastard.
The scene stealer though is King in her "I remember her going back to 227 and now that she's a beloved Oscar winner fuck it, why not be the most intriguing character in a cowboy movie?" moment. She gets plenty to do but you still wonder about her and wouldn't mind a sequel just to see more of her. Which is clearly the intent.
But I don't want to underrate Lindo. Everybody gets funny or cool lines in this one, but there's something transcendent about his slow, serious delivery of "I'd ask you to run go fetch your superior, but that'd be like asking you to run go fetch your daddy. Could be anybody, right?" You don't know if you should laugh or give the guy he said it to a hug.

I gotta admit I never heard of Jeymes Samuel, but he's a British singer-songwriter under the name The Bullitts, so he wrote most of the songs on the soundtrack and sings one of them. Oh, also he's Seal's brother, which sort of explains why Seal has a song on the soundtrack too. A funky song! I never would've guessed it was the ol' rose kisser.
But Samuel isn't new to filmmaking – he directed the video for Jay-Z's "Legacy" in 2017 and, more relevant here, in 2013 he directed a 50 minute western called They Die By Dawn starring Rosario Dawson, Giancarlo Esposito, Kelly Hu and Jesse Williams. In fact it has a bunch of the same historical figure characters, played by different actors: Michael K. Williams as Nat Love, Bokeem Woodbine as Bill Picket, Harry Lennix as Bass Reeves, Nate Parker as Jim Beckwourth, and Erykah Badu as a similar version of Stagecoach Mary. THE HARDER THEY FALL is a huge improvement over that, though.
I really dug this one. If you like and/or don't like westerns, give it a shot.

Note: "Stagecoach" Mary Fields was born 22 years before Nat Love. The real Rufus Buck Gang were young Creek Indian who went on a crime spree for about 2 weeks and then were captured and died by hanging. They did not kill Bill Pickett; he in fact lived into the 20th century, starred in the movies THE BULL-DOGGER and THE CRIMSON SKULL and could've conceivably seen DRACULA and FRANKENSTEIN. None of this makes THE HARDER THEY FALL any less awesome.