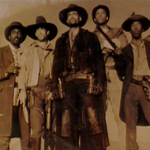 "You talkin bout a black KKK raid on a white town? That's crazy!"
Recently I wrote about the Mario Van Peebles movie PANTHER, and talked a little bit about that time in the '90s after Spike Lee hit it big and other black directors were starting to get a shot. At the same time hip hop had bled into pop music, and therefore rappers were starting to appear in movies. In the few preceding years the most respected rappers had been political or pseudo-political. Public Enemy and Boogie Down Productions struck revolutionary poses, and even the so-called gangsta rappers like N.W.A. and Ice-T considered themselves rebels against the establishment (mainly the police, then the politicians above them). There had been a high commodity put on "dropping science" or "reality" and/or "positivity," consciousness was encouraged, people had temporarily traded their gold chains for Africa medallions, were interested in reading The Autobiography of Malcolm X and knowing the names of the Black Panther founders and shit like that. For a time it was at least as important to act smart and enlightened as it was to be tough. And that's why Van Peebles was able to make PANTHER and before that, in 1993, POSSE.
About six months before POSSE was released, Dr. Dre's The Chronic came out, and it was so undeniably good that, you know, that was the end of that. But before Van Peebles knew that visions of blunts would be bouncing on hydraulics in our heads he made a western for the Knowledge Reigns Supreme era.
There's a couple reasons why this fits into the trend. One of them is that about a quarter of the cowboys in the old west were black. TV and movies make it seem like it was a hundred white guys for every Cowboy Curtis or Lord Bowler, and Van Peebles wanted to correct that.
So here's a movie about a group of Buffalo Soldiers who get screwed over by racist Colonel Graham (fucking Billy Zane) while fighting for him in Cuba. He assigns them to steal some Spanish gold and then accuses them of desertion so he can execute them. They make a run for New Orleans with the loot and he chases them.
Check out this posse, it's a pretty respectable posse. You got Van Peebles himself as the leader, Jessie Lee, who refuses to execute a man but can easily shoot a cigar out of his mouth. You got Tiny Lister as Obobo, one of his rare good guy roles. You got 1990 American Music Awards winner for Favorite New Dance Artist Tone Lōc as Angel. And you got Stephen Baldwin (CUTAWAY) as Little J, a redneck white boy prisoner with bad teeth that Graham had put in charge of the black regiment to fuck with them. He's dumb but too friendly to be racist. So it's an all black group of heroes with a white sidekick!
To be fair there is also a black sidekick, Weezie (Charles Lane, director of SIDEWALK STORIES), who was Graham's flunkie until he helped the posse escape. So he made the right decision but he talks in a squeaky voice like a cartoon character and has a hard time adjusting to not being subservient. Also he just doesn't know how to play it cool – when they bathe in the river he points and screams about the size of Obobo's junk. Man, don't do that, Weezie.
Little J sits in on a poker game and ends up helping a flashy cheater named Father Time escape, kinda like how Don "The Dragon" Wilson met his sidekick in BLOODFIST. I think if Father Time was just some guy they would send him on his cheating way and never let him join the posse, but he's played by Big Daddy Kane, so it's a no brainer. Any posse could be improved with the inclusion of Big Daddy Kane!
This was Kane's movie debut, and he didn't do very many others. I guess he found that although pimpin' ain't easy, movie acting can be even harder. But we shouldn't be surprised that they managed to get him in this movie because jesus man, everybody is in this cast. Isaac Hayes, Pam Grier, Nipsey Russell, Reginald Veljohnson, Aaron Neville, Bob Minor from COMMANDO (also stunt coordinator), and somehow even Stephen J. Cannell, the creator of The A-Team show up in small roles. That's one thing you could count on Van Peebles for back then. He knew every damn person in Hollywood and could get most of them in his movies.
Anyway, Jessie has been a good posse leader, but he's also pretty crazy. They have no idea he's leading them on a revenge mission. He talks like he's haunted by literal demons, but it's actually memories of racists that fucked over his dad, King David (Robert Hooks, TROUBLE MAN). He gets a blacksmith to melt down some of the gold and make it into bullets, which actually work on both demons and racists. The latter is proven when he puts one into the blacksmith, who we find out was one of the people who lynched his dad.
This is where the black consciousness really comes in. They're headed for Freemanville, the all black town founded by his father. His old friend Carver (Blair Underwood) is the sheriff now, but he's a sellout who's colluding with the white lynchers who run nearby Cutterstown. "King David and Jesse let dreams get in the way of thinking, Bates. Jess don't understand straight business. I do." They want Jessie Lee so they can prevent any possible father-avenging plans, and they want Freemanville so they can run a fuckin railroad through it.
But it takes some doing to rally the people of Freemanville. There's a big crowd scene where they argue about whether to protect themselves or play nice to appease the white folks. Melvin Van Peebles, playing one of the old timers again, yells "No justice, no peace!" like he's trying to start a chant. Before long somebody will be asking "Can't we all get along?" while the Cuttersville bigots are shooting at them with a gatling gun.
I think there are some issues with pacing throughout this movie, but once it gets going at the end it's pretty great. Paul Bartel shows up as the mayor. Richard Edson (though he was the non-racist brother at Sal's Pizzeria) is the dumbass deputy who lets the KKK in to the jail to shoot Melvin and some other prisoners from Freemansville. Too bad it's actually the posse under those hoods. Whoops.
Van Peebles does a good job of framing himself as an iconic action hero. He makes great entrances. There are beautiful shots of him in silhouette, sometimes casting a big cowboy shadow on the wall.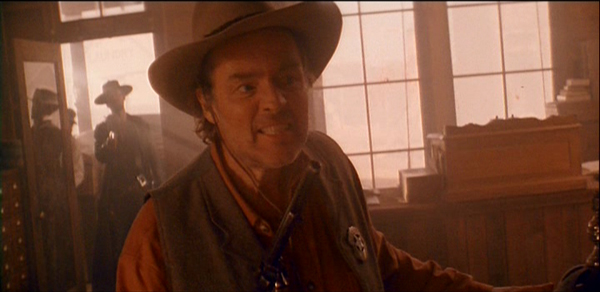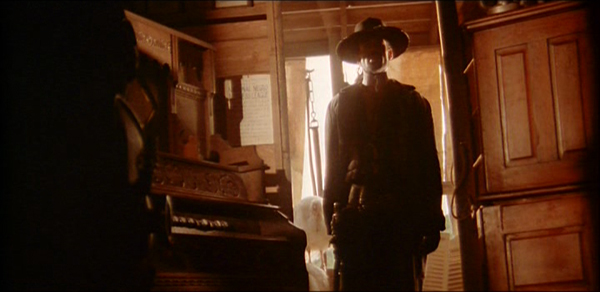 There's one where he's standing in a cool pose as the camera swoops around him, and suddenly his horse runs by and he nimbly jumps onto it and rides off. Done in one shot. That must've been hard to plan and pull off. But his most badass moment is riding a horse in slow motion while firing a gun and carrying a lit stick of dynamite between his teeth.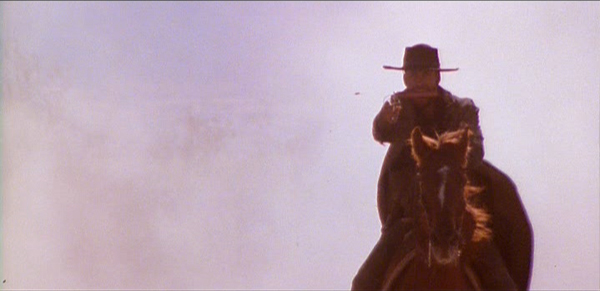 If that's too bombastic for you how 'bout the scene where Melvin and Mario both have their shirts open to show they've been working out, and Melvin is smoking a corn cob pipe, shooting at triangular targets like Klan hoods? That's hard to beat.
I think the title is actually significant. This is sort of about the '90s concept of the "posse" as your group of friends who look out for you. That's what this is more than the western use of the word, which would apply more to the Klansmen and corrupt cops that are after them.
This time the script is not an MVP joint, it's written by Sy Richardson (an actor who played Petey Wheatstraw's father and was in several Alex Cox movies) and Dario Scardapane (now a writer and producer on the American version of The Bridge). But it's got that MVP spirit. The other bit of '90s consciousness is deeper and more thought provoking than "there were black cowboys." POSSE ends with text that ties the movie to a very big historical concept that's still very relevant. In order to control the land and make money off the railroad and shit, the people of Cutterstown had laws that stopped descendants of slaves from voting. Even though there was no longer slavery they had to keep them down somehow, so they punished them for being related to slaves. They had to stop them from owning land or getting educated in order to maintain the white power structure.
POSSE ends by saying "Today, approximately twelve percent of Americans are African-Americans. However, that twelve percent owns less than one-half of one percent of America's wealth." People today like to say, you know, that was a long time ago, that wasn't me, let's move on. But as the end of POSSE points out, it doesn't really matter if we're all the most enlightened white people in the world going around hugging all races if the remnants of the old racist ass system are still preventing us from starting out on equal footing. It's a concept alot of people still don't get, so maybe they shoulda seen POSSE.
On a more positive note, Woody Strode appears in a wraparound story as an old man who was inspired by having met Jessie when he was a little kid. So hopefully positive things can also be passed on from one generation to the next.
(Reginald and Warrington Hudlin play reporters interviewing Strode's character. Reginald later produced DJANGO UNCHAINED. So he did Jessie one better.)
Fittingly, the end credits song is by Intelligent Hoodlum, a lesser known participant in that conscious rap I was talking about (who was later known as Tragedy Khadafi). I thought at first it was gonna be what we used to call a posse cut (a sort of all-star team-up approach to a rap song), but no such pun. Anyway it plays over highlights from the movie intercut with footage from the 1939 films THE BRONZE BUCKAROO and HARLEM RIDES THE RANGE to show the forgotten history of black cowboy movies. I was pretty proud of myself for being able to identify THE BRONZE BUCKAROO. Thank you very much. This montage is cool though because number one, it acknowledges that there were tons of black westerns before POSSE, it's just that they were made in a segregated film industry and are a somewhat buried chapter of cinematic history. Number two, it made me realize that maybe casting Tone Lōc and Big Daddy Kane as cowboys isn't as goofy as I initially thought. After all, Herb Jeffries got cast in his westerns because he was a popular singer with the Earl Hines Orchestra.
I gotta say, this one is a little better than I remembered. It's no DJANGO UNCHAINED, but I respect it.