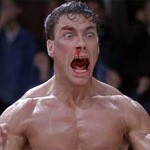 Well I thought this would be funny because Jean-Claude Van Damme plays twins but it is not one of his better pictures in my opinion. It is not nearly as boring as Cyborg, but it is pretty generic and dull and shows few signs of the iconoclastic action pioneer that Van Damme would later become.
I guess he does an okay job of playing two different characters for such a limited actor but you would think they would do more with the twin concept. The opening scene where jean claude's characters is only a baby is pretty well done, but then it skips to 25 years later and the happy keyboard music plays and it's just your usual mistaken identity twin garbage.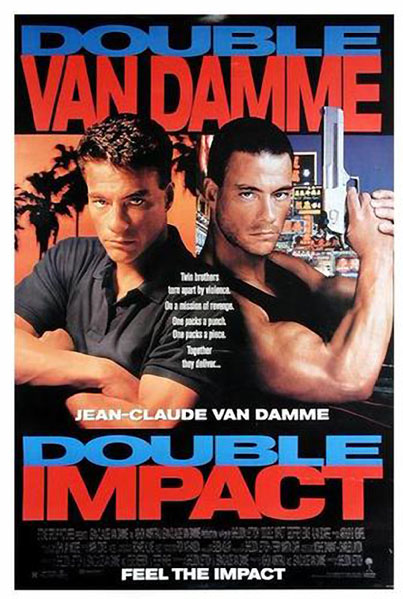 About 5 seconds into jean claude's first scene he's already doing the splits, in colorful spandex, for an aerobics class he's teaching. Then he goes to hong kong to avenge his parents death and happens to run into his brother and find out his parents were killed. That is how it always is with these twins, either their parents died or they got divorced and they try to get them back together.
The plot and action are real routine, just a bunch of exploding and running around in the streets like an old cop show and not even very much kicking. They do this kind of crap in Vancouver Canada every day, it is called syndicated action shows that nobody you know has ever watched. There is usually a magic car or a super hero involved though instead of twins.
Don't get me wrong I like Jean Claude, its just that I prefer his more experimental surrealist period best represented by Double Team and Knock Off. Unlike Double Impact these are movies that you never know where they're going next, because there is no logic to it at all. They are crazy and random, you don't know when this motherfucker is going to team up with some computer expert monks or drop his baby off in a roman arena with tigers and land mines or run around pulling a rickshaw with Rob Schneider whipping him with a fish yelling "Move that beautiful ass!" Double Impact does not have that kind of magic though sorry.
This film was co-produced and co-written by Mr. Van Damme, as a stepping stone to his later work as a directing cinematist. So if you are studying the evolution of the artist it may be an important work to examine. But if you're nto an academic and you would rather go straight to his best work I would definitely recommend the two hong kong pictures, double team and knock off.