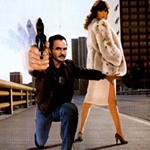 Burt Reynolds is Sharky, sometimes just "Shark." I think it's his last name. He's an undercover cop, seemingly beloved on the force, but he gets into trouble when a drug bust turns into a public transportation shootout after this dipshit Smiley (Darryl Hickman, THE GRAPES OF WRATH, voice of "Pac-Junior" on the Pac-Man cartoon) drives up to say hello and blows his cover. Everybody thinks it's bullshit and calls Smiley a fuckin asshole as they whisk Sharky off to his new job in the vice squad. There's a great bit about how that department is located in the basement and his old partner is only willing to walk him halfway down the stairs.
It's a shitty job because you're just busting hookers and stuff, not real bad guys. He gets to know his new co-workers, who might be lazy fuck-ups or might just be resigned to their position in life. But Mr. Supercop Sharky here is not content to settle. He finds a way to go after something big.
There's a thing in AMERICAN GANGSTER that I think about often, where Denzel's character Frank Lucas is able to build a heroin empire under-the-radar and blows it all by wearing a fur coat to a boxing match, causing a cop to wonder who he is. This is kind of like that – during a regular rowdy night at headquarters Sharky asks about a powerful pimp who comes in, and decides to start tracking his high class thousand-dollar-a-night escort service.
It's largely a stakeout movie. Sharky and his "machine" spy on the luxury apartment of one Dominoe (Rachel Ward, NIGHT SCHOOL) and discover she's in a relationship with a guy running for governor (Earl Holliman, FORBIDDEN PLANET, NIGHTMAN) and being abusively controlled by a crime boss (Vittorio Gassman, WAR AND PEACE). It's probly meant to be more romantic than it comes across, but I like the sleazy element of Sharky seeming to fall in love with this woman who he has not talked to and who doesn't know he's watching her. And I really like the rapport between him and his team, including partner Bernie Casey (GUNS OF THE MAGNIFICENT SEVEN, CLEOPATRA JONES, DR. BLACK MR. HYDE, STEELE JUSTICE, UNDER SIEGE, IN THE MOUTH OF MADNESS), tech guy Richard Libertini (DAYS OF HEAVEN, LETHAL WEAPON 4), and especially hilarious boss Charles Durning (THE FURY, BRENDA STARR).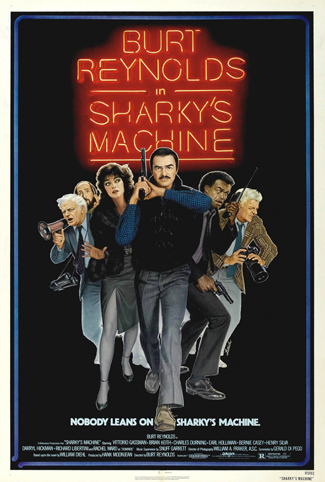 Meanwhile there's this other character out there, the real shark of the movie, Billy Score, played by the great Henry Silva (CODE OF SILENCE, ABOVE THE LAW, DICK TRACY, GHOST DOG). We just see him every once in a while, at first unsure how he will connect with the story, and he's a total psycho. He's a hitman, but comes across as a serial killer, lustily stalking his female prey, rarely speaking, making weird faces like a lizard person. He's a serious drug fiend, snorting coke off the windowsill where he keeps his sniper rifle. And then one day he comes for Dominoe.
I won't give it a way but there's a couple shocks in this, including a brutal turn and one of those reveals that seems like it should've been obvious, but it fooled me.
I think this is really well directed, by Reynolds no less, his third after GATOR and THE END. It's got a nice, gritty look to it with very effective close-ups, cinematography by William A. Fraker (BULLITT, 1941, TOMBSTONE). The soundtrack, which I purchased on vinyl at a library sale not too long ago, is pretty soulful, opening with the song "Street Life" that many of us know from its re-use in JACKIE BROWN. Doc Severinsen of The Tonight Show with Johnny Carson fame did the score, which is jazzy and uses versions of "My Funny Valentine" as a motif. The sequence that impressed me most directorially is a musical montage of Sharky surveiling Dominoe, in which her tinkering on a piano and later mumble-singing to herself match up to Severinsen's music. Then Sharky sings along from across the street.
As you'd expect, it's based on a book, the first by William Diehl, who set it in his home town of Atlanta. He also wrote the book-turned-into-movie PRIMAL FEAR. Adapter Gerald Di Pego also wrote that '90s Travolta movie PHENOMENON. For some reason Sidney Sheldon sent the book to Reynolds, and it reminded him of his favorite movie, LAURA. He wanted to get away from comedy, so at first he tried to get his DELIVERANCE buddy John Boorman to direct it.
Like that movie I reviewed last week, THE STUNTWOMAN, SHARKY'S MACHINE is arguably most famous for a freefall stunt. Legendary stuntman Dar Robinson set a record with his awe-inspiring 220 foot fall from a 40+ story hotel window, though I think they fucked up the shot because they clearly show a dummy for the second half of the fall.
Other stuntmen on the movie include the legendary Buddy Joe Hooker, of course, and David R. Ellis, who went on to direct SNAKES ON A PLANE. And Bruce-Lee's-#1-student/"Sticks"-from-OUT-FOR-JUSTICE Dan Inosanto shows up briefly as "Chin No. 1."