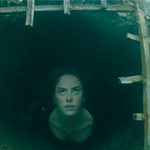 Both the weakness and the strength of CRAWL is how simple and slight it is. On one hand, I felt like it was already dissipating from my brain by the time I got home. On the other hand it's refreshing to see something that just gets in there and gets it done and says "okay, bye." It's a monster movie meets disaster movie – alligators attack a house during a hurricane – but it doesn't fuck around with any before and after or unneeded explanations.
When Haley (Kaya Scodelario, CLASH OF THE TITANS) gets out of the opening credits swimming practice, the hurricane is already approaching. When she tracks down her not-answering-his-phone dad (Barry Pepper, THE THREE BURIALS OF MELQUIADES ESTRADA) in the crawlspace under her childhood home, he has already been bitten by a huge alligator. I think only one sentence of dialogue is spent on speculating how the gators got in there (later confirmed visually), and not one word on why they're so big. It takes place over one day, it's all over in 87 minutes and it concludes with a freeze frame. No wind-down, epilogue or sequel tease. That'll do, pig.
I went because of director Alexandre Aja, who showed so much promise with HIGH TENSION (despite the infamous plot twist) and especially THE HILLS HAVE EYES. I don't feel like he's fulfilled his potential, but I pretty much like all his movies I've seen. This is only his second film not based on a previous movie or a novel, but he didn't write the screenplay (that was Michael & Shawn Rasmussen, THE WARD) – I don't know if that means it's a fire-hire gig or not.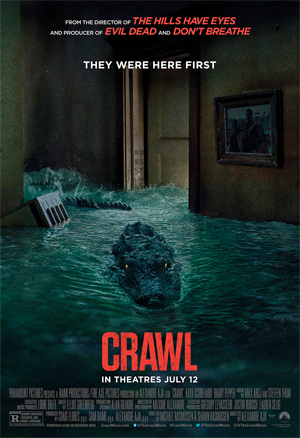 But it's a good workout for his directorial chops. I love it when movies are constructed like this. As Haley looks for her dad we see all these things that will be relevant later. Here's the cop who will come try to help her (Ross Anderson, UNBROKEN). Here's a swing set something will get caught on. Here's a screwdriver on the ground, a clue to dad's whereabouts and current activities that will also be used to stab an alligator later. When it showed the pencil marks charting the growth of Haley and her sister (Morfydd Clark, PRIDE + PREJUDICE + ZOMBIES) I thought it was to remind us of her connection to the house – she grew up here, so she knows the lay of the land. But later I realized it was also to show us how deep the water gets. And of course her background in swimming is the key to her relationship with her dad, her striving for excellence and oh yeah, her ability to swim fast and hold her breath in long, gripping set pieces.
It must've been a fuckin nightmare to film – so much of it takes place in a flooded house or town that it might've been a relief when all they had to do was crawl around on a muddy floor. There are underwater stunts, boats, floating debris, and of course digital (and animatronic?) alligators, all well executed. The hurricane, the downpour and the storm clouds are very detailed and, when not causing danger, make for a spooky atmosphere.
It was kinda funny to me that the trailer said "from Sam Raimi, the producer of EVIL DEAD" – in other words, the producer of the remake of the movie he directed. But they were right – that's actually more relevant information. It's another case of him shepherding a younger director from another country making a down and dirty, nice looking and pretty kickass little piece of entertainment. And I wouldn't be surprised if using Bill Haley & the Comets' version of "See You Later, Alligator" for the end credits was his idea.
CRAWL is not nearly as vicious or gory as EVIL DEAD, but it does follow Raimi's rule that "you must taste blood to be a man." So get ready for a compound fracture or two. Both Haley and her dad get bitten, dragged and gatorhandled in ways that seem like they should've taken limbs off, but neither of them gets off easy. Dad is never seen in walking shape, so it's kind of a thrilling moment when the flooding makes him more mobile. And Haley wraps up her wounds and keeps going, like John McClane.
It makes clever use of the limited location of this house and yard where most of the movie takes place. They go from below to inside the house to outside and the setting transforms as the water gets higher and they have to climb on counters, float on debris, or get to the roof. I like when they (SPOILER) manage to get across the street and into a boat and then the levees break and a big wave knocks them right back into the house.
Of course within this tight disaster framework the screenwriters fit in a whole arc about Haley and dad's estrangement and how going through this together causes them to talk it out and repair things. It's kinda forced but kinda sweet. We hear from Haley's sister that she's stubborn like her dad, and this does check out. It's a personality trait that causes him to stay too long trying to repair the house, for his daughters to believe he might've refused to evacuate, and for Haley to ignore everyone's warnings and drive toward the storm to try to find him, even sneaking past a road block into town.
Scodelario is really good. I didn't recognize her from anything and completely accepted her as this person. She's so determined, a little crazy and has a sense of humor, so she was easy to watch and root for. And I already liked Pepper. It's exciting to see him as a co-lead again.
I would be remiss not to mention this has the best dog I've seen in a movie in a while. I'm not saying Sugar is as cool as the nut-biters in JOHN WICK CHAPTER 3, but even as a non-dog person I was really captivated by him/her as an actual character. A heroic dog whose actions make survival possible.