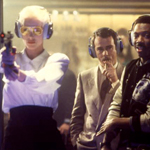 In Seattle we have this big music and arts festival every Labor Day weekend called Bumbershoot. This year I was waiting in line for one of the bands that was gonna play when a guy near me was looking at his phone, he says, "Eddie Murphy died!" I couldn't believe it. It seemed like he was talking to somebody that was with him, then I realized he was by himself, just sharing this shocking news with the crowd. It used to be you go to an all day event like this and you're off in a separate world, you don't know until you get home that something blew up or somebody got killed or something. Now everybody knows, word spreads.

Except for phone-free Vern. I'm a simple man. I read the same websights too many times as it is, I don't need to carry that addiction around in my pocket. I'm like a monk. And there are limits to the technology anyway. For example this guy, he lost his connection and sat there for 5 or 10 minutes fumbling with it trying to get more information. I wasn't devastated or anything, but it was bumming me out, getting used to this new world without Eddie Murphy. Poor guy had such a meteoric rise, he stayed at the top money-wise but his movies have been a laugh-free laughing stock for years and years and years. They are the go to joke for an example of the dumbest, most audience-insulting bullshit comedy possible. Even his last well reviewed movie, that one where he was a nerd who becomes an action star, was in my opinion not that great. But at one time I liked the guy. I wished he would've figured out how to be great again. It was too bad. And nobody should die that young, except Nazis and serial killers and shit.
Suddenly the newsbringer gets his phone working again, he finds the article, starts reading it out loud to us. He says Eddie died in a snowboarding accident while on vacation in Switzerland. He was wearing a helmet, but was killed instantly when he hit a tree. The guy makes a joke about how let's face it, snowboarding is the last way we'd expect a black guy to die. He says that was how whatsername died, the British actress, daughter of Vanessa Redgrave. The two younger guys he's talking to don't know who that is, and he doesn't bring up that it's Liam Neeson's wife he's talking about. Eventually he settles on Miranda Richardson as her name.
I mean I never seen NORBIT, I'm not sure I want to. But the guy used to be pretty funny. Maybe some of it doesn't hold up well. His standup was real homophobic, if I remember right. But remember the James Brown thing on SNL? "Gotta get in the hot tub. Gotta get in the water." That was good shit, right?
I started thinking about how I'd been meaning to re-watch BEVERLY HILLS COP II for a long time. I know it's supposed to be bad, and the last time I watched part 1 I didn't even like that anymore. But I thought it would help my understanding of the evolution of action movies. Tony Scott, at that time, was kind of like the proto-Michael Bay, wasn't he? He invented the Bruckheimer style, in my opinion.  Now that Tony Scott was dead, and Eddie Murphy was dead, I was definitely gonna have to get on that.
But there is a twist in the story. Maybe you can guess what it is, I might've telegraphed it too much. Get this: Eddie Murphy was not dead. The two young guys were trying to read about it themselves, I could see the article over the one guy's shoulder. It was about various celebrity death hoaxes, including the one where Eddie Murphy had been killed in a snowboarding accident in Switzerland. I felt relieved. Unless somehow there had been a hoax and then Eddie really had died while snowboarding, it looked like he was safe.
They told the guy who had originally shared the news. "Where are you seeing that?" he asks. And then, "I bet it was a publicity stunt. They say any publicity is good publicity, you know?" He did not apologize to the rest of the line for his poor judgment and research skills. But at least he reminded me to watch BEVERLY HILLS COP II.
* * *
It's hard to explain to the youth – hell, it's hard to explain to myself – but BEVERLY HILLS COP was a huge fuckin deal in 1984. Eddie Murphy was a phenomenon on Saturday Night Live, and was only 21 when he made his movie debut in 48 HOURS. He stole the movie as the co-lead smartass that racist asshole cop Nick Nolte has to hang around with, but BEVERLY HILLS COP made him the central role, with two dorky white sidekicks. Originally designed as a serious action vehicle for Sylvester Stallone, Murphy made it into a series of comedy riffs where his fish-out-of-water Detroit cop talks fast and full of shit and confuses the hell out of the uptight Californian upper class. And then he would give that weird donkey laugh, and we loved it. And the theme song, that thing was huge. The best thing was when they played "Axel F Theme" on the radio and they added the laugh at the end.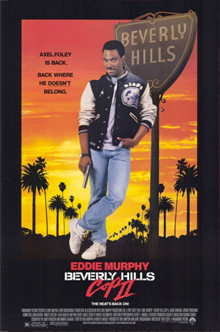 Part 2 came 3 years later and was hugely successful moneywise, but maybe not so important to pop culture. In a weird way it connects the series back to Stallone, because Judge Reinhold's character has posters for RAMBO: FIRST BLOOD PART 2 and COBRA (the movie Stallone put some of his BHC ideas into) in his apartment. Also the villain is played by Stallone's then-wife Brigitte Nielsen, though that might be more of a fuck-you to Stallone than a tribute since she divorced him two months after the movie was released and later said she was having an affair with Tony Scott. Poor Stallone was making OVER THE TOP and had to put with this shit.
Nielsen plays "that big bitch" as Axel calls her, a lady who wears various wigs and expensive sunglasses while robbing and shooting people in a series of crimes the Beverly Hills police are calling "the Alphabet Murders." In the opening scene she robs and shoots up a fancy jewelry store, and just before leaving she turns around and shoots down a chandelier. I took this to mean she had a contempt for the upper class and their shameless opulence, but no. It really just means that Scott liked to wreck stuff.
Axel, meanwhile, is back in Detroit, smiling at how awesome he is in a mirror and happily driving a Ferrari past scenes of urban blight and the Chrysler logo. He's wearing a tie that we later hear cost $200. I thought at first that he sold out, but it turns out he's undercover. I guess this is their way of reversing shit and making him seem like a Beverly Hills fish on Detroit dry land.
He returns to the 90210 zip code when the chief (Ronny Cox) gets shot by these alphabet fuckers because he knew too much about them. Because of Axel's vacation to Beverly Hills 3 years ago he's like family, comes to the hospital and kisses the chief's daughter (Alice Adair), who I don't think was even in part 1 but is supposed to be the emotional side of the movie as well as the computer expert.
Axel's buds Rosewood (Reinhold) and Taggart (John Ashton) are on the new chief (Allen Garfield)'s shit list. They're supposed to be demoted to traffic duty but Axel convinces them to investigate the Alphabet case anyway. After all, he doesn't even work on this coast and he's going around doing police work, as well as committing the felony of impersonating a federal officer. (He also impersonates a building inspector to break into and stay in a mansion while the real owners are on vacation. Think of how many innocent hard working individuals he probly got fired.) Taggart is supposed to be the comedic fuddy duddy, Rosewood now is into firepower and action heroes. Although he has the Stallone posters, at one point he says, "Fuck Rambo!" He carries a gun that causes Axel to ask, "Who do you think you are, Clint Eastwood? Dirty Rosewood?"
I've written about this before, how in the '80s it was a big comedy thing to have a guy who's obsessed with guns: Tackleberry in the POLICE ACADEMY series, TV's Sledge Hammer, Michael Gross's survivalist character in TREMORS. Those guys are supposed to be crazy, though. With Dirty Rosewood it seems like it's supposed to be more cute than anything else. We're supposed to think yeah, Rosewood deserves a chance to be Stallone. There's a tense situation where he should call for backup and proceed with caution, instead he pulls out two shotguns and changes into a trenchcoat and whines to Taggart to let him do this. Like, I gotta be me. This is the only way I really feel alive.
I do think this is kind of the model for Michael Bay, or at least the BAD BOYS movies. It's got the same approach of having a character who doesn't seem like a real cop, who recklessly disregards all laws and procedures at all times and constantly endangers civilians and creates property damage. Movies were smaller then, though, so the destruction is not on as massive of a scale. But it has the same lack of tension or danger, it's ha ha, Rosewood stole a cement truck, he's driving terribly, everyone could be killed, they're all smiling at how great they are.
The comedy is a little funnier than Bay's in my opinion, but equally dumb and formless. On the extras Reinhold says all their scenes with Eddie were improvised, and it shows. Most of the movie is Eddie talking in the Funny Voice presenting himself to different people as various identities: the deliveryman to get into a private gun range, a pool cleaner to get into the Playboy Mansion. Some of them are less thought out, like when he has to confuse a guy by pretending to be in "The Rap Coalition of America." I'm not even sure what that means.
By the way, Chris Rock has a bit part as a valet at the Playboy Mansion. This was before he was big, though, so it makes more sense than when he played a pizza deliveryman in PAPARAZZI.
Now that I mention the Playboy Mansion scene I realize this also reminds me of the RUSH HOUR series. It feels more like "Let's have a scene where they go to the Playboy Mansion!" than a story that happens to involve the Playboy Mansion. They follow Jurgen Prochnow and Nielsen there, and they all get kicked out because Hef doesn't know any of them. So why were they there in the first place?
The weirdest thing I noticed in the movie is a montage where Axel drives around Beverly Hills in a convertible, and there are various shots of the funny rich people walking their dogs and stuff. All the sudden two bulldogs start fucking, and it cuts to Axel smiling and laughing to himself. Ha ha, dogs fucking. That's what amuses this character. I wonder if Eddie was embarrassed that they edited it that way, or was that in the script? Did Scott tell him, "Okay Eddie, now you see two dogs fucking. How do you feel about that? Smile Eddie. That's good. That's great. Cut."
Scott uses his trademark orange filters and shows some beautiful sunsets. There's some smoke, there's a sunbeam going through a spinning fan. But it's not as good looking of a movie as most of his. REVENGE was the next one, for example, and looked way better. Maybe he toned it down in tribute to the bland-looking original.
The screenplay is written by Larry Ferguson (HUNT FOR RED OCTOBER, ALIEN 3, MAXIMUM RISK) and Warren Skaaren (BEETLEJUICE, BATMAN), but based on a story by Eddie and one of his buddies.
Anyway, I got my wish. I don't consider it a good movie at all, but I was still interested in it as a piece of history. This was a movie that they made, alright.
Edward Regan Murphy
April 3, 1961 – September 3, 2012, 5:30ish; 5:40ish – present
This entry was posted on Thursday, September 20th, 2012 at 2:26 am and is filed under
Action
,
Comedy/Laffs
,
Reviews
. You can follow any responses to this entry through the
RSS 2.0
feed. You can skip to the end and leave a response. Pinging is currently not allowed.