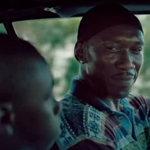 I seem to remember hearing somebody say that criticism was dead, but MOONLIGHT is a real good movie I definitely wouldn't have gotten around to seeing if critics weren't doing flips over it. It's an indie movie about growing up gay, black and poor around drug dealers in Liberty City, Florida, but it's not the bummer that might sound like. I think that's important to say right now: the people talking about crying during this, I'm not 100% sure which part they're talking about, but it's not some BROKEBACK MOUNTAIN type tragedy movie. Unless this is like CLUE and they released it with different endings. But as far as I know they didn't do that.
The structure is basically three vignettes or chapters about this character Chiron as a young kid (Alex Hibbert), a high school kid (Ashton Sanders, "Kid," STRAIGHT OUTTA COMPTON) and a grown man (Trevante Rhodes, OPEN WINDOWS). During these times he struggles with his masculinity, trying to understand his attraction to men in a community that considers that soft and highly values the perception of toughness. His friend Kevin jumps him on the field supposedly to prove to the others that he's capable of fighting back. They wrestle on the field, an indistinct mix of physical struggle and boys touching each other. I'm not sure either of them knows which it is.
A crucial relationship, though, is not sexual at all. It's with Juan (Mahershala Ali, PREDATORS, THE PLACE BEYOND THE PINES), a drug dealer who notices young Chiron running from bullies and hiding inside a boarded up apartment where junkies sometimes hang out. He's an instantly captivating presence, a charismatic tough guy who, yes, drives up in his badass lowrider with a jeweled crown on the dashboard to check on the dealers at his spot, but also carries himself as a caring, responsible adult trying to look out for a kid in a bad situation.
With his kindness toward Chiron and his frustration in dealing with the kid's addict mom (Naomie Harris, NINJA ASSASSIN), Juan seems like a good role model for the kid to have. But of course his occupation is indefensible, something he clearly is aware of when Mom calls him on it. So he's a great set of contradictions, a guy who seems handsome and upstanding with gold fronts on his teeth. One surprise is when Chiron asks him about the homophobic slurs people call him, and Juan handles it deftly. Is this kind of a cheat, the filmmaker making this character a little too enlightened? Is it an example of a complicated character who defies our assumptions? Is it an indication of experiences that he or his loved ones have been through? Or just the positive influence of his cool girlfriend Teresa (Janelle Monae, HIDDEN FIGURES), who becomes sort of an auntie or second mom to Chiron? We never find out.
I guess the reason it's surprising is because you expect this relationship with Juan and Chiron to go on , with each learning from the other. It would make sense for it to be a Clint Eastwood type story with the older one starting out a bigot and learning from this friendship and becoming a better person. But (SPOILER) we skip some time into the second chapter and all the sudden Juan is not present. I immediately missed him. In the third chapter it's exciting that Chiron seems to have modeled his adult life after Juan, wearing fronts and having the same crown on the dashboard of his similarly badass car. But, uh, also selling drugs. Still, it's like Juan has been reborn in some way.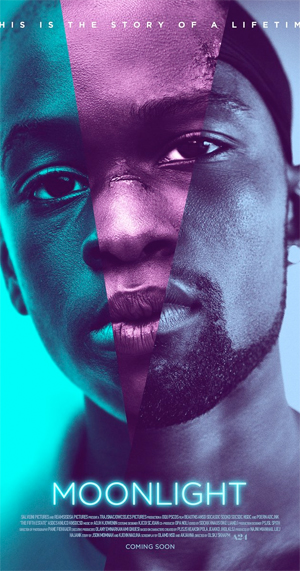 But this is pretty much a love story of these two characters, Chiron and his friend Kevin over some years, and you get to check in with them at different ages. Chiron respawns with three different actors, three different identities (Little, Chiron, Black). Kevin is especially well cast because he's on screen less but the three actors (Jaden Piner, Jharrel Jerome and Andre Holland [MIRACLE AT ST. ANNA, SELMA]) manage to convey the same type of charm and really seem like the same guy.
This might be a dumb straight guy thing to say, so I'm gonna get it out real quick and move on. I think it's cool that this movie has a character who is gay who I also feel is what you would call a Man's Man or whatever. That it shows a macho type of masculinity is not exclusive to heterosexuality. Although non-derogatory gay characters in movies and television have increased exponentially in the last decade or two, there aren't that many like Chiron. Especially since he's not used to freak out other characters who are homophobic.
Director Barry Jenkins is interesting because he's not brand new, this is his second movie, but it took him eight years. The previous one was MEDICINE FOR MELANCHOLY in 2008. This one is based on the play In Moonlight Black Boys Look Blue by Tarell Alvin McCraney, who grew up near Jenkins without them knowing each other. I was interested to read that Jenkins is not gay. It's obviously a very personal movie about growing up in this part of Florida, and I respect that an artist can find autobiography in a character that's different from himself in that way. Understandable fears of the ol' "cultural appropriation" can get in the way of this sort of thing, but I think trying to understand other people's stories is one way we find empathy through our entertainment.
I know there are many good people eager to throw praise on a movie from a new-ish black director, dealing with black and gay issues unseen in film. These things are important, but don't assume they're the only reason for MOONLIGHT's acclaim. I think it's a great work of filmatism, beautiful cinematography by James Laxton (TUSK), good music, strong sense of place and mood, great performances across the board, the whole deal. It's a story that's small and intimate, and with it's time gaps and internal lead character it leaves you with many questions to answer for yourself, especially about how Chiron is living his life at the end. Is he completely closeted? Does he consider himself gay? There are indications but not straight up answers, so in that sense it's minimalistic. Yet at the same time it's sort of epic in the way it spans so many years and deals with sexuality, addiction, parenting, crime, bullying, violence, love and so much more, told powerfully through its unique and appealing structure. It's easy to see how it was a play, yet it must've missed so much without the Florida scenery.
As always, these awards-contender dramas (this one just won the Golden Globe for Best Picture, Drama and is a shoo-in for Oscar nominations, if not wins) are likely to suffer THE WITCH syndrome. We've heard how brilliant they are for so long and then we see them and they're something very simple. In a way it would be better if we just went to see this type of shit without prompting. But – I don't know about you – that ain't gonna happen with me. So thanks for recommending this, everybody.
P.S. No, he's not a werewolf or anything, it's just kind of a poetic title.