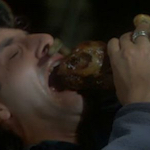 Now that I've finally caught up with the greatness of THE HIDDEN, it was also important to experience the let down of its six-years-later DTV sequel. None of the same people are involved, except in re-used footage, and it's cheap and crappy. It does at least give me a little bit of a laugh from its audacious short cuts and the extremely dated choice to set a large portion of it at a rave.
Let me tell you about those shortcuts. The movie starts with 2 minutes of credits over black. Then it says it's 15 years ago, and there are about 2 minutes of green text representing Kyle MacLachlan's alien character sending messages back home, asking for backup. Then it goes into the end of the first movie, but not even just the climactic showdown like they do in, for example, some of the FRIDAY THE 13TH sequels. No, you get a whole shootout, then the climax, then the epilogue in the hospital. They add some new stuff in the middle to show a dog pick up a weird egg at the death scene, get implanted by an alien and then go to a warehouse, where slimy eggs crawl out of him. But it's more than 15 minutes into the movie when it finally gets to the end of part 1 and says "15 years later." I'm surprised they didn't include the full end credits.
And the craziness isn't over yet. The first scene set 15 years later (so 2002, I guess) has part 1's cop hero Tom Beck looking at his old ID and then at himself in the mirror, muttering "My god. What have I become?" He is supposed to be unnaturally wrinkly, a gimmick we can only assume was supposed to obscure that they've recast from Michael Nouri to Michael Welden (THE HUNT FOR RED OCTOBER, UNDER SIEGE).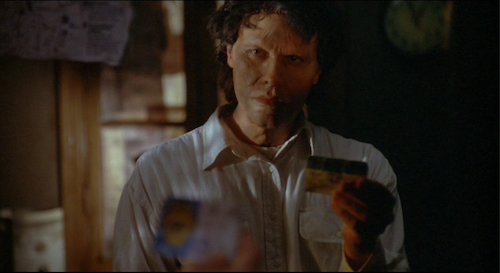 Now, I seem to have misunderstood the ending of THE HIDDEN and therefore the beginning of THE HIDDEN II. I thought Lloyd Gallagher sacrificed himself by transferring his life force to Beck. But according to this sequel's Wikipedia page, Beck died and Gallagher took over his body (which I guess explains his daughter's hesitation to hold his hand). So wrinkly-different-actor-Beck is Lloyd Gallagher, I guess. And it's a good thing he stayed on Earth, because apparently that warehouse where the dog brought the alien eggs has been left undisturbed for 15 years but now it's going to be used for a rave and that stirs things up again.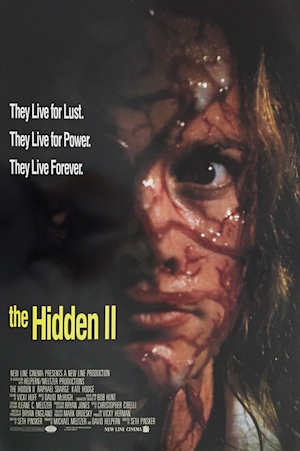 A fast talking streetwise type individual shows the building to some bigshot promoter guys, saying he wants to call the event "Bad to the Max." An alien the size of a subway sandwich crawls down his throat before they've even left, but they're not observant enough to notice.
The new Beck somehow knows that this happened here and shows up, and I guess the new bad alien is the old bad alien, because he recognizes Beck and taunts him about what happened last time. Then he kills him.
But never fear, remember he texted for backup 15 years ago, so a new good guy alien arrives here at Star System 9859.8, Third Planet. He's played by Raphael Sbarge (the jerky nerd guy in MY SCIENCE PROJECT) and just to make sure you don't forget that he's a good guy like Kyle MacLachlan's character they actually named him "MacLachlan." Very imaginative. He finds Thomas Beck's daughter Juliet, now grown up and played by Kate Hodge (LEATHERFACE: TEXAS CHAINSAW MASSACRE III, RAPID FIRE). She had been estranged from her dad, so she didn't know he looked like a different actor wearing wrinkle makeup, and didn't even believe the inexplicably rude morgue attendant (Dennis Bertsch) that it was him. When she corrects him for calling him old the guy snottily says, "Look, I just work here."
The alien goes on a body switching spree again, not as epic this time. Now the music he enjoys is cheesy dance stuff. He gets a boombox again, and then some Black stereotype guys try to steal it from him. You know that thing in movies where if a white guy walks down a certain street he's a fool because everybody knows he'll automatically be surrounded and bullied by a group of Black men who stand around waiting to hassle the weak and non-streetwise. BUT THEY DID NOT EXPECT AN EVIL ALIEN!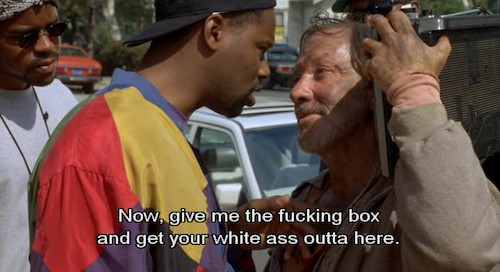 The rave part is kind of funny. There's a long shot of a woman's back tattoos because can you believe it? All over her back. Tattoos! This place is legit. Juliet and MacLachlan go there, but which one is the alien? It's crowded in there, it could be anyone! Well, as savvy viewers who understand the universal language of cinema we know it must be one of these two the camera is focusing on – a dude in a chair and a woman giving him a lap dance. Sure enough she dry humps him to death and no one notices and in fact the dancers then crowd around to block the view of the dead body from others.
Luckily the music seems to be played very quietly, so they can easily have discussions without yelling, and they manage to corner this Steve Isaacs looking motherfucker who's possessed by the alien: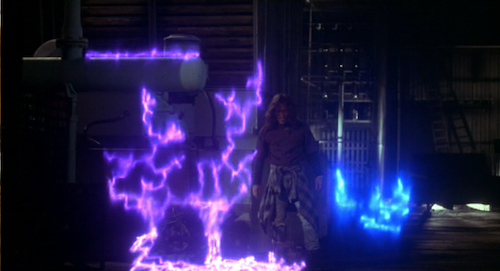 They shoot at him in the middle of the dance floor and nobody notices.
Then the movie weirdly slows down, Juliet and MacLachlan are staying in an apartment together, he keeps asking her about earth things, she teaches him how to brush his teeth, they fuck on the floor. The end, pretty much. The only really recommendable part of the movie is that, being made in the days when CG was too expensive for movies like this, it has some good, slimy monster FX by Todd Masters (THE ARRIVAL, MONSTER MAN, SLITHER, AMERICAN MARY).

The choice of writer/director Seth Pinsker is mysterious. According to IMDb he had only directed two shorts, one episode of Eight Is Enough, and three episodes of CBS Library, and all of those credits were more than a decade old at the time. Since THE HIDDEN II he has only directed one short and produced the 2004 TV special America's Top Dog. But he works in advertising as president of The M Creative Group, Inc. The bio on their websight repeatedly calls him an Academy Award nominee, which turns out to be for Best Live Action Short for his debut Strange Fruit in 1979. (He lost to Taylor Hackford.) Anyway, the point is he brings to the table a keen sensitivity to clients' needs and a finely honed understanding of how to service clients' goals. Simply put, he is unsurpassed at exceeding client objectives… and then some.
He has a Twitter account, but only posted a few times in 2009 and 2010, mostly promoting some weird VR glove. Anyway, my point is that there's just enough of a paper trail on him to believe he's a real guy who got the gig off of TV commercials or something and not somebody taken over by an alien making a bad DTV sequel to THE HIDDEN just to mess with the humans. But I could be wrong.
This entry was posted on Wednesday, October 14th, 2020 at 11:47 am and is filed under
Horror
,
Reviews
,
Science Fiction and Space Shit
. You can follow any responses to this entry through the
RSS 2.0
feed. You can skip to the end and leave a response. Pinging is currently not allowed.