SCANNER COP (1994) is a predictably lame execution of a reasonably good concept. If we in fact lived in a world where telepathic "scanners" existed then it could be useful to society to have one on the police force. In this case it's a kid whose scanner dad goes so crazy he grows 3 tiny little human heads on his forehead. I guess John Carl Buechler, who did the effects makeup, must've wished he was doing a Freddy movie. By this time the EPH-3 drug of SCANNERS III has evolved into Ephemerol, which actually blocks a scanner's telepathy, making them ordinary. It's depicted as a good thing, because if you don't drug away your scanner abilities you will go crazy like this guy when he ran out of pills.
I know what you're thinking: but how did he run out of pills with Canada's health care system? Well, this one takes place in Los Angeles. A special Los Angeles where "sorry" is pronounced different.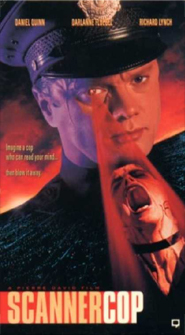 When the dad dies in a police stand-off a beat cop adopts the orphaned kid, little Sam Staziak, keeps him on Ephemerol and raises him to become an LAPD cop played by Daniel Quinn.
The Scanner Cop's big case comes when a series of weird cop-killings starts. Ordinary citizens keep flipping out when they see cops. It turns out a cult leader turned mad scientist is out to get Staziak's adopted dad (now the chief) so he and a palm reader keep kidnapping people and brainwashing them so the sight of a police uniform triggers hallucinations of monsters or other evil things attacking. Then they end up killing the cop thinking it's a monster. The police are so helpless they stop wearing uniforms.
The chief convinces his reluctant ward to stop taking Ephemerol for a few days and use his powers to solve the case. He can get into the minds of the killers and see what they thought was going on. And every once in a while he runs into a purse snatcher or something and makes them flip and bonk their heads.
But it's not very interesting because 1. they basically use him like a police psychic, so we've seen this shit before, and secondly the villainous plot is kind of stupid, more like a bad episode of a TV show than worthy of a feature film. The one sort of cool thing they do is have him go into the psychic's parlor and sit down for a reading but end up interrogating her without even talking.
SCANNER COP is the directorial debut of Pierre David, the producer of SCANNERS and other early Cronenberg works. I don't think that means they're on the same wavelength, though. They just happened to both be in Canada. Most of David's productions are less arty. For example he produced THE PERFECT WEAPON and MISSION OF JUSTICE.
I think this could be much better if it was copying the style and content of police thrillers like DIRTY HARRY and LETHAL WEAPON, but with the cop having this ability. Standard cases would be easy to solve. Only if the perp was a scanner would this guy have any trouble. Hostage negotiations would be easy. And he could trick the angry chief into giving him back his gun and badge every time he's suspended and taken off the case.
Being a Scanner Cop would cause new temptations and ethical questions. The tagline on the box is "Imagine a cop who can read your mind… then blow it away." Sounds terrifying, but it's supposed to be comforting. You're supposed to want that, but I don't think I do. Do you think N.W.A. still would've said "Fuck the Police" if all the police were scanners? I think they would've wanted to fuck the police even more, because they'd be even more corrupt and harassing. But I guess they wouldn't have had to make the song though because the Sanner Police would've read their minds thinking it anyway. And instead of the FBI sending them that letter or the police unions refusing to do security for their concerts they would've just scanned them and made their heads blow up. There would be no "100 Miles and Runnin'" or "Amerikkka's Most Wanted" or "The Chronic." That's why I'm glad there's no such thing as Scanner Cops in real life. Because "The Chronic" is a pretty good album, man.
But it's true, I bet Scanner Cops would be out of control. They'd feel superior and above the law. King Kong wouldn't have shit on them. Only SCANNER KING KONG would. That's why the perfect sequel to this would be BAD SCANNER LIEUTENANT. Or they could do a whole series about different scanner jobs. SCANNER LAWYER, SCANNER DOCTOR, SCANNER COMMUNITY PLANNER, SCANNER ENTREPRENEUR, etc.
Or another idea would be just to stop making SCANNERS movies.