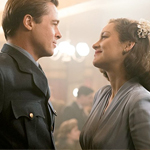 ALLIED is an unassuming, quick-paced WWII spy thriller/tragic romance combining the slick directivational chops of Robert Zemeckis (BEOWULF) with the smart guy writing of Steven Knight (EASTERN PROMISES, REDEMPTION, LOCKE). Brad Pitt (CUTTING CLASS) plays Canadian-born spy Max Vatan, who parachutes into French Morocco and pretends to be the Parisian husband of secret resistance leader Marianne Beausejour (Marion Cotillard, RUST AND BONE, TAXI, FURIA). He's dropped right into the fire, instantly feigning intimacy with this woman as he meets her for the first time sitting with a table of Germans (I think?) at a restaurant. It's kind of like that story about James Brown calling young Bootsy and his band The Houseguests and flying them in to walk right out on stage and play a show with him. Except way more dangerous. And less funky.
I feel like I've gotten off track here.
In private Marianne hammers Max on his terrible Parisian accent, and they very professionally put into place a plan we're not let in on. It's not until shortly before the shit goes down that they give in to the elephant in the room, or in this case the car, as they make love inside one while the windows are covered by a brutal sandstorm.
(It should be noted that the FX are at times a little fake-looking for Mr. Cutting Edge Zemeckis – maybe in tribute to old school process shots, or maybe to keep the budget down on a not-hugely-commercial period piece. I didn't mind, but I figured I'd warn you in case you might.)
Then all the sudden the mission goes down and the gentle pacing breaks into a sprint with a thrilling explosion of violence, rolling right into the two newly-acquainted spies fleeing and starting a new life together as an actual married couple in London.
The real intrigue happens there, when he's confronted with allegations that his new wife is a Nazi double agent. Seems ridiculous, but they give him a plausible enough explanation that married life gets real uncomfortable as he waits to hear if she's guilty. If they say she is, he has to kill her himself or he'll be hanged. Not one of the better relationship problems to face, in my opinion.
He's been expressly forbidden to investigate this himself, but you know how movie heroes are. He starts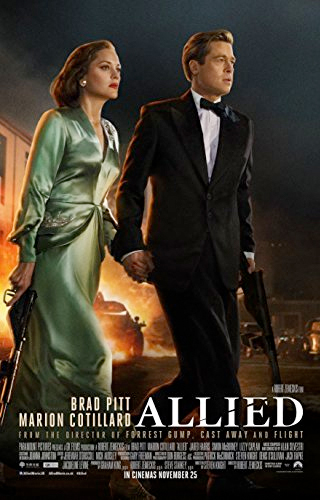 sending grunts (and then himself) on secret missions to bring a photo into combat zones to show to people who could verify she's the accomplished resistance leader she claims to be or an imposter who stole a dead person's identity. In real life I think Pitt's marriage was ending around this time. At least he didn't have to worry if she was a Nazi. (Maybe a tomb raider.)
There's all kinds of twisty spy story shit standing between Max and the truth. One guy who could identify her is blind. Another is in jail. In France. And too drunk to look at the picture once they get to him. Max gets more and more suspicious of her, keeps trying little tests, the results keep being inconclusive. Does he love a person who doesn't exist? Is he the one being tested? Maybe he just has to follow instructions and everything will be fine. Maybe he's already failed because he's disobeying orders.
It's as much about love and trust and betrayal as thrills, but it's very tight, well-paced, always moving forward. Zemeckis (with cinematographer Don Burgess, BLIND FURY, THE CONJURING 2, MONSTER TRUCKS) obsesses on reflections in mirrors, including in the car and at home. Which is the real person? Which is the real relationship?
It's kind of interesting that Max is Canadian. You don't see alot of American movies that acknowledge the existence of Canadians. But Pitt's actually done it before – remember, he was Canadian in 12 YEARS A SLAVE. There he was based on a real Canadian, but it also seemed relevant because his attitudes toward slavery differed from typical American ones of the era.
I'm not sure what to make of the state of Zemeckis (not Canadian – born in Chicago). I doubt many of the youths know his name, but people obsess over BACK TO THE FUTURE and they remember FORREST GUMP. Personally I think WHO FRAMED ROGER RABBIT is great and I thought I was alone on enjoying creepy ass POLAR EXPRESS but I went to a 3D Imax re-release two Christmases ago and the place was completely full. And I'd do it again, though I'd be more excited for A CHRISTMAS CAROL or especially BEOWULF. Shoulda put some Christmas in that one, I guess.
Here is a picture of Beowulf.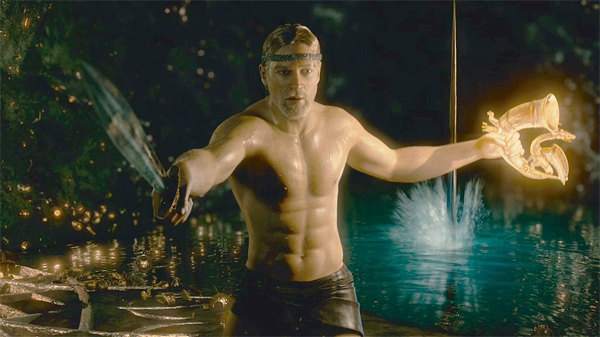 He has a magic horn that he gets.
Even since returning from his time in the mo-cap wilderness, Zemeckis had a hit and Oscar contender with FLIGHT. And he was in contention to do THE FLASH, which I assumed meant he had a cool idea for it, but in retrospect it could be an ominous sign that he's no longer able to get his projects going like he had been doing for decades. Especially since he didn't even get the job!
THE WALK in 2015 and ALLIED in 2016 are the kind of off-the-beaten path ideas he normally pursues, but either without the same commercial appeal, or the marketing to make them take off. ALLIED in particular they might as well have shot in black-and-white for all the faith the studio seemed to have in its old-timeyness. I never saw a trailer for it, only a couple TV ads that didn't say who directed it. Do you remember it existing? I bet most people don't.
It did get an Oscar nomination for costume designer Joanna Johnston (HELLRAISER, SAVING PRIVATE RYAN), losing to FANTASTIC BEASTS AND WHERE TO FIND THEM (the movie that ended my "they're pretty good" affair with Harry Potter movies).
It came and did okay – by which I mean it opened in fourth place but above BAD SANTA 2 – and then it seems to me it was forgotten by all. And that's fair enough. It's very not-modern, seeming to intentionally conjure the intrigue, romance, moral quandaries and location of CASABLANCA. For a spy movie it's kinda intimate and modest and not one of Pitt's flashier roles or one of Zemeckis's usual show-offy movies. I guess it's an $85 million budget, which used to be big, but I think this probly qualifies as one of those mid-range movies for adults that everybody says they don't make anymore, because they most don't, and then when they do all the adults are busy doing their taxes or waiting for the guy to show up to look at the thermostat or whatever.
But I gotta say, I liked it. It's very effective in its suspense and sadness as it argues for the powerful love even in a relationship built on lies. Also check out BEOWULF.